Truck Guide: Understanding Sizes and Classes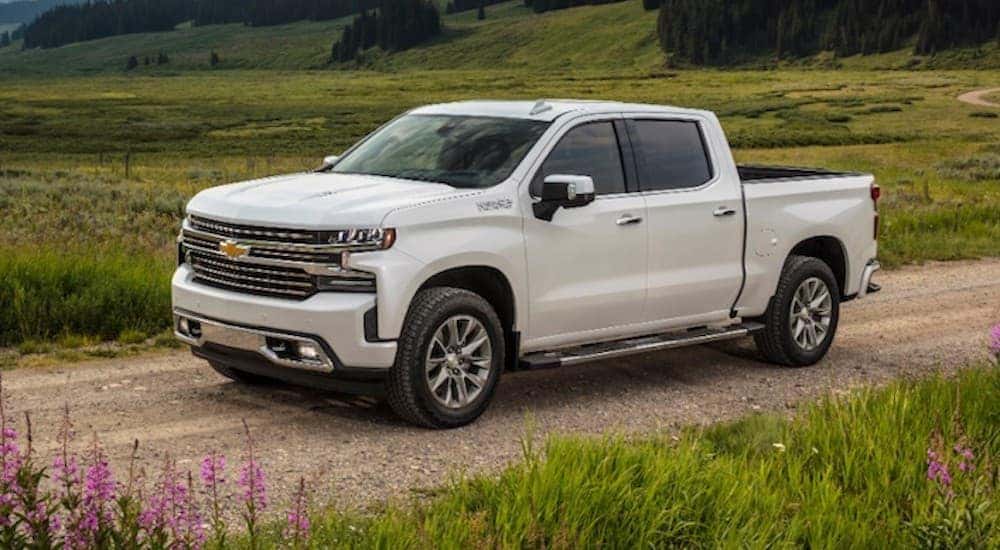 Shopping for a truck, especially a used truck, can seem a bit daunting. There are so many different options to choose from that you can quickly get overwhelmed: make, model, size, type, cab size, bed size, class, towing, payload, different engines, different drive types – the list could go on. When you're shopping for used trucks near you, it helps to have a friend to help you with all of these options and figure out what you need.
Fortunately for you, you have just such a friend here at Colonial Motor Mart – many of us, in fact, and we're ready to help. While we can't tell you exactly which truck you should buy without talking to you, answering your questions, and going over your options, we can at least help you narrow down some of what's available. Today, we're going to look at sizes and classes for trucks, with terms you'll often see like "full-size," "light-duty," and "heavy-duty" to help you understand what each of them means. By the end of this, you'll be a truck expert and well on your way to finding the perfect pre-owned pickup.
Truck Sizing 101
First up, let's talk about the different sizes that you'll typically find when looking at used trucks for sale. The good news here is that this is actually quite simple and pretty straightforward, so this will be an easy way to jump in with understanding different types of trucks. In general, the size of a truck is just what it sounds like: it roughly refers to the truck's overall length, width, and height to easily categorize them.
Sizes are important for a couple of different reasons – for example, different truck sizes have to meet different emissions standards in various states in the US. For you, when shopping for a truck, the size is really going to come down to the kinds of demands you're looking to place on your truck. We'll get to some more specifics later on, but ultimately the size of your truck will not only dictate how well it fits into your life but also the kind of capability it has to offer.
You'll typically find three different truck sizes:
Compact – This is generally the rarest size of trucks here in the US, though it has often been more popular overseas. Compact trucks are starting to make a comeback, however, so you're going to see more of these in the years ahead. Exciting compact trucks to look for include the Ford Maverick and Hyundai Santa Cruz.
Midsize – Most of the "smaller" trucks you'll find on the used market are midsize models. These are a great option if you want the functionality of a truck, but you don't want something too big. Popular midsize trucks include the Toyota Tacoma, Chevy Colorado, Ford Ranger, and Nissan Frontier.
Full-Size – The largest trucks you'll see available for most customers, full-size models live up to their name. They are big and powerful, giving you the best performance and the most robust functionality. Common full-size pickups include the Ford F-150, Chevy Silverado, Ram 1500, Toyota Tundra, and Nissan Titan.
Anything beyond that typically refers to the class of the truck rather than its size. Keep in mind that there can still be differences within these categories, especially when you're looking at trucks from different manufacturers. A Chevy Silverado and Ford F-150 aren't necessarily exactly the same length and width, but they're both full-size trucks and pretty comparable.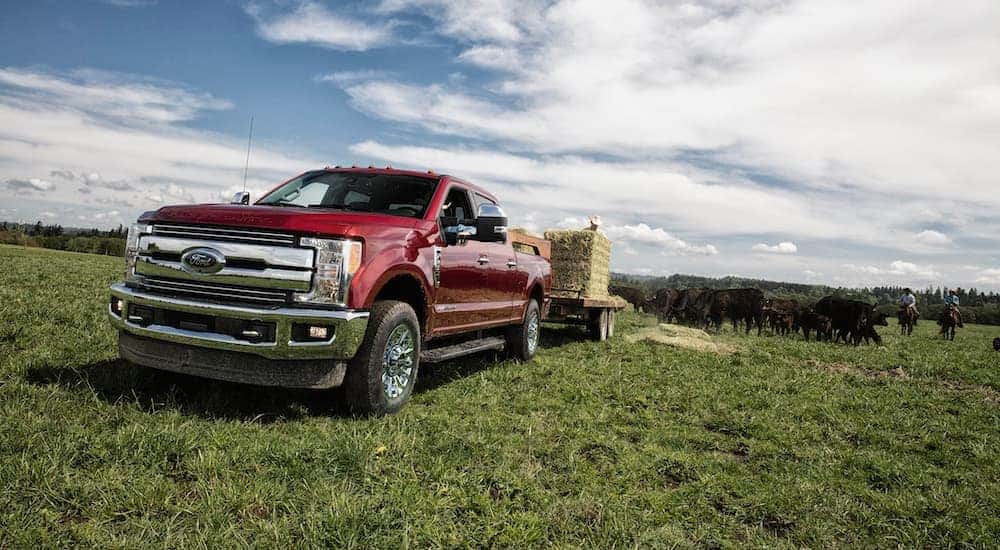 Truck Classes
In addition to these different sizes of trucks, you'll also see them described according to a couple of different classes. Where size is just what it sounds like – describing the pickup's dimensions – the class usually refers to the kind of weight it can handle. This is really looking at two things: payload capacity (the amount of weight you can load onto a truck) and towing capacity (the amount of weight the truck can pull behind it).
For the most part, you're going to see two different truck classes when you're looking at consumer trucks (things get a bit stickier with commercial trucks, but we won't worry about them). Light-duty trucks are full-size models that are designed for great overall performance, but they aren't meant for massive amounts of weight. The most popular trucks on the road are light-duty models like the Chevy Silverado 1500, Ford F-150, and Ram 1500.
Heavy-duty trucks are also full-size models, but they are engineered to handle much more weight, sometimes far more than any other truck could hold. These are usually sold under similar names to the light-duty models but with numerical differences. Heavy-duty pickups include the Silverado 2500 HD and 3500 HD, the Ford F-250 and F-350, and the Ram 2500 and 3500. As you can see, the numbers make this pretty simple: higher numbers mean heavier duty and more powerful trucks.
A quick note on classes: you've probably heard the terms "half-ton" and "one-ton" used to describe different kinds of trucks. It used to be the case that these terms accurately described the payload capacity for a truck: a half-ton truck had a half-ton payload rating; one-ton trucks could handle a ton of weight, etc. Today, these numbers are no longer accurate, but you'll still hear the terms used out of familiarity. The Silverado 1500 and F-150 models are half-ton trucks, the Silverado 2500 HD and F-250 models are three-quarter-ton trucks, and the Silverado 3500 HD and F-350 models are one-ton.
Differences Between Truck Classes
Now that you have a general sense of what these different terms mean, you're probably wondering just how big a difference you'll really find between them when you're shopping for a used truck. To showcase how much the size and class of a truck really matters, let's take a look at the maximum payload and towing capacities for four different 2021 Chevy truck models. We'll keep things simple by only looking at maximums – just keep in mind that a lot of different factors impact these numbers, so always look at the specs for any individual used truck you want.
Maximum Payload
Colorado: 1,550 lbs
Silverado 1500: 2,280 lbs
Silverado 2500: 3,979 lbs
Silverado 3500: 7,442 lbs
Maximum Towing
Colorado: 7,700 lbs
Silverado 1500: 13,300 lbs
Silverado 2500: 18,500 lbs
Silverado 3500: 36,000 lbs
That's a pretty significant difference, right? You can see that comparing something like a midsize truck to a full-size heavy-duty pickup is really like night and day. However, what's most important is that you figure out what you need from your vehicle, so you can shop accordingly and get a truck that will work for you.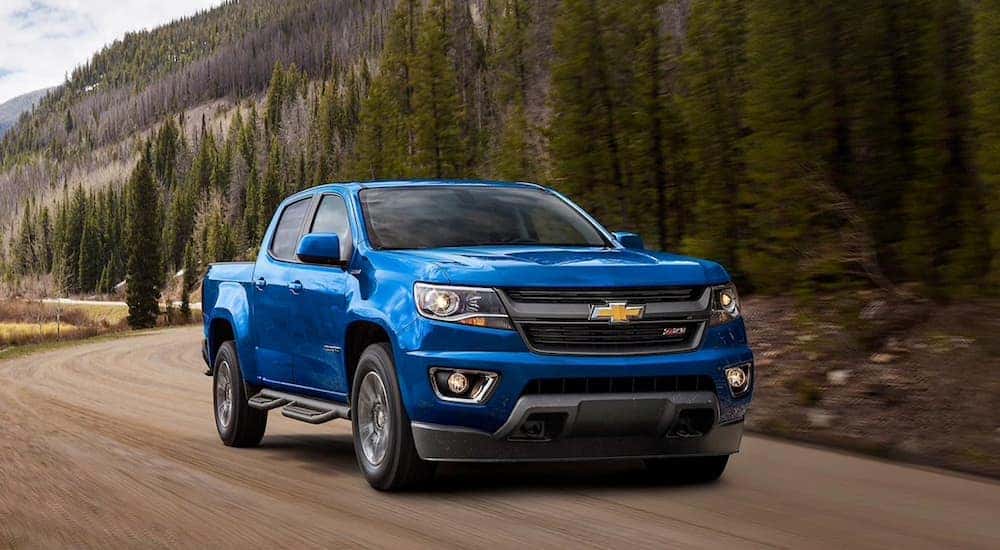 Which Truck Should I Buy?
There's no universal answer when it comes to shopping for used trucks – what's right for someone else won't necessarily be right for you. The key is to figure out how much room you have in your life for a pickup and how much weight you need it to be able to haul. This is really important if you plan on doing a lot of towing: figure out the weight of the trailer you plan on using and how much weight you want to load onto it.
Be generous when making these estimates: it's always better to have a bit more muscle than you need, rather than damage your truck by trying to tow too much. Once you know what you need to be able to handle, then you can pick the right size and class of truck to meet your needs. Here at Colonial Motor Mart, we're ready to help you find the perfect pickup with the capability, performance, and features you're looking for.