The 10 Most Reliable 4×4 Trucks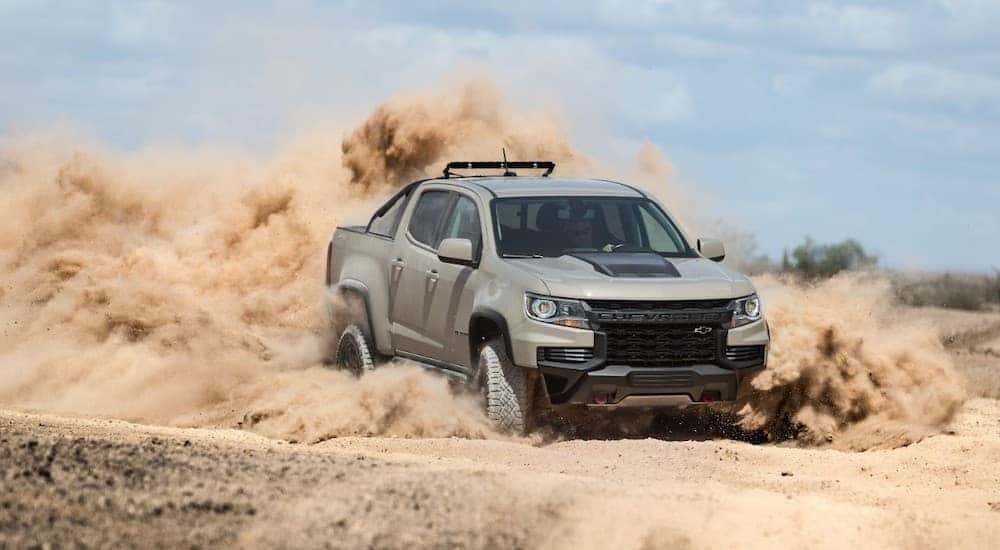 What are the most reliable 4×4 trucks? While most trucks are built with rear-wheel drive as the primary drivetrain, most manufacturers offer models with four-wheel drive (4×4) as an available option. While you have to clarify which type of drive you want when buying a new truck, when you are looking for used trucks for sale in PA, the drivetrain is already a part of the trucks you are going to find. A 4×4 drivetrain gives you greater traction both on and off the road and is a basic necessity if you plan on taking your truck on an off-road trail.
Unlike all-wheel drive, which is often better for providing traction on highways in inclement weather, four-wheel drive is about delivering the right amount of horsepower and torque to each wheel independently, a crucial feature for off-roading. This is accomplished by a transfer case as well as a locking rear differential, crucial components of any 4×4 system. The finest and most reliable 4×4 trucks feature an automatic transfer case that will instantly switch to rear-wheel drive on highway conditions to give you the best fuel economy and ride and then alternate between low and high four-wheel drive depending on weather and trail conditions.
Here are 10 trucks that we think have the most reliable 4×4 systems. Some are dedicated 4×4 models, while others are trims or even add-on packages. This should help you narrow down your options when it comes time to get a new (or used) truck. You can find many of these trucks for sale at Colonial Motor Mart, your top choice for exceptional truck values in Pennsylvania.
1. Toyota Tacoma TRD Off-Road
Toyota offers a great model built on its highly rated Tacoma midsize truck platform. The TRD Off-Road lives up to its name, purpose-built for off-roading with such features as a locking rear differential and a multi-terrain select transmission with Crawl Control to better traverse obstacles like rocks and logs that might get in your way out on the trail. This Tacoma rides on 16-inch alloy wheels with great grip, another plus for folks who love to go off-roading.
2. Chevy Colorado ZR2 Bison
The Chevy Colorado is its entry into the midsize truck competition, and the ZR2 Bison is a special edition built on the already quite reliable ZR2 top trim package. This model was the result of a collaboration between Chevrolet and American Expedition Vehicles, with the addition of front winch provisions and rear recovery points, five hot-stamped boron steel skid plates, and specialized front and rear bumpers. The exceptional 4×4 drivetrain is the same as featured on the Colorado Bison, as well as the specialized off-road suspension. Chevy even offers an optional AEV snorkel accessory if you want to see how much water this Bison can ford. In sum, this is one truck that is not for the faint of heart.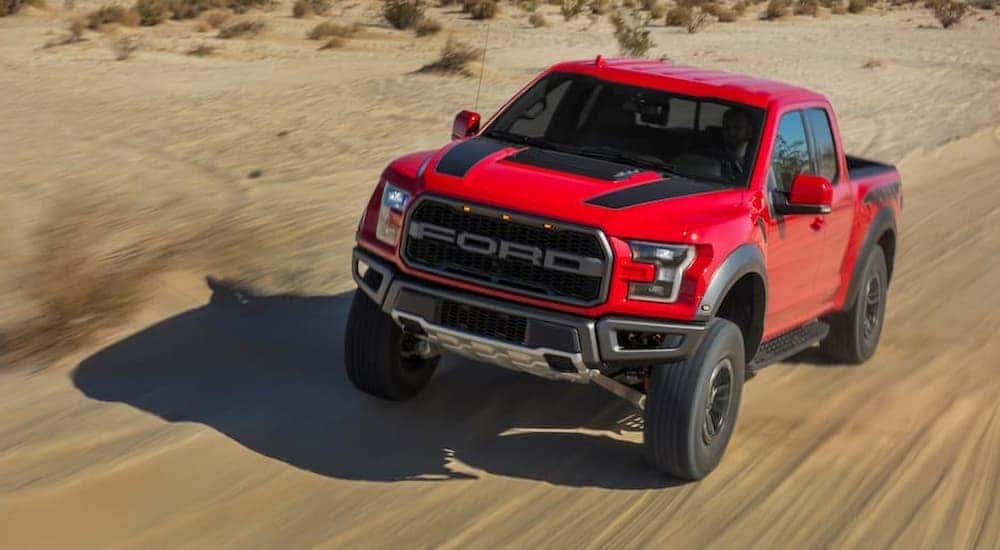 3. Ford F-150 Raptor
The first full-size truck on our list is the Ford F-150 Raptor. This is Ford's flagship off-road model, and its 4×4 system does not disappoint. It is a two-speed automatic four-wheel drive system with a hi-lock transfer case and an electronic-locking rear differential. This will be crucial in getting you through some of the toughest trails. Ford adds an exceptionally long travel suspension system with sport-tuned Fox Racing Shox shock absorbers to give your passengers a smoother ride even if you are going all daredevil out on the trail.
4. Chevy Silverado 1500 Z71
Not so much a truck as a specialized off-road package, the Z71 is offered on most Chevy Silverado 1500 trucks. If you are looking for a used Silverado 1500 and want these features, then you should look for the Z71 tag on the bumper. The Z71 package includes the most reliable 4×4 system designed by Chevy, with an AutoTrac 2-speed transfer case and an automatic locking rear differential. Chevrolet takes it to the next level with an off-road suspension featuring Rancho shock absorbers, a metal underbody shield, and all-terrain tires. Best of all, the Z71 package is available on most trim levels of the Silverado 1500, so you don't have to pay extra for a higher trim with gear that doesn't interest you.
5. Ram 1500 Rebel
Another purpose-built trim on a full-size truck, the Ram 1500 Rebel declares war on the trails with an outstanding 4×4 drivetrain. The Rebel features a locking rear axle on its 4×4 drivetrain and has been given a 1-inch factory lift, so it has more clearance than the standard model Ram 1500. Rugged all-terrain tires, tow hooks, and an off-road suspension complete the package, making the Ram 1500 Rebel one of the top choices for a full-size truck to handle the trail.
6. Jeep Gladiator
Unlike the other trucks on this list that are specialized trims or packages built on an existing truck platform, the Jeep Gladiator is built from the ground up as a 4×4 truck with off-road capabilities. That's right, every model of the Jeep Gladiator comes with a standard 4×4 drivetrain, so you don't have to check to make sure you're getting four-wheel drive when you're buying one used. The Gladiator looks like someone put a payload box on the back of a Jeep Wrangler, which is actually a good thing since few vehicles can match a Jeep for off-road performance.
7. GMC Sierra 1500 AT4
The GMC Sierra 1500 AT4 is a specialized trim level on this venerable lineup of full-size trucks. It features a 2-speed AutoTrac transfer case with an active automatic four-wheel drive setting so you can seamlessly shift between rear-wheel and four-wheel drive based on road and climate conditions. This will serve you well when you go from the road to the off-road without taking a pit stop. The AT4 has a factory-installed 2-inch suspension lift, so your truck will ride 10.88 inches off the ground, giving you the clearance you need when out on the trail.
8. GMC Sierra 3500HD
Many people may not consider a heavy-duty truck when they are thinking about reliable 4×4 drivetrains, but then they would be missing out on the opportunity to get a truck with the power to move heavy loads, tow large trailers, and provide exceptional traction in difficult driving conditions. The GMC Sierra 3500HD is one of the most rugged and dependable heavy-duty trucks with exceptional capabilities. The 4×4 system on the Sierra 3500HD features a 2-speed AutoTrac transfer case and an automatic locking rear differential to provide the stability and traction you need when handling this truck.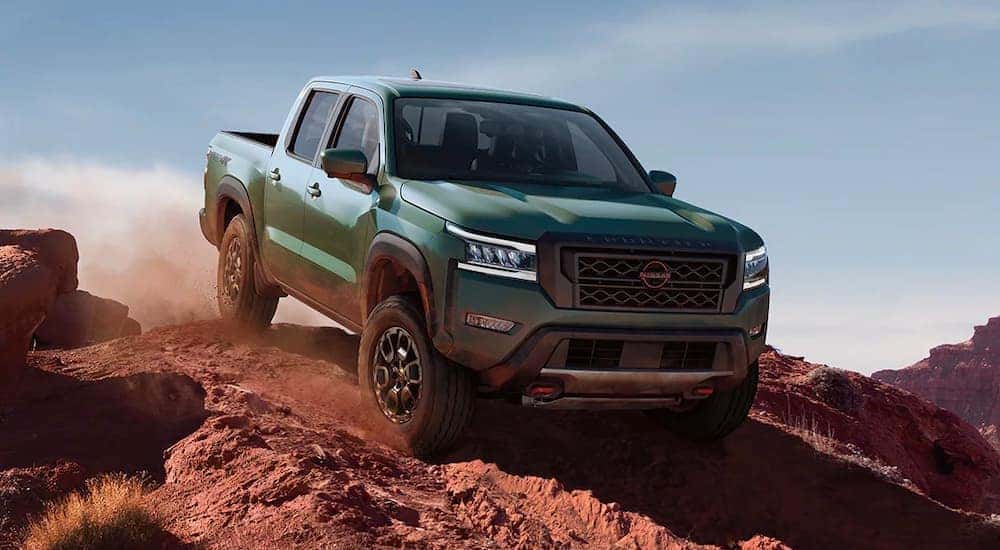 9. Nissan Frontier PRO-4X
The Nissan Frontier is one of the most versatile midsize trucks, and the PRO-4X is a dedicated off-road trim that has one of the most reliable 4×4 systems on a truck of this size. This features a switch-operated 2-speed transfer case with an electronic locking rear differential on the Dana rear axle, giving you exceptional traction and performance that can stand up to the rigors of the toughest trail you can find. The Bilstein off-road performance shock absorbers will keep things nice and stable inside your Nissan's cab for you and your passengers, while the front, fuel tank, and transfer case underbody skid plates will protect the vital parts of your truck's undercarriage. The Nissan Frontier PRO-4X is a superior model to consider, especially if you love off-roading.
10. Ford Ranger Tremor
Just like the Z71 on the Chevy Sierra 1500, the Tremor is an off-road package offered on models of the Ford Ranger midsize truck. In addition to a very dependable 4×4 drive system, the Tremor includes such vital features as front and rear tow hooks, skid plates, and a modified off-road suspension. While Ranger models with a 4×4 drivetrain offer 8.9 inches of ground clearance, the Tremor package boosts this to an amazing 9.7 inches. That is plenty of room to pass over most obstacles that you may not be able to climb over.
Your Place for 4×4 Trucks
There is nothing like having a dependable 4×4 drivetrain on your truck. This will give you peace of mind whether you are hitting an especially challenging trail or just trying to cope with the rigors of rough weather. Whether you are looking for a new or used pickup truck with a 4×4 system, Colonial Motor Mart has the truck for you. We carry all makes and models with a great selection of midsize, full-size, and heavy-duty trucks. Come in today and drive out with your next truck featuring a very reliable four-wheel drivetrain.