Technology Takes Center Stage on the Latest Generation of Smart Pickups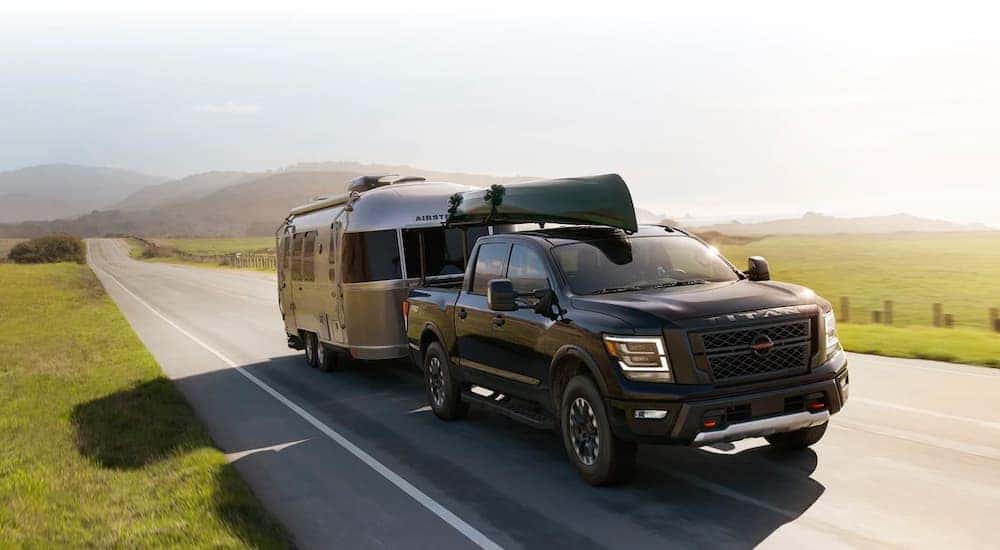 How do you improve on the utility of a pickup truck? It's a pretty simple value proposition: build a vehicle with a comfortable cab large enough to transport your crew (be it work or family) and add a truck bed for hauling, along with trailering capability and, if desired, some off-roading features. What do you get? A winning formula when looking for a used truck dealer near you, like Colonial Motor Mart.
Improving on a solid foundation may seem unnecessary, but the newest wave of technology advancements in areas like trailering and connectivity is proving that even the venerable pickup truck category can be improved. It wasn't long ago that hitching a trailer required 3-4 attempts and a buddy behind the truck to vector you in. Not so with today's camera and sensor-based tech.
If making life easier and more entertaining seems like something you'd enjoy, it's worth taking a closer look at the 10 biggest technological advancements in the pickup truck segment. These new advanced technologies cover categories like safety, entertainment, and even bed access, and they're worth exploring, especially if convenience is important to you. Here are our picks for the top 10 tech add-ons featured on today's lineup of trucks.
1. Trailering Technology
Don't call your friend for help next time you have to hook up the boat trailer; instead, turn to your truck's robust onboard trailering system. When properly equipped, your truck can virtually automate the arduous trailering process from the moment you hook up until it's time to navigate that sketchy local boat ramp. Trailering technology removes guesswork and ups the safety ante in a big way. Our vote for the best trailering technology goes to the Ford F-150's Smart Hitch system. It actually measures the trailer's weight and helps distribute that weight evenly by sensing tongue weight and displaying a guide on the truck's touchscreen, as well as an indication of whether the trailer weight is high or low.
2. Driver-Assist Systems
Aside from being an IIHS Top Safety Pick for three years in a row, the mighty Ram 1500 also boasts some of the most advanced driver-assist safety technologies in the category. Among the many systems available is Guided Parking. The Parallel and Perpendicular Park Assist feature actively guides drivers into challenging spots by advising when to brake or touch the throttle. It also takes over the steering function, automatically guiding the truck into its spots without fear of bumper "kisses." Add to that the available 360-degree Bird's Eye View camera, and lucky Ram 1500 owners can keep a close watch on what's happening around the vehicle during parking, when backing out of a parking spot, or even during trailer hook-up. It's a great way to overcome the challenging bulk of a pickup in tight spots.
3. Gigantic Infotainment Touchscreens
Once again, our hat's off to Ram for integrating a portrait-mounted 12-inch touchscreen on the dashes of upper-level 1500 pickup trims. The massive touchscreen acts as a control hub for every truck function, from infotainment and smartphone connectivity to displaying a live feed of the truck bed. The screen is powered by Uconnect, a lightning-fast operating system designed for quick response and effortless touching, scrolling, and shifting between camera views. The all-electric 2022 Ford Lightning also goes big, with a 15.5-inch touchscreen – portrait-mounted, too – with cloud-based connectivity and casual voice recognition.
4. Connected Services
Speaking of cloud-based connectivity, all eyes are on manufacturers' innovations with connected services. Essentially, these services allow smartphone integration up to and including app-based functionality, like remote start, door lock/unlock capability, and vehicle systems data access. Connected services also take on an emergency function, giving drivers access to live operators and/or automatically dispatching emergency services when airbags deploy. Most of these services are only available via a monthly subscription, but most buyers opt-in for the plethora of convenience features they unlock.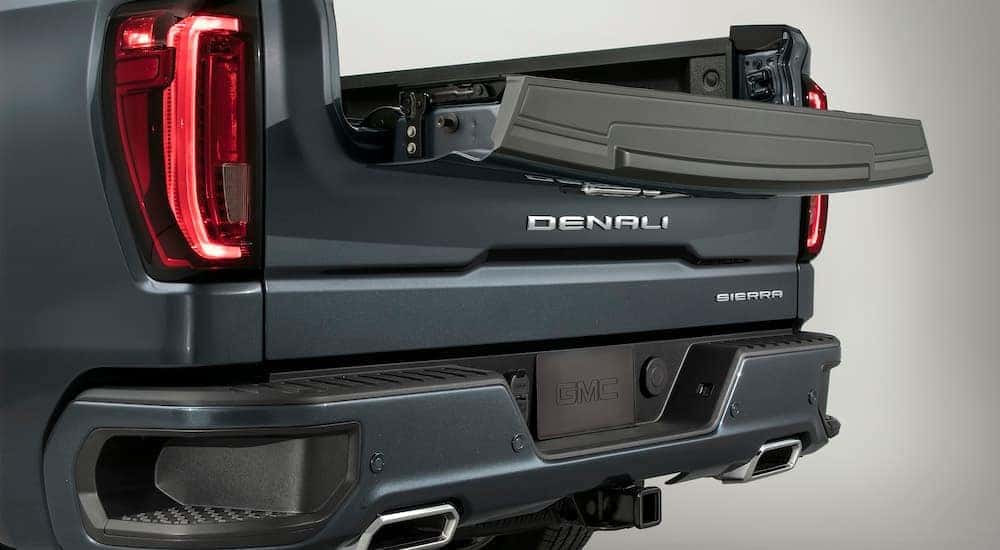 5. Multi-Function Tailgates
It used to be that a tailgate had one function: open and close. Not so with today's newer pickups. Automakers realized that truck owners were already using their tailgates as ad hoc seating in football stadium parking lots and setting up makeshift desks and workbenches on the job site. At some point, a light bulb went on, and manufacturers went to work designing multi-function tailgates to better address typical usage. GMC's MultiPro Tailgate takes the cake for most functional. Via six settings, it functions as a bed access step, a standing desk, a bed extender for long cargo, and even an outdoor stereo with a Kicker audio system complete with an aux input and a USB port.
6. Bed-Mounted Tech
First off, any truck bed tech functions better if it's resting on a solid base. Hat's off to GMC for introducing the first-ever carbon fiber composite bed. It's tough and resistant to scrapes and dings, which is the perfect backdrop for some innovative bed enhancements. Also available on the GMC Sierra is a Bed View Camera, foot-activated retractable power bed access steps, and the previously mentioned Kicker audio system with Bluetooth for smartphone connectivity. It features a weatherproof amplifier for great sound and works independently of the interior audio system.
7. Interior Refinements
The newest pickups feature upgraded tech and interior convenience equipment that rival the most luxurious European imports that cost thousands more. We're seeing features like head-up displays, digital rearview mirrors that turn the humble rearview mirror into a backup camera, and audio systems with multiple speaker set-ups. The Ram 1500 offers a 19-speaker Harmon Kardon audio system that pumps out 900 watts of sound. The Chevy Silverado 1500 High Country gets buyers a premium Bose audio system with 7 speakers and a Richbass woofer. Sound isn't the only interior luxury feature: most newer high-end truck trims also feature connected navigation. These systems display real-time traffic updates along with 3D map images.
8. Truck as Power Plant
Lucky 2022 Ford Lightning buyers will appreciate that their truck is essentially a mobile power plant. It features Pro Power Onboard, a 9.6kW generator of sorts with 11 outlets, one of which is 240 volts for powering heavy tools and other large equipment. In addition, Intelligent Backup Power really does turn the Lightning into a generator, but this time it focuses on your home. Incredibly, the truck can act as a temporary whole house generator, providing power for up to three days. Ration that power to essential appliances, and it'll stretch to 10 days. It's an unheard of capability that we expect to catch on as manufacturers embrace electrification.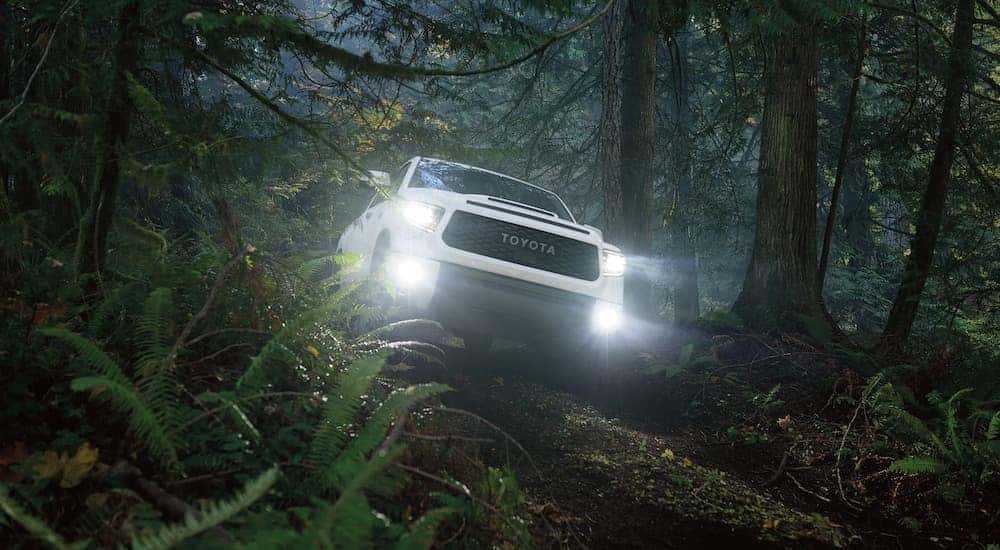 9. Suspensions and Off-Roading Equipment
Off-roading trucks like the legendary Ford Raptor differentiate themselves from the rest of the trucks in the lineup by way of suspension upgrades and other tweaks intended to enhance the off-roading experience. The Raptor features so many different systems and add-ons that it's hard to pick just one. We love the available TORSEN package, which adds a limited-slip front differential (a deviation from the more widely available rear limited slip differentials). The package also adds Rigid LED fog lamps to take away any notion that this is just an appearance upgrade. Added to the standard FOX Live Valve shocks that electronically adjust damping for optimal output even in desert racing conditions, the Raptor's expansive off-roading capability is virtually untouchable.
10. Engines and Performance-Oriented Tech
If off-roading (or street racing) is in your plans, feast your eyes on the Ram 1500 TRX. This beast features the most powerful engine in the performance truck category – 702 horsepower and 650 lb-ft of torque – as well as an in-cabin Launch Control system that lets drivers maximize all that available power. Launch Control works by regulating RPM and traction to automatically dial in optimal acceleration. The accompanying Dyno/Engine feature graphically displays peak performance data, like horsepower and torque, for every drive.
Truck Technology Continues Evolving
As companies like Ford prepare for mass production of hybrid and all-electric pickups, we can expect continued innovation in areas like connected services and access to truck-derived electric power. It's an exciting time for truck buyers, especially because manufacturers are finding ways to keep costs down for the most desirable features. Specifically, making potentially lifesaving driver-assist safety systems standard and innovating basic engine functionality to lower fuel economy ratings and, as a result, ownership costs. Are you a tech lover and a truck person? Get ready to be wowed by this latest generation of pickups.