Quick Guide to Selling Your Car

As a dealership, we're well versed in selling vehicles to our customers, but we're also here to buy cars that are no longer needed by their current owners. If you've never sold a vehicle to a dealership before, or it's been a long time since you last did it, then you probably have a lot of questions about what to expect and what's involved. Rather than leave you to try to figure it all out on your own, however, we're here to help you with a quick guide on how to sell a car.
Before we get into the details, please keep in mind that we're going to keep this guide specifically for selling your car to us here at Colonial Motor Mart. In other words, these are the steps and requirements you need to consider when selling a vehicle here in Pennsylvania. If you're interested in selling a car somewhere else, then be sure to look at regulations and requirements for any other specific state or region. With that in mind, here's what you should know about selling your car.
Before You Sell Your Vehicle
There are some important things to do and consider before the day comes that you want to sell your vehicle, so we're going to start with that. First of all, from the very moment you drive off in your car, you should do everything you can to maintain its value. That means staying on top of the vehicle's service schedule, getting work done when it needs it, washing it regularly, etc. Everything you can do to keep your car in good shape will help it retain its value so you can get the most for it when you decide to sell your car.
Beyond that, you should do some specific things when you decide that you want to sell your car. First of all, it's a good idea to have your vehicle professionally inspected by a certified mechanic that you trust. This will let you know about any issues with your vehicle, such as poor tread on the tires, worn brake pads, any leaking connections, or other parts that might need to be replaced. Please note, however, that most kinds of repairs or service are NOT worth doing before you sell your vehicle.
Here at Colonial Motor Mart, our certified service center can handle any repairs that need to be done – and we can do them for a lower price than you'll pay someone else. So the cost of having repairs done before you sell will not usually create enough increase in value to justify them. We can do it for less than you can, so most of the time, it's not worth it. But you want to know about these issues so that you have a realistic sense of what your vehicle is worth.
Speaking of which, before you sell, it's a good idea to do some research and have an estimate of what you think your vehicle is currently worth. Be realistic when you do this – the inspection will help you note any damage or service that's needed, all of which will reduce the value of your car. You should also have your vehicle cleaned before you bring it to us – a clean vehicle in good condition is going to get you the most money.
Finally, before you come to us to sell your car, make sure you have all of the paperwork you need to sell your vehicle. This will usually be the title on your car, though sometimes a Manufacturer Certificate or Statement of Origin will be provided. You need a copy of the title, which you might need to get from your lender if you're currently paying a loan on the vehicle.
Make sure you have a proper photo ID, too, and get together any vehicle maintenance records you have. If you can show us that you've taken good care of your vehicle, we'll have a better sense of its value when making an offer to you. Finally, make sure you have the owner's manual and any accessories that originally came with the vehicle, as this can all help keep it at the highest value possible.
Selling Your Vehicle
On the day that you're ready to sell, bring your vehicle and all of the paperwork we mentioned with you to our dealership. If you've cleaned out the car, then you don't have to worry about a mess or forgetting anything inside. But make sure you've removed any personal items, and don't forget about your phone or anything else you might usually leave in your vehicle.
We'll inspect the vehicle, and once we have a good sense of its condition, then we can make you a fair offer for your car. If you accept, then the process of selling us your car is typically pretty straightforward. We'll go over the necessary paperwork, which will involve signing the title over to us, including noting the mileage on the odometer at the time of sale. We'll also provide you with a bill of sale and a Buyer's Acknowledgement of Delivery of Vehicle & Title, which is essentially your receipt.
If you owe money on a loan for the vehicle, then that will come out of the money that we pay you for it since we need to pay that off to take possession and ownership. Finally, we'll make sure the registration plate is removed from the vehicle and provided to you. You'll need to either return that to the Pennsylvania Department of Transportation or follow the proper steps to transfer it to another vehicle that you plan to use. And that's it – you'll have sold your car, and you drive away a bit richer than when you showed up.
What About a Trade-In?
Selling your car to us is great, but you do have other options. One popular way to go is using your vehicle as a trade-in to us rather than selling it outright. When you use your car for trade, we'll make you an offer and then take that amount out of the price of a new or used vehicle that you buy from us. This can reduce your initial costs, lower your monthly payments, or allow you to completely pay for a vehicle from us outright.
If you know that you want to get a new vehicle, then using your current car as a trade-in can be a great option. In general, having a trade means you might be able to get more for your vehicle than we can offer you when simply buying it from you. This will depend on a number of factors, but it's something to consider.
If you're not sure which option is right, then talk to us about it. It's best if you tell us what you're thinking from the very start, so we can help you with all of the information possible to make everything go smoothly. We're happy to go over all of your options and let you know what kind of offer we can make in terms of either buying your car or accepting it as a trade-in.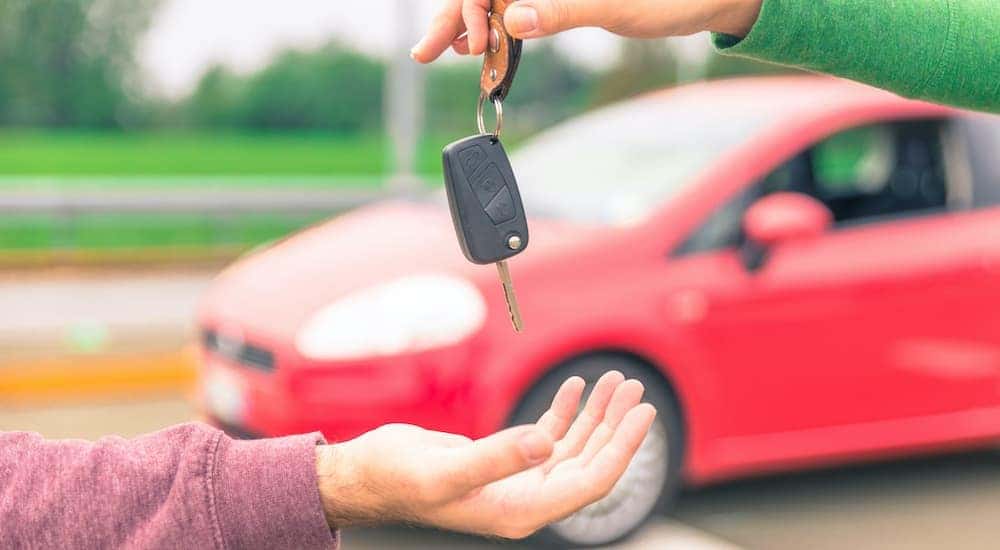 Sell Your Car to Colonial Motor Mart Today
As you can see, while selling us your vehicle is not necessarily complicated, there are some important steps to follow and keep in mind. This quick guide is a great resource to use when making sure that you've done everything properly, but we're also available to answer your questions and talk you through the process. In fact, you can get started right now by looking at what your vehicle would be valued at as a trade-in on our website, giving you a good reference for what it's worth. Call or come visit Colonial Motor Mart today to learn more, and we will offer you a fair price for your car.