Why a Toyota Camry Should Be Your Next Used Car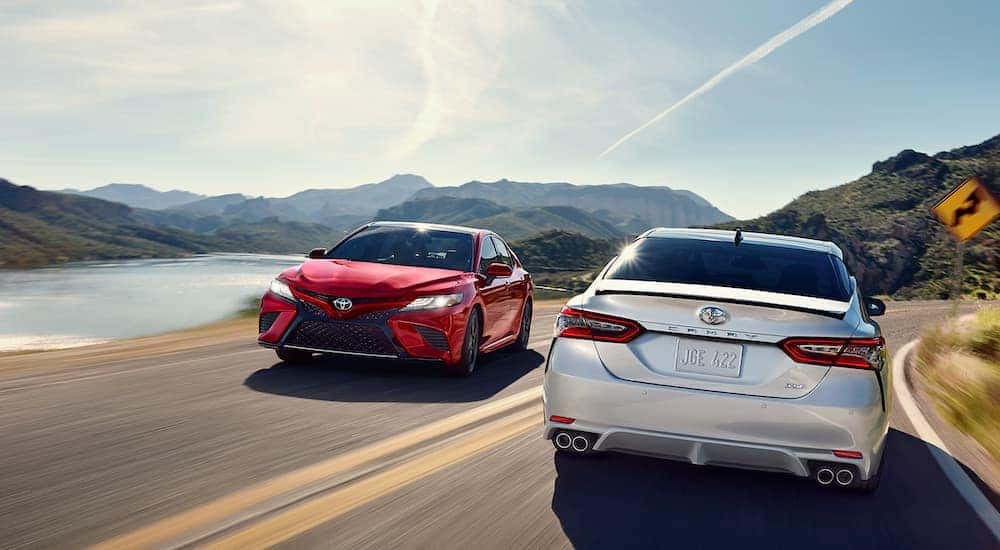 Let's be real: Toyota vehicles last a long, long time. If you want a car that will live a long life, you can't go wrong with a Toyota. The Camry is especially worthy if you're looking for used cars, if for no other reason than the fact that they are plentiful. It's one of the highest-selling cars at Colonial Motor Mart, and in the industry as a whole, so the chances are good that you'll run across a Camry while you're shopping for your next vehicle. And a used Toyota Camry, even a decade old, will keep on running as long as you make sure you maintain it.
What Years Saw the Biggest Changes
Going back to 2007, Toyota came out with the sixth generation of its popular sedan. Even then, the Camry maintained best-selling status with its roomy interior that offered comfort and options for those seeking a slightly elevated family car without having to foot the bill for a luxury vehicle. In 2007, the Camry was redesigned with more room and more options in trims and powertrains than the previous generation. Additionally, powered windows, a CD player, air conditioning, and cruise control became standard on every Camry sold.
In 2012, Toyota introduced its seventh generation of the Camry, in which the sedan received serious upgrades to the interior. The cabin got more high-quality and soft-touch materials, which gives this year a much more comfortable and upscale feel. This year saw more engine options, better safety, and better fuel economy than previous years. Even back then, the Camry base models were equipped with Bluetooth connectivity.
After that, the 2015 Camry got another complete overhaul, which once again raised the quality of materials and gave it another boost in appeal. This year was still part of the seventh generation, but so much was changed that it felt almost like a redesign. Features like automatic headlights, heated mirrors, a rear-view camera, and the Entune infotainment interface became standard.
Finally, in 2018, Toyota upgraded the Camry to the eighth edition. With a completely new look, the 2018 Camry has been praised for a design that's more appealing than ever. The suspension from the Prius was utilized in the Camry for this design, and it opened up room in the trunk and back seat area without having to make the vehicle footprint any larger. A step up in driver-assisted safety features also came along this year, with every trim equipped with Toyota's Safety Sense. These are impressive features, but it is clear that great features can be found in lots of used Toyota Camrys, even back many model years.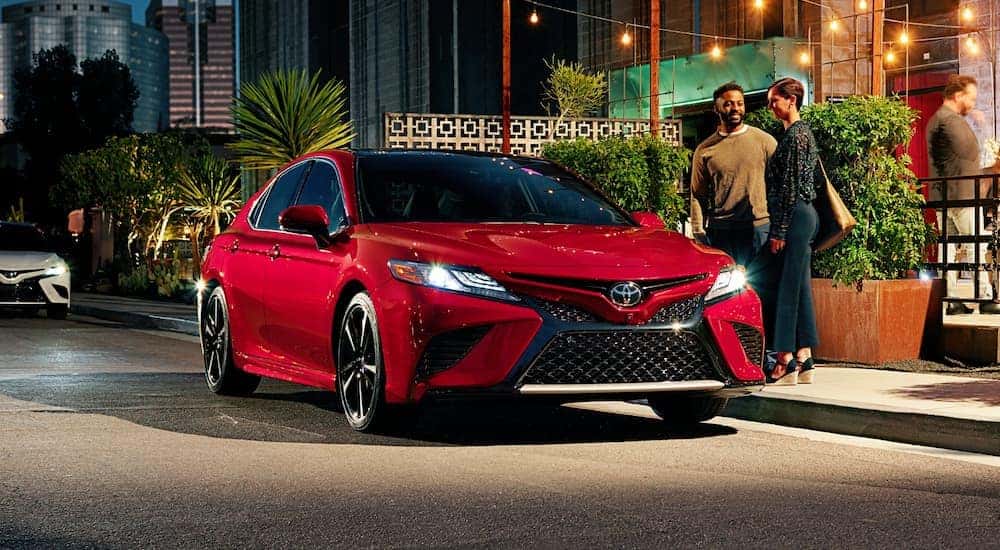 The Camry Hybrid
Starting in 2007, Toyota began offering the Camry as a hybrid. Right away, it hit the ground running, since Toyota already had experience with the Prius for a decade. It made matters easy for Toyota to build a Camry as a hybrid, while still offering its high-selling gas-powered models. If you find a Camry hybrid used, the chances are good that it is a great vehicle that will save you money at the pump.
Older models of the Camry hybrid can run for long periods of time with proper maintenance, just like the gas-powered models. Batteries can last longer than you might think, but this depends on a lot of factors. Driving habits, hot climates, and frequency of driving can all affect battery life, among other things. Replacing a hybrid battery can be expensive, so if you're purchasing an older model, you may want to have the battery checked by a professional. So purchasing from a dealership may be best in case of battery failure, particularly if it comes with a warranty.
Perhaps the most significant benefit of the hybrid is the gas mileage. Going back to 2007, the Camry hybrid gets 40 MPG in the city and 38 MPG on the highway. In 2012, the mileage increased to 43 MPG in the city and 39 MPG on the highway, and then in 2018, it reached a combined efficiency of 52 MPG. If nothing else, Toyota knows how to build fuel-efficient vehicles.
Aside from the savings on fuel, features on the Camry hybrid are surprisingly upscale. Even in 2007, there were standard features like keyless entry, powered windows and mirrors, powered driver's seat, dual-zone climate control, and a smart key. Like the gas-powered Camry, the hybrid gained Bluetooth in 2012, in 2015 added the Entune audio system, and in 2018 the suite of safety features expanded.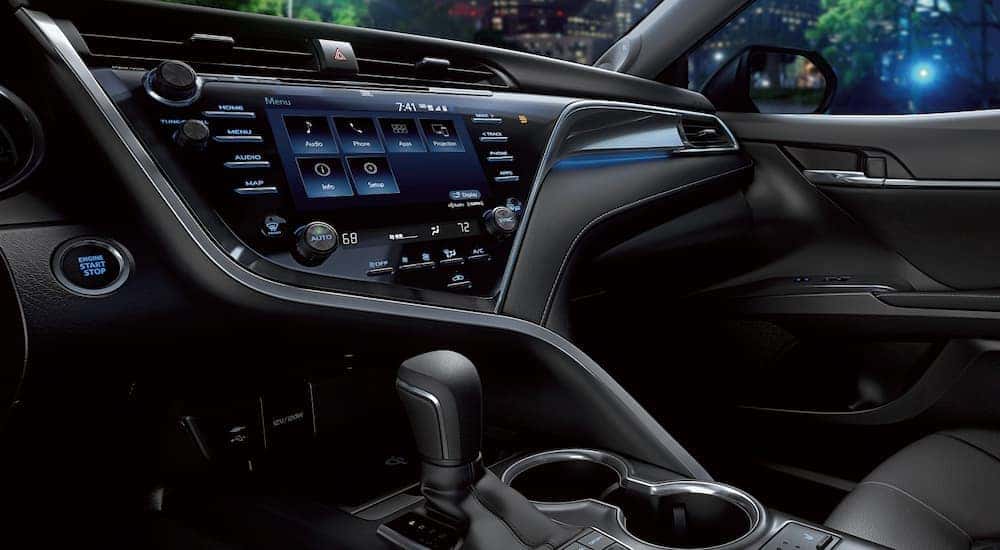 Best Features of the Camry Since 2007
If you find a used 2007 Camry, you might discover a model with a V6 engine. This was an option on the upper trim only, which means it would also likely have leather seats, Bluetooth, and upscale interior accents. You might even find one with a moonroof. Aside from the luxury version of this year's Camry, you could find the SE, which came with a sport-tuned suspension and 17-inch alloy wheels.
Models from 2012 can be found with the 10-speaker JBL audio system, which was available for the SE and XLE trim. Both of these trims were offered with upgraded details like a leather-wrapped steering wheel, heated wing mirrors, and possibly a sunroof. The sporty SE could also have that coveted V6 engine and a sport-tuned suspension. Moving into 2015, Toyota made the decision to combine features of the luxury and sport trims in the XSE model. Features like LED daytime running lights, faux suede seats, and a slightly different styling on the exterior will make this trim stand out from the others.
When the Toyota brought the Camry into 2018, the SE sport trim gained paddle shifters and improved steering calibration. Upper trims will saw additional features like leather seats, a head-up display, and a wireless charger. Each year, Toyota manages to keep outdoing itself with either interior room, features, or improved styling choices. All different models of the Camry have stood up to the test of time as the most reliable vehicles for buyers to purchase used.
Finding a Camry
Whether you look for the gas-powered or hybrid version of a Toyota Camry, you will find a fuel-efficient sedan built for comfort and reliability. Safety has always been a strong point of Toyota vehicles, and certainly any Camry you find in the last 20 years will be no exception. Each year the technology gets more and more finely tuned, and the designs continue to improve in terms of durability and strength, while also getting lighter.
Keep in mind that your best bet will typically be to purchase from a dealer like us at Colonial Motor Mart in Indiana, PA. Dealerships can offer pre-owned vehicles with warranties for reassurance. Additionally, certified pre-owned cars from dealerships have gone through rigorous tests to ensure they pass quality inspections. If you purchase from a dealership, you will have more coverage and fewer surprises.
With all of that said, if you are looking for a used Toyota Camry or any other vehicle, we at Colonial Motor Mart are ready to help you find it. We will work with you and your wants, needs, and budget to ensure you drive away with the best possible vehicle for your lifestyle. So what are you waiting for? Get your car search kickstarted with Colonial Motor Mart!