What to Expect When You Buy a Used Mazda 3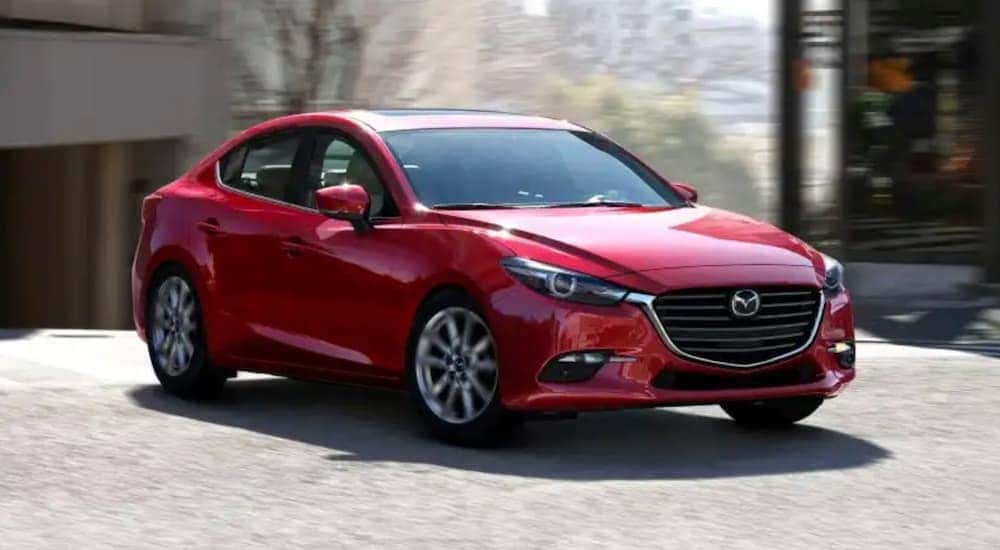 When buying a used car, the more you know, the better. Our team of used dealers at Colonial Motor Mart understands that having a great selection and having phenomenal knowledge about that selection can make all the difference in your used car buying experience. Of all the vehicles housed in our showroom, one car, in particular, deserves exclusive focus, the Mazda 3.
When you visit our dealership to purchase a used Mazda 3, chances are you'll find a collection of dealers who are ready to sing praises about this sleek, compact sedan. Whether you've found a recent model from 2018, or you've fallen in love with an older model, you're in for a thrilling driving experience from start to finish. Mazda has earned quite the reputation for developing some pretty incredible vehicles, and at the top of their list is the ever-stylish Mazda 3.
First Impressions Are Everything
For the sake of consistency, we'll focus our attention on the recent 2018 year model of the Mazda 3. For the most part, this 2018 model is quite similar to older years with its low profile, hatchback option, and solid mid-range powertrain. That said, the Mazda 3 has experienced some serious aesthetic changes over the years, changing from a pretty conservative sedan to something that more closely resembles a luxury competitor.
Much like newer models, the 2018 Mazda 3 can be purchased in one of three trim levels, the Sport, Touring, and Grand Touring.
As mentioned prior, the Mazda 3 is also available in either a hatchback or standard sedan styling, giving drivers further options for configuration. The 2018 model, much like the 2020 model, can easily be confused as a far more expensive and premium vehicle. And don't get us wrong, the 2018 Mazda 3 is plenty luxurious, with its wide assortment of interior features, and solid powertrain options. That said, when you visit our showroom, you'll find a price tag that fits a more realistic budget.
What's Beneath the Hood?
For many of our customers, the machinery beneath the hood plays a huge role, and for good reason. The engine that you're put in charge of can make a huge difference in your overall driving experience. Fortunately, in typical Mazda fashion, the engine of 2018 Mazda 3 models is bound to offer a steady, reliable, and a rather zippy ride.
In the 2018 Mazda 3, the base Sport trim pushes forward through the assistance of a 2.0-liter inline-4 engine, which is responsible for 155 horsepower and 150 lb-ft worth of torque. Equipped with either a 6-speed automatic or 6-speed manual, riding in the baseline trim Mazda 3 makes for some decent driving. Unlike competitors, the 2018 Mazda 3 offers other powertrain options, this one in the form of a 2.5-liter inline-4 engine that bumps things up a bit to 184 horsepower and 185 lb-ft worth of torque. What you get is a bigger engine, with the kind of oomph that speed and performance enthusiasts clamber for.
Although, what makes driving the 2018 Mazda 3 particularly thrilling isn't just the engine, but Mazda's G-Vectoring Control System. Added into the Mazda 3 in the 2017 year model, this G-Vectoring Control System makes turns smooth and seamless by adjusting the amount of applied torque based on the steering input. What results is a car that even when turning at high-speeds won't cause you to be tossed about the cabin.
All totaled, the driving experience of the 2018 Mazda 3 is well-designed, with both power and handling in mind. Newer and older models offer a similar ride, that borders on performance worthy, and can be quite satisfying for anyone who wants a sedan with a bit of extra punch behind each tap of the accelerator.
A Cabin Made for Royalty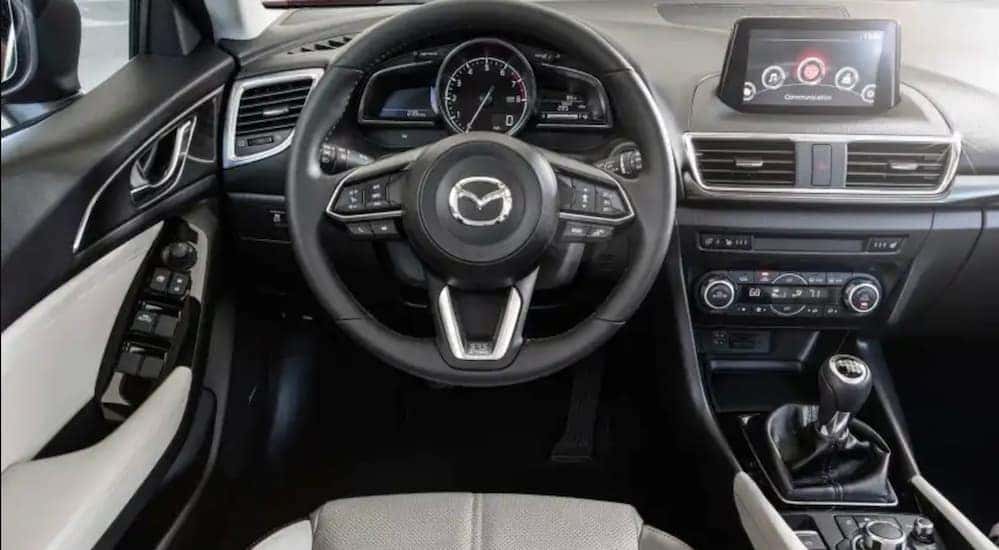 A downside to many compact sedans is the lack of interior comforts. Sure, the driver and front passenger may find plenty of legroom, but the rear passengers can often feel cramped. And that's not to mention the lack of interior cargo space, which often results in drivers having to play a tight game of Tetris with even the smallest amount of luggage; the 2018 Mazda 3 doesn't have that problem. Rear seat passengers will get to enjoy 35.8 inches of legroom, a luxury that even some SUVs don't offer. Trunk space is also pretty solid, with sedan-styled models getting a trunk that measures in 12.4 cubic feet. Meanwhile, the hatchback model brings things up a notch to offer a total of 47.1 cubic feet of cargo space with the rear seats folded; something that, once again, some compact SUVs don't provide.
All that said, there is more to the Mazda 3 cabin than just spacing. The interior of the base model, for instance, is made with high-grade cloth upholstery, and if you want something a little more premium, step up to the Grand Touring, which offers a leather-dressed interior. The 2018 model of the Mazda 3 comes with a decent spread of technology. For starters, the base trim offers a 7.0-inch infotainment touchscreen, as well as a rearview camera, keyless ignition, and Bluetooth connectivity. Higher-end trims capitalize on this good start, adding in a power-adjustable driver's throne, heated front seats, a sunroof, a heads-up display, LED headlights, and even navigation software.
Technology isn't just packed into the infotainment aspect of the Mazda 3; the 2018 model also comes with a number of active safety features that make driving seamless. The base model of the Mazda 3 comes with low-speed automatic emergency braking and a rearview camera. But, should you want the full protective experience, higher trims like the Touring and Grand Touring add in blind-spot monitors with rear cross-traffic alert, active lane control, adaptive cruise control, and an upgraded version of automatic emergency braking which operates at far higher speeds.
With all of these features combined, the 2018 Mazda 3 offers an interior cabin that is fit for the best. Even newer sedans attempt to live up to the kind of tech and luxury dished out in the 2018 Mazda 3, and you can experience it all first hand here at Colonial Motor Mart.
The Mazda 3 At Colonial Motor Mart
The Mazda 3 is but one of the many vehicles we offer within our showroom walls in Indiana, PA. From relatively new 2018 models to older versions from 2016, we offer it all at Colonial Motor Mart. Not only that, but we are home to a team of used car dealers who know the ins and outs of the car buying process. They understand just how complicated the car buying process can be, and will go that extra mile to ensure that things are as straightforward as possible. If you're interested in checking out any model of the Mazda 3, or any other vehicle, we're more than willing to schedule you in for a test drive so you can get a full gauge of what kind of car to buy. Our goal is to send you home in a car that you love to drive and doesn't break the bank. There are many benefits to buying used, and many used car dealerships out there, but there is nothing quite like buying used from Colonial Motor Mart.