Turning Your Used Jeep Wrangler Into an Off-Road Champion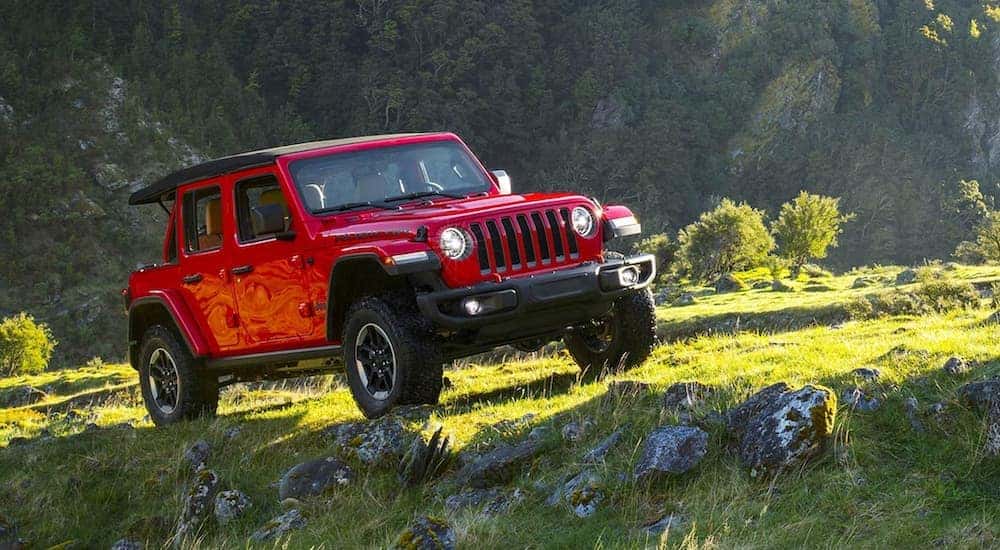 Buying used can come with some significant benefits, especially to drivers who are looking to drive a vehicle that is not just capable but proficient at handling itself off of the pavement. While performance on the road is important for many drivers, for a good portion of others, the ideal vehicle must also be able to tackle the rough terrain of the outdoors as well. When you are searching "used car dealership near me," Colonial Motor Mart should be your first choice for off-road-ready vehicles.
At Colonial Motor Mart, we offer a plethora of used vehicles, and one model, in particular, can fit the expectations of an avid off-roader, and we can help you transform this already rugged model into an unstoppable force. If you visit our used showroom on the lookout for a used vehicle that could make the perfect off-road vehicle, we highly suggest purchasing a used Jeep Wrangler. Not only are they pretty versatile right from the start, but they can be easily outfitted with a variety of gear and modifications that can transform it into an SUV that knows no fear when put before off-road challenges.
The Reputation of the Jeep Wrangler
Jeep already has a legacy rooted in capability and versatility. Dating all the way back to the first models which were issued for the US military, Jeep has developed SUVs that had the ability to cross a variety of terrain types without issue. While modern models may not be as military-grade as models of the past, they are refined vehicles that put power, comfort, and off-road capability all into a single package. Much of the Jeep family lineup is made up of SUVs that can handle their own on the trail but aren't necessarily off-road vehicles. The Jeep Wrangler resides as an outlier within the Jeep family, acting as a direct call back to the first Jeeps that propagated the US military during the Second World War.
The Jeep Wrangler has been around since 1986 and was a direct replacement of the Jeep CJ series, which was an SUV of similar design. Every model of the Jeep Wrangler comes with considerable ground clearance, a 4×4 drivetrain, and plenty of power beneath the hood to get you through some of the roughest stretches of wilderness. As a result, the Jeep Wrangler is an ideal choice for any driver who wants to transform an SUV into an off-road capable trekker. And if you're on a budget, we highly recommend that you purchase your Jeep Wrangler pre-owned.
So, what kind of modification should you equip your pre-owned Jeep Wrangler with? This is a question that we get a lot from our off-road-centric drivers, and the list is quite extensive. That said, we've put together some 'must-haves' that you can receive at our parts and service center at Colonial Motor Mart.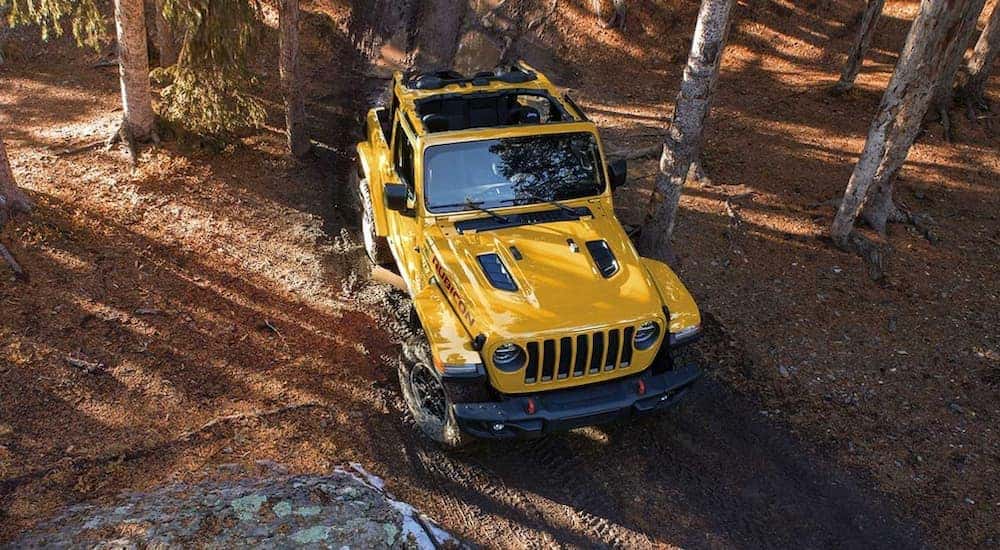 The Value of Good Tires
At the top of our list of 'must-have' modifications for any off-road vehicle, is a solid set of good off-road tires. While your set of street tires may be able to handle graded roads or gravel, they won't fair too well when put up against terrain like snow, mud, or sand. Off-road tires ought to be one of the first modifications you install into your soon-to-be off-road-ready Jeep Wrangler. Off-road tires provide greater traction due to the serious tread depth they offer. At the same time, a good set of off-road tires are going to be far more durable than street tires. That said, you shouldn't just rely on the set of off-road tires that are installed on your vehicle. You should also invest in a full-spare to make sure that you don't get stuck and need a tow if you do experience a flat. Designed to withstand a beating, off-road tires can mean the difference between a thrilling off-road driving experience or finding yourself stuck in the mud in the middle of nowhere.
The Higher, the Better
When venturing out into the great outdoors, being high up off the ground is incredibly important. Many off-road trails are littered with dips, large rocks, and of course, plenty of dirt. And unfortunately, the undercarriage of any vehicle, even the rugged Jeep Wrangler, is sensitive and susceptible to damage when voyaging off the pavement.
The undercarriage of a vehicle contains some pretty crucial components, that if damaged, could have you stranded and, in some cases, can be quite costly to repair. Fortunately, you can counteract the danger imposed to your undercarriage by purchasing a lift kit to increase your ground clearance. Ground clearance is the space that separates the ground from your undercarriage and is a central focus for off-road enthusiasts.
Many Jeep Wrangler models already start with a pretty substantial ground clearance, which measures in at around 10.8 inches. You can increase this ground clearance through a lift kit. Being higher off the ground not only acts as a form of protection, but it can help you gracefully navigate over rough terrain or particularly challenging off-road obstacles should you encounter them.
You can also reinforce your undercarriage by purchasing a set of skid plates. Skid plates beef up undercarriage protection by providing literal shielding to the sensitive components stowed there. Skid plates come in many sizes and types, and purchasing the right set can make the difference in your overall off-roading experience.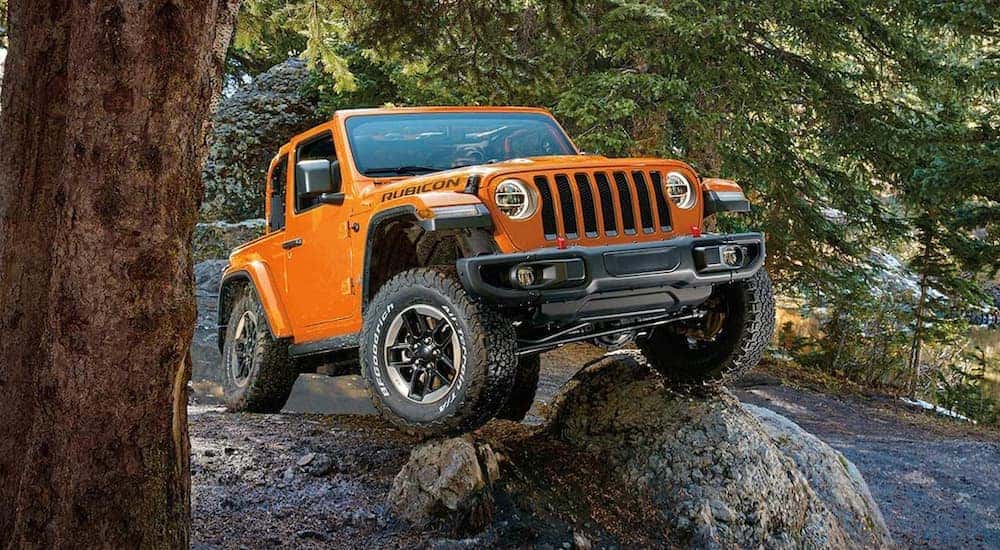 Rock Sliders and Guards to Protect Your Jeep
No matter how off-road capable your Jeep Wrangler is, the chances are that at some point, you're going to want to tackle a tough rocky trail. A rocker panel happens to be one of the most vulnerable parts of any vehicle's body. If you are going off-roading on rocky or rough trails, you can do some serious damage to these panels if you are not careful. For this reason, we recommend that off-road vehicles like the Wrangler, be equipped with rock sliders and rocker guards. The sliders can be used as a step, will help protect your Jeep from debris, and can even be used as a recovery point if you happen to roll or flip your Jeep.
Find Your Next Off-Road-Ready Vehicle at Colonial Motor Mart
If you're looking to purchase a used Jeep Wrangler at a used car dealership near you, visit us at Colonial Motor Mart. Our team of auto experts are passionate about customer satisfaction and will work with you to find the model that fits your needs and the financial deal that doesn't break your budget.
While we may have expertise in auto retail, we also have a reputation for hosting some pretty incredible automotive maintenance services. From tire replacements to finding you the parts you need, we do it all and more. Our goal is to be more than just your auto retailer, but to be your partner in ownership, ensuring that your car continues to run smoothly for many years to come. No matter if you're looking for an off-road capable SUV or a simple commuter, we've got your auto-needs covered at Colonial Motor Mart here in Indiana, PA.