Toyota Tacoma: Capable and Reliable Towing Features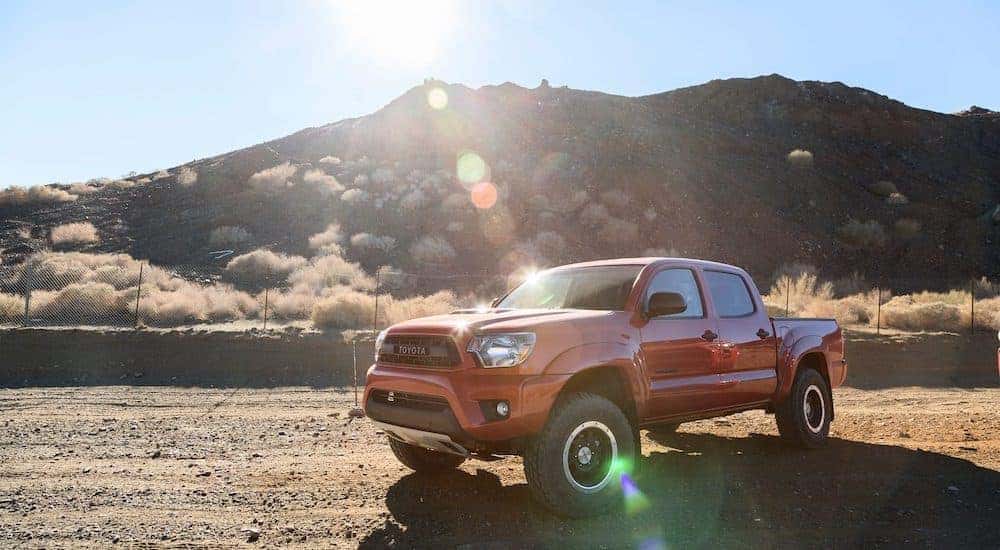 The Toyota Tacoma is the pickup truck for off-roaders and everyday workers alike. This truck has a history of powering through the trails, offering reliable dependability to its drivers, and building up a well-earned fan base. Toyota is a company that listens to its customers and endeavors to provide them with everything they want and need. The Tacoma is no different. Whether you have a new or used Toyota Tacoma, you can expect a reliable truck that will get the job done and still have time for play.
Why Buy a Used Toyota Tacoma
Toyota is known as a visionary car manufacturer that always has its sights set on the next big thing in technology. For Toyota cars, this typically means loads of new hybrid and electric vehicles being released each year. Ever since the Prius made its debut a few decades ago, it's been non-stop history in the making for one of the world's leading car companies.
However, when it comes to Toyota trucks, there's always been a slightly different focus. Trucks are meant to be gritty and tough machines that can handle anything you can throw at them, from hauling lumber to going on an off-road adventure with friends and family. With the Toyota Tacoma, you get everything you need and expect from a midsize truck with Toyota's badge on it. This is a fun-filled, adventure-focused pickup that's ready for action.
In addition, used Toyota Tacomas are easily some of the most popular used trucks on the market. For years and years, the Toyota Tacoma has topped the "Best Resale Value Awards" lists put out by Kelley Blue Book. This means that a used Toyota Tacoma will be a good investment that will last you a long time. While you may not be thinking about reselling your Tacoma down the road, it's always nice to know it has that resale value if you need it.
Vehicles don't always retain a lot of their value over the years because new cars are continually being released. It's common knowledge that when you drive a new car off the lot, its value is going to immediately drop. That's why the Tacoma is a rarity among modern vehicles. With this truck, you get advantages, whether you're buying or selling it. You'll get more money if you sell it later on, but you also know you're getting a reliable vehicle if you're buying a used Toyota Tacoma. Why else would it retain its value so much, even years later?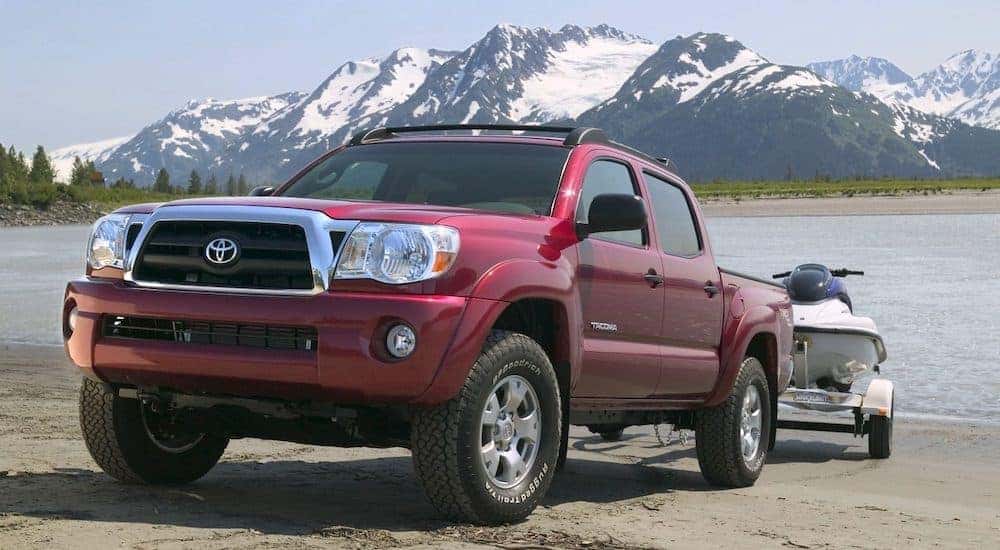 Toyota Tacoma Towing Features
Every pickup is built for towing and hauling, but that doesn't mean they're all made the same way. The Toyota Tacoma is a midsize truck, which means it won't have the same capabilities as full-size pickups, like the Toyota Tundra. This doesn't mean it's a worse vehicle; it just doesn't have as much power for towing or hauling as a full-size truck like a Tundra. Midsize trucks are typically smaller than full-size pickups, so they can cost a lot less as well.
Yet, the Toyota Tacoma is still an excellent vehicle for towing and hauling, no matter what you're using it for. Many midsize truck enthusiasts like the Tacoma because it has a lot of features that pair well with its towing capabilities. The TRD models, like the TRD Sport, TRD Off-Road, and TRD PRO, are built for off-roading, which is perfect if you can see dirt-packed trails in your immediate future. Need to get to a secluded fishing spot with your trusty seacraft? Well, you'll want both excellent off-road and towing features on your truck, but you don't necessarily need a giant vehicle for your purposes. That's the ideal space for a used Toyota Tacoma.
Your towing features will vary by the year of your Tacoma, but you can generally expect a higher towing capacity range of more than 6,000 pounds. For a light-duty truck, that's plenty of towing capacity to make sure your next adventure goes off without a hitch (other than your trailer hitch, of course).
To help with your trailering efforts, you might look into a used Toyota Tacoma model with Trailer-Sway Control. This electronic system helps the driver control their vehicle even when driving conditions aren't the most ideal. Adverse driving conditions could include bad road conditions, inclement weather, and effects on the vehicle from vehicle speed and/or driver steering. This system isn't a substitute for driving safely, but it can help you maintain control of the vehicle.
In addition, some Tacoma models may come with exterior cameras attached to help you get a good view of your surroundings. This can be helpful in a variety of situations, including if you need to check on your trailer without leaving the vehicle, when you're driving through a heavily-forested area, when you're maneuvering in a small camping spot, and so much more.
Better Features Means More Towing
As you search for your ideal used Toyota Tacoma, be aware of how the towing capacity works across Tacoma models. The towing capacity can vary greatly depending on what other features the truck has, so don't sell yourself short if you're looking to get the most towing capacity possible from your Tacoma. This may be different depending on the model year of the Tacoma you're looking at, but you can keep a few things in mind on your used Tacoma search:
Drivetrain: While the drivetrain won't normally change your towing capacity by too much, expect to see some slight differences in your towing power when you're switching between a 4X2 drivetrain and a 4X4 system. The 4X4 system will definitely function better in off-road environments, but you might lose a few hundred pounds on your towing capacity. If that's not a big deal to you, then it's well worth it to get the 4X4 option, so you're well prepared for an adventure.
Bed length: Like the drivetrain, you shouldn't expect too much of a change in your towing capacity from changing between bed lengths on your used Toyota Tacoma. Whether you're going with a short bed or a slightly longer bed, you might see a difference of around two hundred pounds or more in your towing capacity. It's not a huge deal for most people, but it might be for you if you need every available pound of towing capacity for your future plans.
Engine: The type of engine you have equipped on your Tacoma can make a huge difference in your towing capacity numbers. It's usually pretty straightforward, though. If you have a more powerful engine, like comparing a V6 to a 4-cylinder engine, you're likely to have a higher towing capacity. Look for engines with higher torque ratings.
Package Add-Ons: Sometimes, a more powerful engine comes included in specific Tacoma trims and requires packages to boost the towing up to the max. These packages might also have specific towing equipment or technology that increases the amount of towing capacity available on your truck. In some cases, you might see an increase of a few thousand pounds in towing capacity because the Tacoma has a tow package attached to it. If you're looking to tow anything serious, this is probably an essential component you should look out for when choosing your used model.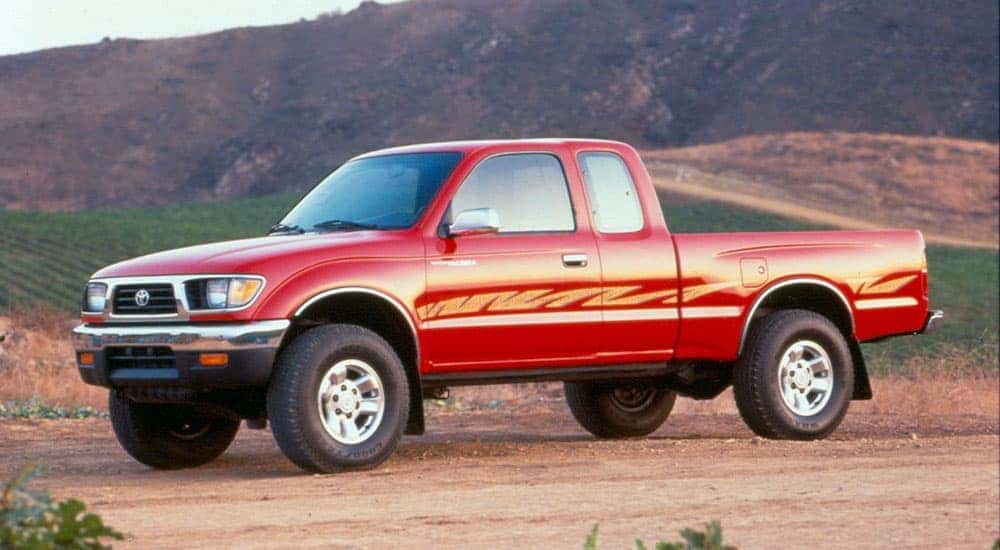 Visit Us at Colonial Motor Mart
When looking for your next vehicle, consider the variety of used cars and trucks available at Colonial Motor Mart. We have everything you need to get started with a dream purchase, including the ever-popular Toyota Tacoma. At Colonial Motor Mart, we strive to provide the highest quality of new and pre-owned vehicles available. You can find vehicles from a variety of brands, including Cadillac, GMC, Nissan, Mazda, Toyota, and Mitsubishi. We know how important it is to find a vehicle from a respected manufacturer, which is why we make it simple and include plenty of options for you to choose from.
For trucks, though, we highly recommend the Toyota Tacoma. As a pre-owned vehicle, it doesn't get much better than a Toyota Tacoma. These trucks are inexpensive compared to full-size pickup trucks, but they don't lack anything when it comes to quality and convenience.
If you're interested in a used Toyota Tacoma, or any other vehicle, check out our website and see exactly what we have to offer. You can also come down and visit us at our dealership, where we'll do our best to help you out and answer all your questions. We look forward to your visit and helping you find your next dream vehicle!