Test Drive Giveaway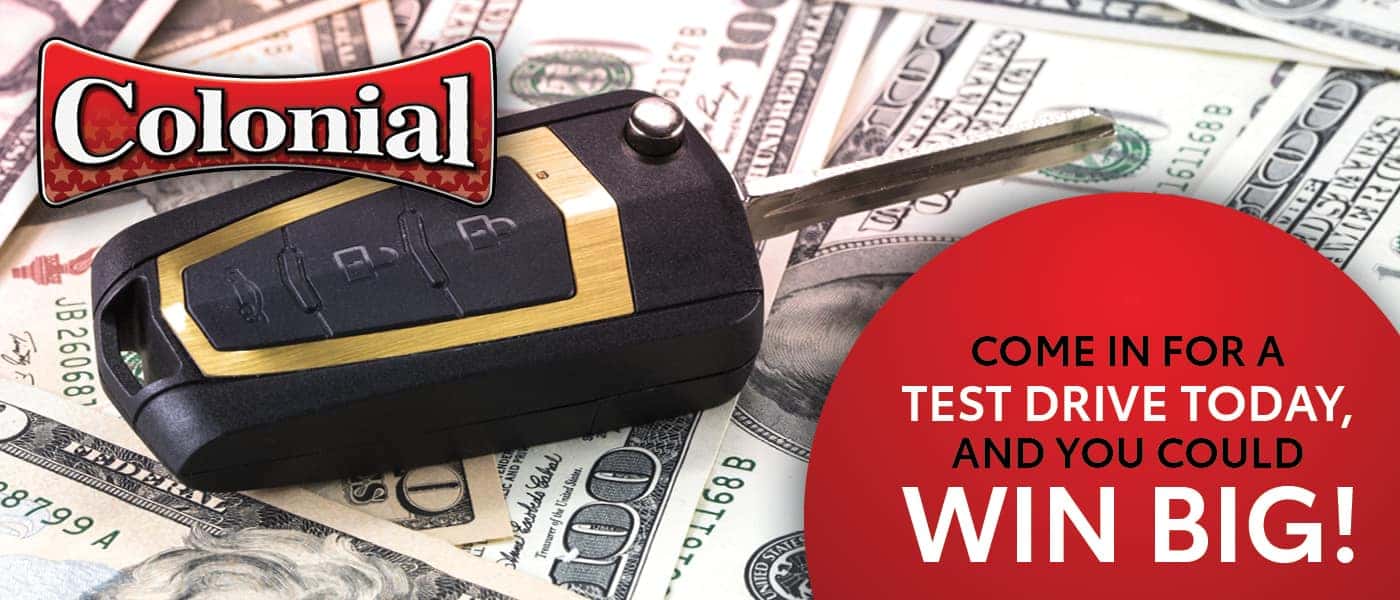 $10,000 In Cash Giveaways!
Win Anything From $250 to $2,000! No Purchase Required! To win, visit Colonial Motor Mart and let us show you our selection of vehicles. Test drive any vehicle, and you're entered! All test drive entries will be placed into a hopper and randomly drawn on Thursday, April 1st.
Does test-driving a new car and heading home with $2,000 in cash sound too good to be true? Well, here at Colonial Motor Mart, you can do exactly that with our Test Drive Giveaway! Visit us in Indiana, Pennsylvania and take one of our quality vehicles for a test drive, and you will be automatically entered into our April 1st drawing––the only restriction is that you have to be 18 or older to participate! The first-place prize is $2,000 in cash, but we will be giving out a total of $10,000 to 18 lucky winners, so you will have plenty of chances to win during our Test Drive Giveaway.
If you have been considering a new vehicle or simply want to check out a new model up close, now is the perfect time to pay a visit to one of our locations. Colonial Motor Mart is an authorized dealer for Cadillac, GMC, Mazda, Mitsubishi, Nissan, and Toyota, giving you countless options to choose from. Whether you are interested in exploring the pinnacle of American luxury vehicles, examining the power of a professional-grade truck, or experiencing legendary Japanese reliability, Colonial Motor Mart has a vehicle for you. Our expansive inventory of reliable used cars, trucks, and SUVs offers an even wider variety of makes and models, ensuring that you can find your perfect car, truck, or SUV at one of our six locations.
Once you find a vehicle that catches your eye, simply speak to our friendly staff and take it for a test drive to be automatically entered into our Test Drive Giveaway. On April 1st, at the end of the giveaway, we will be randomly drawing winners to receive cash prizes. Not only will first place take home $2,000 in cash, but three second-place winners will be presented with $1,000 each, six third-place winners will all receive $500, and eight fourth-place winners get $250. That gives you lots of opportunities to be a winner in our Test Drive Giveaway. And, of course, you are guaranteed the enjoyment of taking an exciting new vehicle for a test drive at a friendly local dealership.
Colonial Motor Mart has been serving Pennsylvania drivers for over 70 years now, and we have deep roots in the Indiana area. Our family-owned dealership always puts customers first, and we do our best to give back to our local community. When you shop with us, you will be met by staff members who live nearby and know what you need in your next vehicle. On top of our friendly and low-stress environment, we offer our unique Colonial Lifetime Warranty for both new and used models. Buying from Colonial Motor Mart means never worrying about expensive repairs right after the manufacturer's warranty has expired. Plus, our complimentary lifetime state inspections, free car wash, and more help make Colonial Motor Mart the best option around. Visit us today, take one of our vehicles for a test drive, and enjoy the added benefit of participating in our Test Drive Giveaway!