Sneak Peek: 2021 GMC Canyon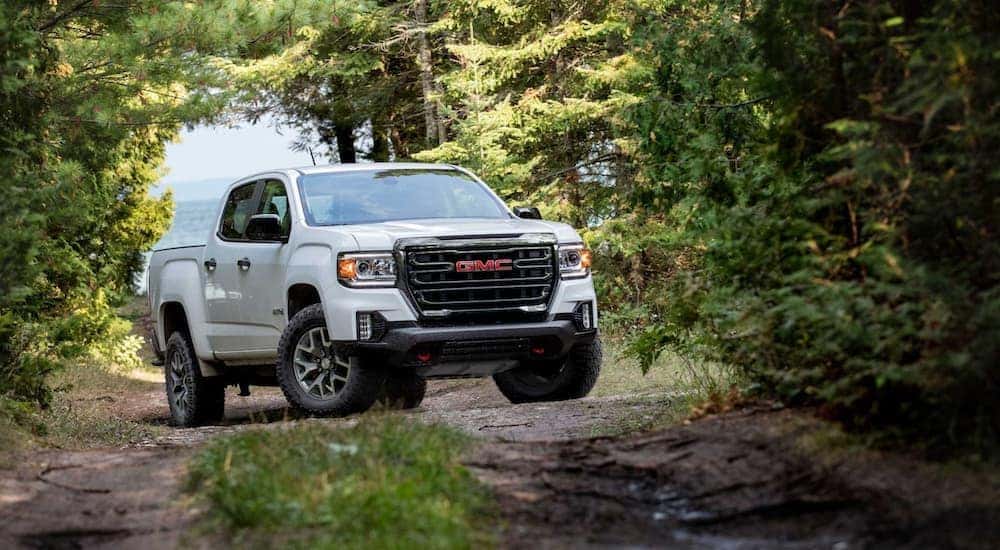 The consumer world is always excited when talk begins of a major manufacturer making changes to an existing product line. Whether it is a new flavor of breakfast cereal or a significant upgrade to a popular piece of technology, folks want to know what is happening, where the product is going, and how this will affect them. Maybe there is a software redesign that will impact a program that I need to use for business? Perhaps they are discontinuing the soda with my favorite flavor cherry red? The sport that I love to watch might be making a rules change that could help or hurt my favorite? All of these are things that are both wonderful and frightening about changes in the marketplace. This is no less the case when we hear Rumors and Redesign of a popular car, truck, or SUV. Automobile manufacturers are always looking for ways to make their vehicles safer, stronger, more dependable, roomier, more luxurious, and more fuel-efficient. Such is the case with General Motors and its upcoming midsize pickup truck, the 2021 GMC Canyon.
First introduced for the 2004 model year, and then reintroduced for the 2015 model year, the GMC Canyon is long overdue for a facelift, and many folks are listening to rumors and redesign murmurings for the 2021 GMC Canyon model year. We here at Colonial Motor Mart GMC have heard these rumors and read the speculative reports, and will give you the lowdown on what to expect for this popular, midsize truck. Conveniently located at 349 N. 4th Street in Indiana, Pennsylvania, we will be sure to have these brand new 2021 GMC Canyon trucks ready for you to test drive as soon as General Motors rolls them out later this year.
A GMC Canyon AT4 Is On the Way
GMC will be rolling out a Canyon AT4 sometime in 2020. For those who don't know, the AT4 is the off-road version of GMC's trucks and SUVs, featuring a wider track, suspension lift, and all-terrain tires that make it the ideal vehicle for off-road enthusiasts. GMC is set to use the same platform currently used on the Chevy Colorado ZR2, a 3.6L V6 engine and a 2.8L Duramax Turbo-Diesel I-4 engine. With this being the case, then the 2021 GMC Canyon AT4 will be one of the top all-terrain vehicles. Some of the key features that make the Colorado ZR2 so good include high-tech Multimatic DSSV spool valve shocks and special styling to improve off-road performance. There is already an AT4 variant for the Canyon's bigger siblings, the Sierra HD and Sierra 1500.
The Sierra AT4 features a 2-inch lift kit, Rancho monotube shock absorbers, hill-descent control, skid plates, and a locking rear differential. Buyers of the Sierra AT4 can even spring for GMC's special off-road performance package, which outfits the Sierra with an upgraded 6.2-liter V8 engine, combined with a specialized exhaust and air intake system. The word around General Motors is that the company is planning to have an AT4 variant for each of its GMC models by the end of 2021, with the possible exception of the GMC Savana. Maybe the world isn't ready for an off-road cargo van?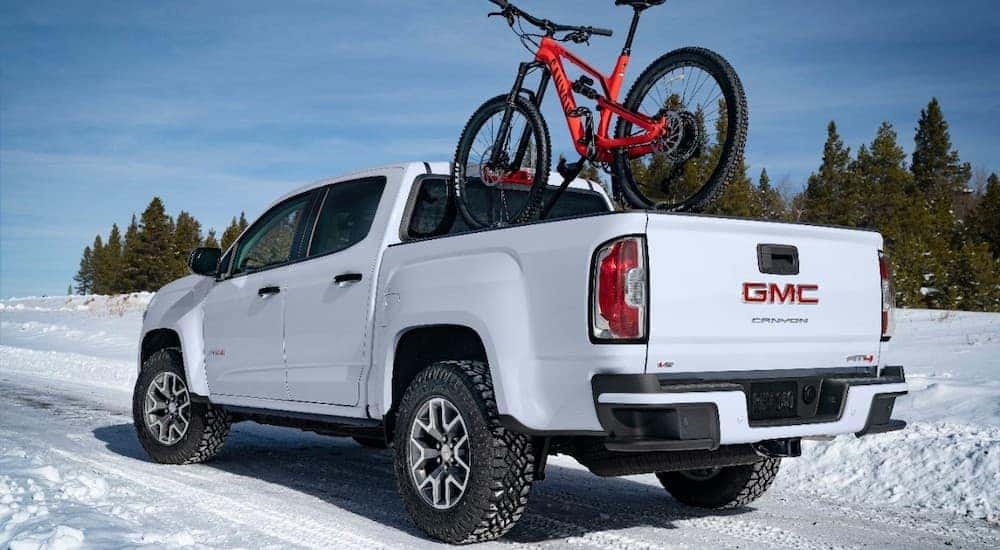 Styling Changes
The other rumor that we can confirm at this point entails stylistic changes to the exterior of the 2021 GMC Canyon. These will involve a specialized grille for each trim level, with a wider and taller overall profile than the current 2020 model year Canyon. The new grille will be a single piece with rectangular intake slats, stretching from under the hood to the top of the lower bumper. This will give the Canyon a more aggressive and muscular look from the approach angles, similar to the one for the Sierra full-size trucks. In addition, having greater design separation between trim levels will provide each model with its own distinct look.
Interestingly enough, General Motors has been especially secretive about the 2021 GMC Canyon, releasing only teaser pictures of the truck with its front fascia covered by a zebra-skin mask. This is of particular note since the company has yet to launch a webpage for the 2021 Canyon on the GMC website despite the fact that the new trucks are scheduled to hit dealerships sometime in the second half of 2020.
The wider and taller look will not only give it a familial relationship to the Sierra but should also provide greater hip, shoulder, and headroom for the occupants of the cab. The current 2020 Canyon Crew Cab provides 45 inches of legroom in the front and 35.8 inches of legroom in the second row, which is fine, but any improvement will be greatly appreciated by you and your passengers. In addition, by making it broader, General Motors may be giving the Canyon the ability to exceed its current payload capacity of between 1,386 to 1,605 pounds and maximum towing ability of 7,700 pounds. These changes will also be welcomed by GMC's truck customers.
One thing that will apparently not change is the truck bed. General Motors is currently using the GM 31XX platform for the Canyon, as well as its cousin, the Chevy Colorado. At this point, there does not appear to be any plans to change this for the 2021 model year. There is talk that there may be a major redesign in store for the 2023 or 2024 model year, which would entail building the Canyon on the new GM 31XX-2 platform. However, these rumors could not be confirmed at this point in time.
There also does not appear to be any move to change the drivetrain for the GMC Canyon. The current model features three engine choices: a standard 2.5-liter 4-cylinder engine that produces 200 horsepower and 191 pounds to feet of torque, an optional 3.6-liter V6 with 308 horsepower and 275 pounds to feet of torque, and an optional 2.8-liter 4-cylinder Turbo Diesel that is capable of producing up to 181 horsepower and 369 pounds to feet of torque. If the rumors of a major model redesign for the Canyon are true, then General Motors could be holding off on altering the engine and transmission on the truck until such time as it is ready to go forward with the redesign.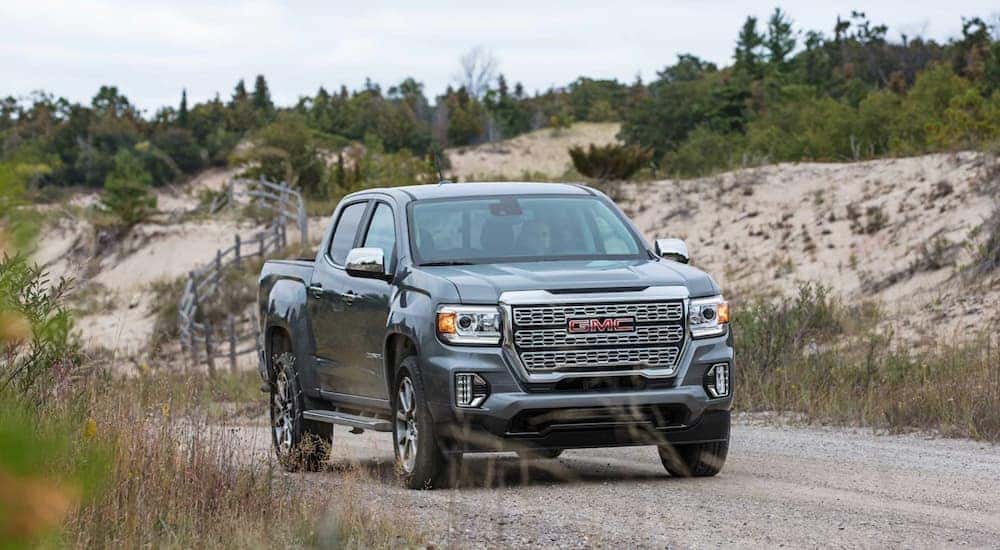 Safety and infotainment features
Two areas where we should see some incremental changes to the Canyon are in the area of safety features and the infotainment system. The current base model Canyon features 4-wheel antilock disc brakes, 6 airbags, daytime running lamps, electronic traction control, rear vision camera, Teen Driver, and StabiliTrak with traction control. Drivers will have to either pay extra for optional safety features like rear park assist and forward collision alert or move to a higher trim level. To address this, General Motors may make more of these safety features standard on all 2021 GMC Canyon trucks. It wasn't so long ago that features like daytime running lamps, antilock disc brakes, and rear cameras were expensive options. It would be good for driver and passenger safety, as well as GMC business, to make many of these new technological safety features standard on a larger number of its vehicles.
The other area where we may see some upgrades is in the already exceptional GMC Infotainment System. This could involve enlarging the touch screen from the current 8 inches, adding additional USB ports, adding a smartphone charging pad, adding new features, or making other optional features like SiriusXM or navigation standard on all 2021 GMC Canyon models.
One of the best things about upgrading the safety features and infotainment system is that it won't require any design changes to the Canyon truck. Many of these features already exist in the model line, although at this point, they are mainly reserved for top models like the SLT and Denali. It will be interesting to see which of these rumors prove true. We should know the answers shortly, just like the addition of the Canyon AT4 to the model line and the new grille and overall profile.