Save Big on Used GMC Trucks at Colonial Motor Mart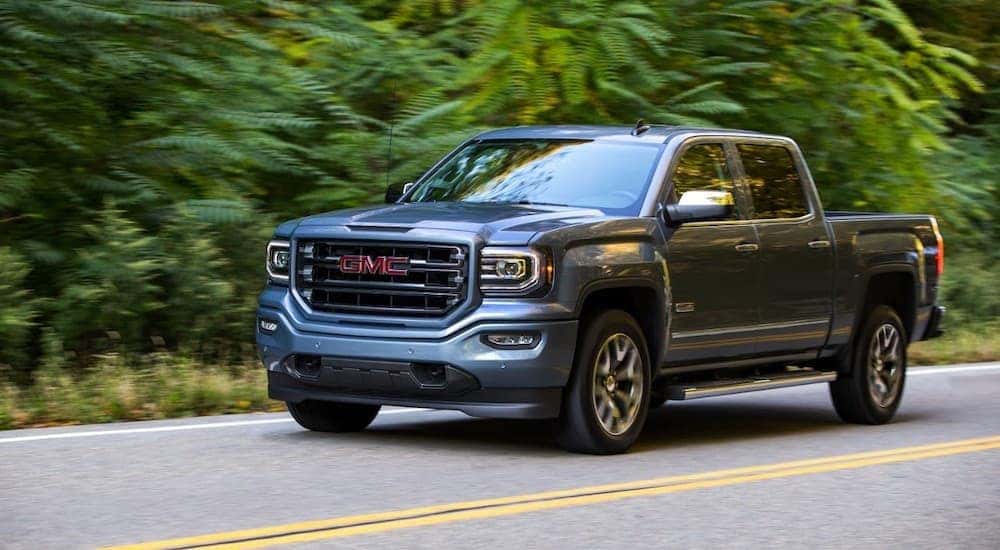 Looking for a pickup but don't want to pay new-model prices? Go used. There are a number of advantages when you purchase one of the used cars for sale at Colonial Motor Mart. And purchasing a used truck comes with the same advantages. You'll avoid many of the depreciation aspects that come with buying new, and, depending on the model year and mileage you go for, a Certified Pre-Owned GMC truck offers many of the same warranty and service features of a new GMC truck. From the full-size GMC Sierra to the smaller GMC Canyon, when shopping at Colonial Motor Mart, you'll find one of the best offerings of used GMC vehicles in the state. All you need to do is stop by the lot or check out the latest additions to the lineup online.
Advantages of Buying Certified Pre-Owned
When checking out the different used GMC trucks, SUVs, vans, and other General Motors vehicles on the lot, you'll find some are listed as used while others are Certified Pre-Owned. While yes, both vehicles have been owned previously, there is a difference between the two.
In order for a GMC vehicle to be considered Certified Pre-Owned (as well as a Buick or Chevy), it needs to be within at least five model years of the latest release. This means, with the latest 2020 model releases, the used GMC truck needs to be a 2016 model or newer. It also must have no more than 75,000 miles.
Once it checks these two boxes off the list, the vehicle needs to pass a 172-point inspection and reconditioning process. All safety recalls will need to be performed as well.
As long as the used GMC truck passes, it will receive its Certified Pre-Owned status. What does this mean? The truck will receive a 6-year/100,000-mile powertrain limited warranty, a 12-month/12,000-mile bumper to bumper limited warranty, 24/7 roadside assistance and courtesy transportation service, a vehicle exchange program, up to three months of complimentary OnStar service and a complimentary three month SiriusXM trial subscription as well as an exclusive CPO scheduled maintenance program.
If you want to learn more of the specifics regarding a Certified Pre-Owned GMC truck over a used GMC truck, feel free to talk with one of our service or sales professionals. They will go over everything in further detail.
The GMC Sierra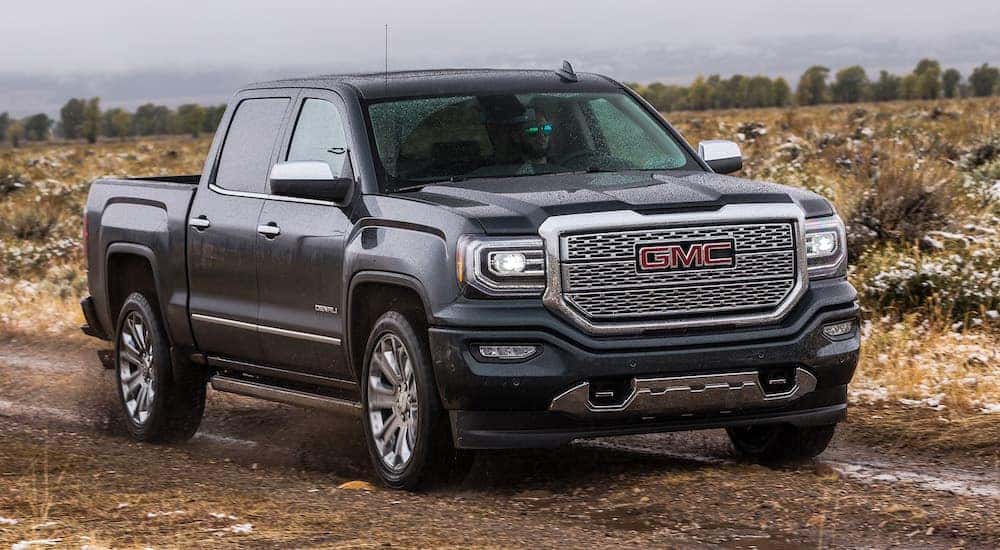 The Sierra 1500 is GMC's full-size pickup. With a number of trim choices, cab sizes, and truck bed options, there's a good chance you'll find the exact configuration you're interested in.
Starting with the 2016 model year, the GMC Sierra offered a brand new infotainment system featuring Apple CarPlay. You can also find this pickup in both four-wheel drive and two-wheel drive. Depending on the cab size and configurations you go with some of the models are also able to seat up to six passengers, which means this is a truck not only for work but for the entire family.
Starting with the 2018 model year, all GMC Sierra 1500s came standard with a 7-inch touchscreen, which also provides an excellent HD rearview camera display. If you've ever attempted to connect a truck hitch with a trailer without the aid of a rearview camera, you know just how difficult it can be (especially if you don't do it all that often). With the backup camera, that is no longer a problem.
The 2019 model is completely redesigned, and while you could find a few new 2019 GMC Sierra 1500s available depending on where you look, used options are also starting to come in with drivers looking to trade into the 2020 editions.
The GMC Canyon
The GMC Canyon is the smaller of the two pickups. However, just because you go for a used compact pickup does not mean it is unable to perform. In fact, you'll find a number of impressive features and luxury interior designs not available on other compact trucks.
2015 marks the latest full redesign of the GMC Canyon. All models since the 2015 edition are part of this recent generation. While the 2015 model is not available as a Certified Pre-Owned option (it just barely meets the cut-off point), if you want to go with a pickup that looks modern and yet comes with an attractively lower price point, this is an excellent purchase option to consider. You'll also find GMC Did not make the Canyon for either 2013 or 2014, so if you want something older, you'll need to look for a 2012 model.
Starting with the 2016 model year, the GMC Canyon offered a 2.8L turbodiesel engine that can get up to 181 horsepower and 369 lb-ft of torque. The truck also has a max horsepower of 305 (with a 3.6L V6 engine), so despite being smaller, it still has plenty of power. Starting with the 2018 model year GMC installed a large touchscreen featuring both Apple CarPlay and Android Auto. This feature comes standard on all 2018 and newer Canyons, so it doesn't matter what trim or engine you go with.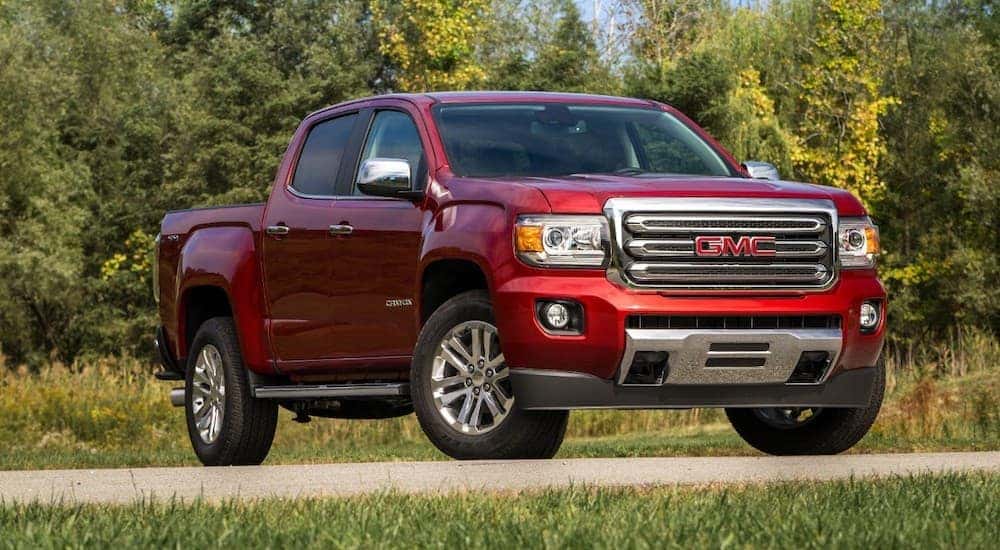 There's Always Something New
When you're shopping for a used pickup, there is always something for every kind of pickup driver. This is especially the case with the brand new 2020 models available at dealerships. Individuals who are looking to trade up are bringing their current trucks in. You will start to see more 2019, 2018, and 2017 models coming in, especially from those who lease their vehicles for a year or two before swapping out for the latest and greatest.
Of course, most of the GMC trucks of the last five years come with the same engine options, so you can go with a slightly older pickup and still take advantage of the powerful engines offered. If you're interested in more internal technology, such as a larger touchscreen or syncing features such as Apple CarPlay, it is recommended to either go for one of the newer editions or to shop for a higher trim, such as the Denali. The Denali trims, regardless of the specific model they belong to, will often come with more advanced technology.
Your Next GMC Truck Awaits at Colonial Motor Mart
If you don't mind a truck that has a few miles on it or is a few years old, there are all kinds of benefits with purchasing a used GMC truck from us at Colonial Motor Mart. You'll avoid significant depreciation when buying used, you'll save thousands over the cost of buying new, and our Certified Pre-Owned GMC trucks come with many of the same warranties and assurances as a new pickup. So, if you're ready for your next pickup, now is the time to come on out to Colonial Motor Mart and check out the lineup of used GMC trucks.
We're open Monday through Saturday, and we're just a stone throw from Pittsburgh. "New" used vehicles are added daily, so even if you don't see exactly what you want today, it could drive onto our lot tomorrow. Our staff here at Colonial Motor Mart will do all they can to make sure they find you a vehicle that meets all your needs. So don't wait. Make the drive out to Colonial Motor Mart here in Indiana, PA, and find your next GMC used truck today.