Our Favorite Brands of Used Trucks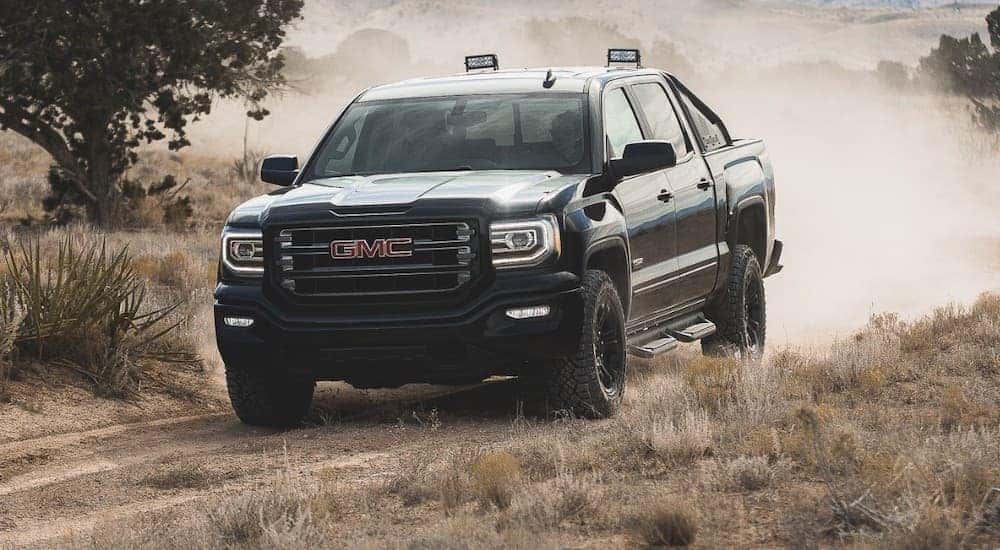 Although some people feel that buying a used model limits your options, since you can't customize it like a new vehicle, we see buying used as a great way to massively expand your options. While you can't customize the vehicle you buy as easily, the market of used trucks for sale in PA is immense and gives you access to a wide range of different vehicles. It might take a little more time to comb through all of the pickups available to get one with everything you want, but the effort is definitely worthwhile.
Choosing the right truck from available used models is all about narrowing down your options to find just what you need. Perhaps the most important decision to make is choosing a make and model, which is to say, the manufacturer and the specific series of truck you want. This is often determined by what you need in terms of power, performance, and specs such as size, payload, and towing capacity. Once you know what you need, then you can look at different brands and the models they offer to find one that is just right. Here are some of our favorite brands of used trucks for sale.
Chevy Trucks
Chevrolet makes some of the best trucks on the road, so when you're looking at used trucks for sale, they're a terrific brand to start with. Not only are their trucks well made and dependable, but Chevy provides a wide range of different models and trims to choose from. This means you can find a wide range of options available when looking at used Chevy trucks.
If you want something midsize and sporty, then the Chevy Colorado is one of the best options on the market. It's a well built midsize pickup that has been around for a long time, which means you can find a lot of different ones on the used market. If going off-road is important to you, then look for a used Colorado ZR2, which is the off-road trim for this truck, and makes it one of the best trail pickups from any manufacturer.
For a great work truck, the Silverado 1500 is one of our favorite models. The standard Silverado is a full-size truck that has been offered with a wide range of trims and engines, so you'll find lots of options out there when looking at used trucks for sale. If you need something that can handle even more work, with incredibly high payload and towing capacities, then keep an eye out for a Silverado 2500HD or 3500HD for a full-size, heavy-duty model.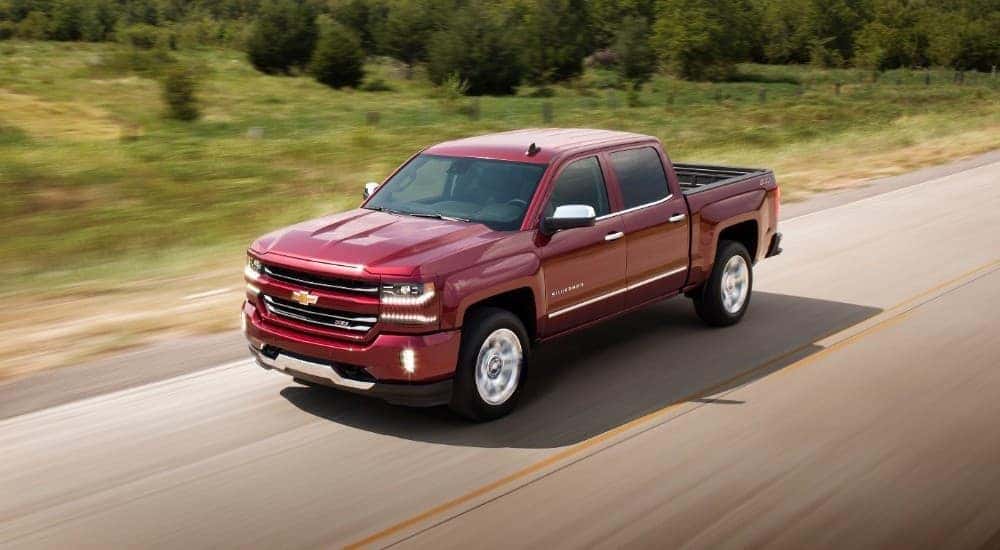 Ford Trucks
Since Ford trucks are among the most popular models available, it should come as no surprise that these are a great choice when looking at used trucks for sale. Much like with Chevrolet, Ford has offered a wide range of different models over the years, and sales have been high on them for decades. This means there are a lot of used Ford pickups available, giving you the freedom to find the perfect combination of features for what you need.
The Ford Ranger is a terrific option if you're looking for a midsize truck. Much like the Chevy Colorado, the Ranger is the ideal choice if you want a slightly smaller pickup for daily use and you don't have particularly high payload or towing needs. The Ford Ranger can be an excellent off-road option though it has been outclassed a bit by the Chevy Colorado over the years, but it's still an excellent choice for light trail driving.
For 40 years, the Ford F-150 has been the best selling truck in America, not to mention the bestselling vehicle in general for nearly as long. So if you want a full-size truck, then the F-150 is a great choice, and you'll find excellent power and performance on these models. If you need even more muscle, then look for a Super Duty model like the Ford F-250 or F-350, which can deliver pretty unbeatable levels of payload and towing capacities.
Ram Trucks
Ram trucks include some of the finest pickups ever made, and while they might not offer quite as many different models as Chevy or Ford, they're still a great choice. If you're looking for a midsize pickup, then the Colorado or Ranger is probably your best bet. But for full-size options, Ram offers amazing trucks that you should strongly consider.
The Ram 1500 is one of the finest full-size trucks on the road and one to watch for when looking at used trucks for sale. While the features you find will certainly vary from year to year, and with different trims, Ram trucks can include some of the most impressive luxury and technology available. These trucks make excellent mobile offices, giving you comfort and sophistication, along with technology that makes doing your job easier. Not to mention the available HEMI engines over the years that make the Ram 1500 hard to beat.
For more power, look for a used Ram 2500 or 3500 model, which are full-size heavy-duty trucks that offer incredible towing and payload. A Ram 3500 with a HEMI engine is truly a thing of beauty and delivers a level of power that you really have to feel to fully appreciate. Ram trucks are excellent choices for their mixture of capability and luxury in a reliable package.
Toyota Trucks
Known for dependability and reliability, Toyota makes some great trucks that work hard and last a long time. While Toyota doesn't have a particularly deep roster of pickups available, that's not necessarily a bad thing as it has let them focus on doing what they do best. So a Toyota truck is an excellent choice on the used market since it's likely in excellent condition and will take good care of you for many years to come.
The Toyota Tacoma is their midsize model and a fantastic choice if you're not looking for a larger truck. A lot of people swear by the Tacoma for going off-road, especially if you can find a TRD trim model, which is designed with going off-road in mind. While we won't debate whether the Tacoma TRD or Colorado ZR2 is a better off-road midsize pickup, they're both models to look for if hitting the trail is what you want to do.
For a full-size model, the Toyota Tundra offers impressive power and performance that you can count on. One complaint some people have had with the Tundra has been a lack of different engines over the years, especially compared to American manufacturers. This is something to keep in mind when looking at used models since you won't find as diverse a selection of powertrains with Toyota. That being said, the Tundra is still an excellent truck, and if the power it offers meets your needs, then it's a great choice.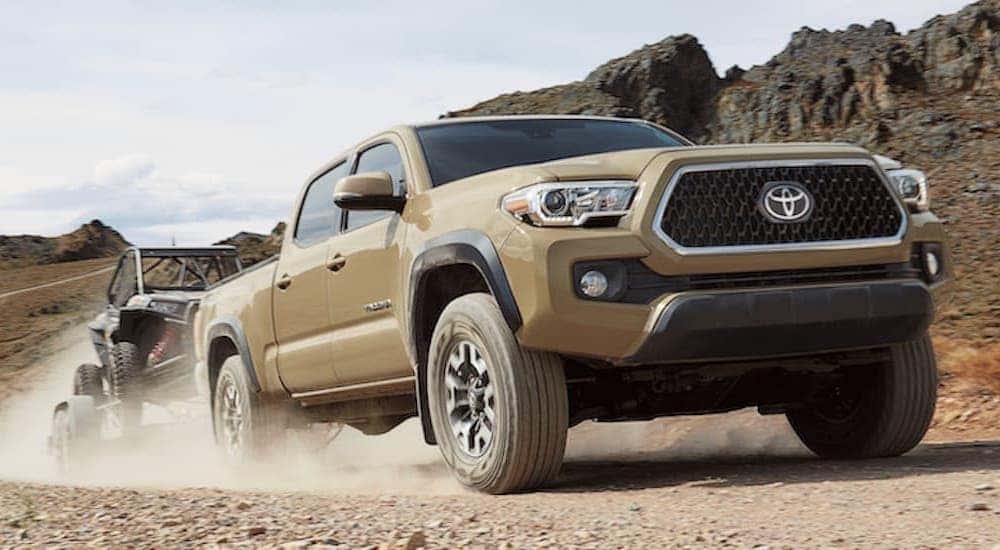 GMC Trucks
We should also briefly mention GMC because when looking at used trucks for sale, GMC models are quite popular. You should know that GMC trucks share a platform with Chevy models and typically offer similar performance and engine options. So the GMC Canyon can be very similar to the Chevy Colorado, while the GMC Sierra 1500 and HD models are nearly identical to the Chevy Silverado pickups in terms of functionality.
GMC is more of a "premium" brand, however, which means you'll often find more sophisticated interior features and options inside of them. If you want leather details in the interior, with an incredible sound system and other luxury features, then a GMC model is a great choice. However, this also means they tend to be a bit more expensive, so keep that in mind.
A Used Truck Is Always a Good Choice
No matter what you're looking for in a used truck for sale, we're here to help. With our wide selection of available used trucks, you're sure to find one with all the features and performance you need. From the beloved 1500s to the work monster heavy-duty models to the zippy off-road companions, we've got trucks to suit every type of driver. Call or come visit us at 349 N 4th St today, and we'll work hard to get you the truck you need.