Making a Connection with your CX-5 with Mazda Connect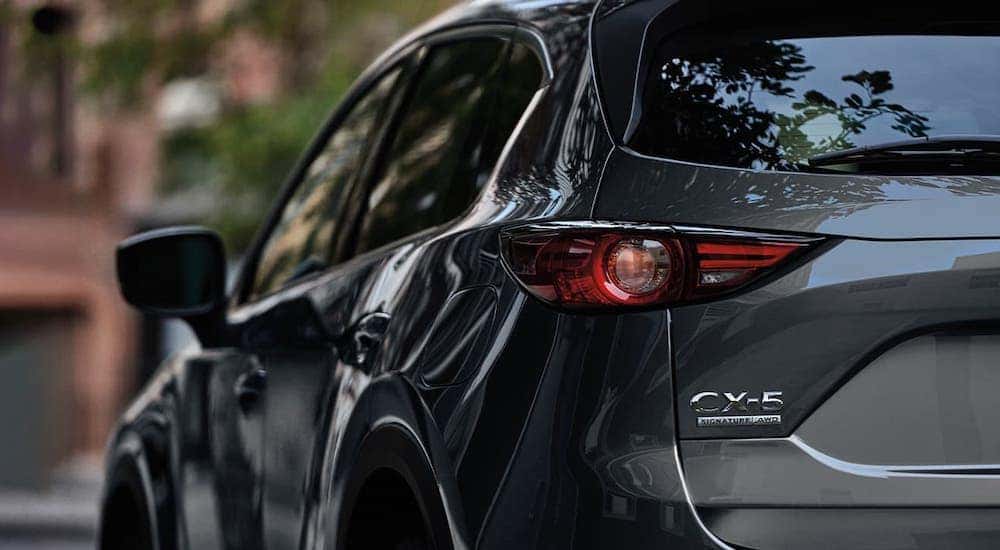 One of my favorite features on modern cars, trucks, and SUVs is the wonderfully interactive infotainment systems that most of them are equipped with. These systems integrate the different information and entertainment features of your car into a seamless, easy-to-use system. I was first introduced to the Mazda Connect when I took a road trip to visit my older brother, who had just been to his local Mazda dealer to get the new CX-5. He showed me all of the great features and capabilities of the Mazda Connect system during the drive, and in no time, I was the one playing around with it, linking my smartphone to stream music, and helping with the navigation. It was really that easy. Now, I get to show off this amazing equipment to customers that visit Colonial Motor Mart.
There are so many different things to discuss with the 2020 Mazda CX-5 infotainment system highlights that I won't be able to cover them all. That is why you should stop by Colonial Motor Mart in Indiana, PA and see the Mazda Connect infotainment system on the 2020 Mazda CX-5 for yourself. It will help you get a better idea of why this system is such a key part of what makes the CX-5 one of the best value propositions if you are in the market for a crossover. Plus, while you visit, you will be helped by excellent staff members who will always go the extra mile to make sure you find exactly what you are looking for. But before you visit, let's go through the best features of the Mazda CX-5 infotainment system.
Mazda Connect Basic Features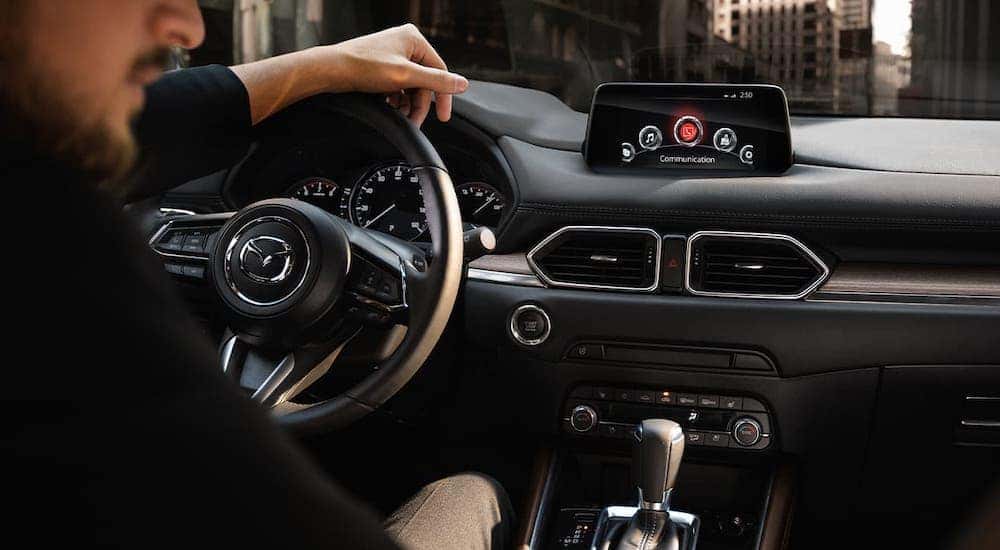 The standard Mazda Connect infotainment system features a 7-inch color touchscreen. As I mentioned, this system is incredibly user friendly, since even I couldn't screw up the one on my brother's CX-5. The system itself comes with some incredible features that are unique to Mazda. There is a multifunction commander control that allows you to operate the entire system through a rotary dial. This is even conveniently placed by the car's shift. All it takes is a push of the button and then a turn of the dial, which corresponds to the semicircle of options on the screen. Simply turning right or left with the knob helps you scroll through the various options, applications, and programs. The screen itself is mounted high on the dashboard between the driver and front passenger seat, so you can see the possibilities without taking your eyes off the road. This unique, human-centered design aims to minimize visual, cognitive, and manual distraction. However, if you do not feel comfortable operating the knob controller with your right hand, and you are driving alone, the entire system can also be operated by voice recognition command.
The Mazda Connect apps are quite plentiful. There is a 911 automatic emergency notification if you have an accident or another emergency during your drive. Hopefully, none of us will ever have to use it, but it is always there just in case. The Mazda Connect also has a hands free SMS text message audio delivery and reply program that will read your messages to you and allow you to dictate a response to the text.
For those of us who love music, Mazda Connect offers three different internet radio integrations. Choose from Aha, Pandora, and Stitcher. No matter what you are listening to, whether AM, FM, HD, satellite, or internet streaming, the Radio Broadcast Data System on the Mazda Connect will keep you and your passengers updated on the program information. This is an especially useful feature for folks like me who love to find out the identity of the song and artist on the radio.
Speaking of radio, the standard Mazda Connect on the CX-5 Sport comes with an AM/FM 4-speaker audio system with automatic level control. The CX-5 Sport is also equipped with an HD radio, allowing you to subscribe to channels offered through that service.
The Mazda Connect system lives up to its name with excellent Bluetooth connectivity. Two USB ports complete the Mazda Connect system on the CX-5 Sport.
Additional features on Other CX-5 Trims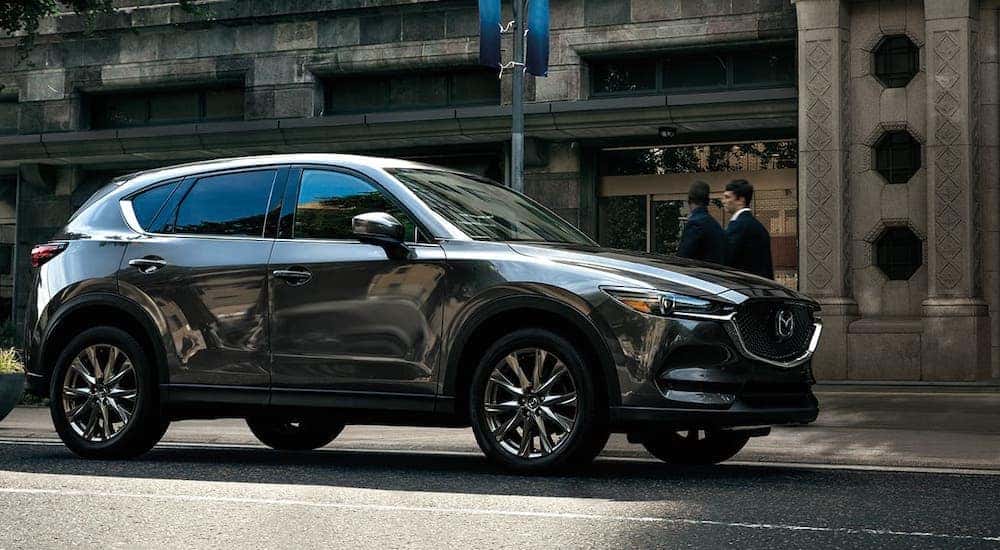 The 2020 Mazda CX-5 Touring takes the basic Mazda Connect system on the CX-5 Sport to the next level by adding a 6-speaker audio system with automatic level control. This technology automatically controls the output power to the speakers, preventing them from overloading, while also optimizing the dynamic range of the music. It does this by boosting the low-level signals without distorting the high-level signals. In other words, automatic level control is all about the bass. It also increases the volume as you accelerate your CX-5, and lowers it when you decelerate, maintaining sound level throughout the drive. The Mazda Connect system on the CX-5 Touring also includes Apple CarPlay and Android Auto integration, allowing you to use those features on your smartphone depending on the phone's operating system. If you have an iPhone, you can use Apple CarPlay to access maps, your playlists, and contacts, and even use your voice to communicate with Siri. Two additional rear-seat USB chargers complete the package on the 2020 Mazda CX-5 Touring.
Still, want more from your Mazda Connect? Then check out the 2020 Mazda CX-5 Grand Touring. The system in this trim utilizes a 7-inch LCD color touchscreen display and includes a 3-month trial subscription to SiriusXM satellite radio. Check out all the great programming features on SiriusXM during the three months. Finally, the Grand Touring features a premium Bose 10-speaker audio system with Centerpoint 2 and AudioPilot 2. Centerpoint 2 allows you to enjoy a Bose surround experience from satellite radio, CDs and MP3s, by converting stereo signals into multiple channels. This allows greater precision in reproducing sound. AudioPilot 2 is a noise compensation technology that continuously adjusts audio settings to compensate for background noise and vehicle speed. As a result, the level of your music, podcast, or other programming stays constant throughout your trip.
Mazda also offers an 8-inch full-color touchscreen display for the Mazda Connect system on the 2020 Mazda CX-5 Grand Touring Reserve and Signature models. This larger display is also easier to see and use.
Speaking of the 2020 Mazda CX-5 Signature, this features the ultimate in Mazda Connect technology. It starts with the Mazda navigation system that is second-to-none. There is nothing like having the integration of an onboard navigation system in your car. Unlike linked systems, you are not worried if your smartphone's battery discharges or you lose connection for some other reason. In addition, the Signature model comes with a free 3-year subscription to SiriusXM Traffic and Travel Link. That is right, not three months but three years. SiriusXM Traffic and Travel Link is an indispensable tool for those of us who have to drive to work or go on long road trips. This system provides you with real-time information on traffic, weather, and local fuel prices. If you are going somewhere where parking is difficult, like a major city, the SiriusXM Traffic and Travel Link will give you information on nearby parking or parking by destination, if you prefer to plan ahead. The system will even update you with the local sports scores, so you don't have to waste valuable time hunting for this information, which is critical for people like me who follow teams in all four major team sports. As you can see, this is the ultimate in information giving and infotainment.