Find Your Next Car At Your Local GMC Dealer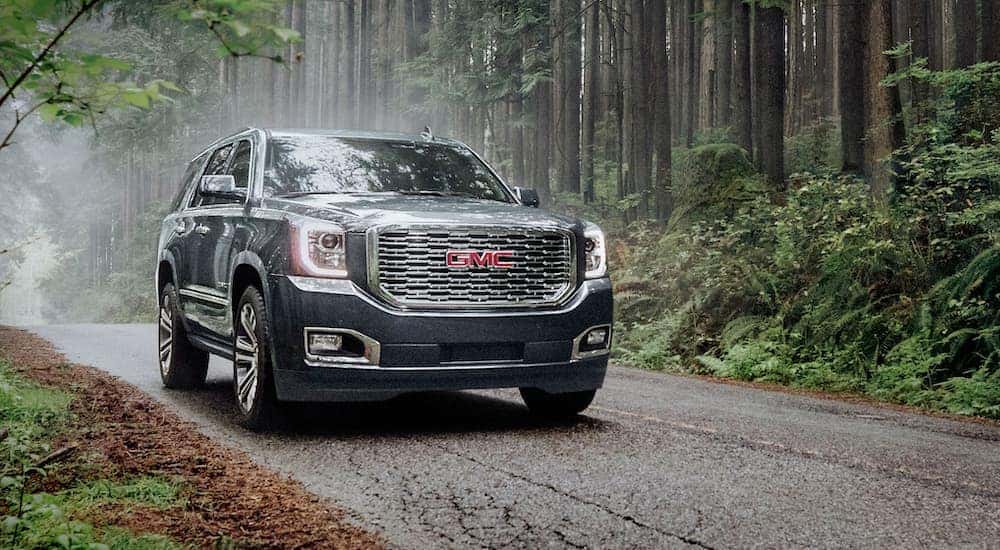 Searching for a new GMC truck or SUV? If so, you've probably been typing "GMC dealer near me" into the search engine to locate nearby retailers of new and used GMC vehicles. When you live around Indiana, Pennsylvania, your local GMC Dealer is Colonial Motor Mart. With the latest and greatest from General Motors, you're just a short drive from not only one of the largest GMC dealers in the region, but your next car. Wherever you're located, though, if you are interested in a new pickup or an SUV, GMC provides some of the best on the road today. So make sure you check out the selection of industry-leading vehicles at your local GMC dealer.
What You'll Find
When making the drive out to a GMC dealer, you'll find the latest and greatest GMC vehicles. From powerful work-trucks to SUVs designed to transport the entire family (or the entire team), there is a vehicle on the lot for you.
If you want a new pickup, the 2020 GMC Sierra is a fantastic way to go. The full-size pickup comes in several cabin sizes and trims. This way, you can select the pickup and features you want without paying for upgrades or designs you have no use for. And if you need something with more power that is designed for towing your full-size RV, boat, trailer, or anything else, you'll find a selection of new 2020 Sierra 2500HD and 3500HD pickups on the lot. On the flip side, if you are interested in a smaller pickup that still offers excellent towing and payload capability, there is the 2020 GMC Canyon.
Perhaps you're more on the market for an SUV. General Motors makes some of the safest, performance-driven SUVs on the market today. When you want a full-size SUV that offers up three rows of seating and plenty of cargo space, the all-new 2020 GMC Yukon is the SUV for you. Or, maybe you don't need an SUV with as much space but still want the same kind of performance and safety features? If so, check out the 2020 GMC Acadia. With an upgraded facelift over previous model years, you'll fall in love with it as soon as you see it. Additionally, the GMC Terrain is a crossover SUV that may be right for you.
Wide Selection of Used Vehicles
Perhaps you're considering a used vehicle instead of a new one. If that's the case, you will find a wide selection of used vehicles at your local GMC dealership. Make sure to check the dealership website for the latest vehicles added to the lot. These websites are updated often as used vehicles are coming, so even if you don't find exactly what you're looking for today, there's a good chance you'll find new listings to satisfy your used vehicle needs in the near future.
Many of the used vehicles available at your local GMC dealer include certified pre-owned vehicles. When you want to save money on a used vehicle but are looking for many of the same benefits as a new vehicle, you'll want to consider a certified pre-owned vehicle. These vehicles come with a number of like-new warranties that go above and beyond what the standard used vehicle comes with. The pre-owned vehicles are thoroughly inspected to meet the requirements of a certified pre-owned status, and all safety recalls are performed.
If you have questions regarding how a vehicle qualifies for pre-owned certification, make sure to contact your local GMC new and used dealership as each manufacturer has slightly different requirements to obtain these certifications.
Servicing Your GMC Vehicle
When it comes time to service your vehicle, you will want to take it into your local GMC dealership. The mechanics on hand are all certified through General Motor's training program. This way, you know the individuals working on your vehicle have the knowledge, experience, and expertise to work specifically on your vehicle.
The best way to maintain your vehicle and to ensure its longevity is to follow the recommended service timeline given to you by GMC. This way you'll avoid costly repairs down the line and keep your vehicle running like new.
Additionally, if you want to make any kind of upgrades to your vehicle while you own it and want to make sure you use the highest-quality GMC-certified parts (and not parts from a third party manufacturer that may not best work with your vehicle), you'll want to stop by your local GMC dealer. With the service center on hand, you can have the parts ordered and delivered directly to the dealership, and then the service center will install the parts for you. This is often the easiest way to have any upgrade performed on your vehicle.
Of course, if you enjoy installing the parts yourself but still want the parts specific to GMC, you can order the parts through the service center and then pick up the equipment when it arrives. Whatever option works for you is available. And if you have any questions regarding servicing your vehicle or ordering parts, make sure to give your local GMC dealership a call. The customer service staff is on hand to help walk you through the ordering process. They can also help set up a service time at the dealership, so if you want to schedule a time for your vehicle to be attended on, you can do that as well.
Financing at Your Local Dealership
It is always a good idea to shop around when it comes to possible financing for a new or used vehicle. You should consult your current financial institution to see what kind of loan and interest rate you qualify for and then take the drive out to your local GMC dealer. Often times, you will discover the loans and interest rates offered by the financing department at the dealership will beat that of your bank or credit union. Depending on approved credit, you may receive 0% APR financing on certain vehicles available on the lot. Other financing options are available as well, all of which are designed to help you land the best payment options and put you in the vehicle of your choice.
If you have questions about the financing options available, make sure to give your local GMC dealer a call. The financing staff will answer all the questions you have.
Make the Drive to Your Local GMC Dealer
When you want the finest vehicles built by General Motors that are designed to last while giving you both performance under the hood and style inside the cabin, make sure to visit your local GMC dealer. Whether you live in Colorado or Michigan, Texas or Maine, you'll find some of the best vehicles on the road today at a GMC dealer near you. And, if you're currently living in or around Indiana, Pennsylvania, now is the time to make the drive out to Colonial Motor Mart. From the wide selection of new and used GMC vehicles to the latest models offered by Chevy and Cadillac, you're just a short drive away from your next car, truck, or SUV.