Everything You Need to Know about Used Car Infotainment Systems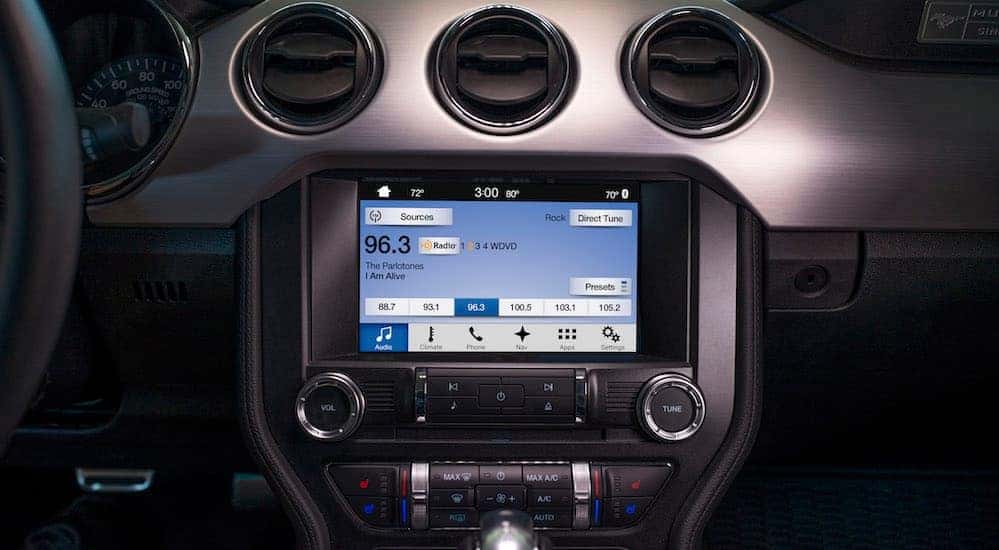 If you are looking for used cars for sale, you may be surprised to learn that you can find some cool tech features on many models. Used car infotainment systems don't have to be old or bad. Some of them are quite good, especially on newer pre-owned models. Although these systems will vary depending on the make, model, year, and even trim, a lot of these interfaces share similar qualities and characteristics. In this article, we will cover the infotainment systems inside some of the most popular used cars. If you have a specific model in mind, get in touch with our team here at Colonial Motor Mart to learn more.
Used Ford Infotainment Systems
What started out as MyFord Touch eventually morphed into SYNC 3. First developed in 2010 by Microsoft, MyFord Touch served as an in-car communications and entertainment interface. Nowadays, when simply call that an infotainment system. Other used Ford vehicles may have SYNC or SYNC 3 systems, but they all use the same basic functions with MyFord Touch.
This voice-activated technology allows you to control the stereo, climate, phone, and even navigation functions by saying certain trigger words. On-screen menus appear along with the voice prompts for ease-of-use. You can also access vehicle health reports that show scheduled maintenance, diagnostics, and also recalls. Standard media features on all three systems include USB ports for charging mobile devices, AM/FM radio, Bluetooth phone/audio connectivity, and an auxiliary jack. Some may also include an SD card reader, a CD player, and satellite radio, and HD radio.
Newer pre-owned Ford models with SYNC 3 systems typically come with a 4G LTE Wifi hotspot. This means that you can stay connected everywhere you go. Apple CarPlay and Android Auto are also commonly seen with SYNC 3. Essentially, this turns your vehicle's system into a smartphone interface. You can use your favorite apps like Waze and stream your personalized playlists.
In the event of an accident, 911 Assist will automatically call emergency services to connect you directly with the people who can help. If the occupants of the vehicle are unable to speak to the operator, an emergency message will be sent. This is critical in getting help to the scene of an accident as quickly as possible.
If you happen to purchase a used Ford car with navigation, you may get real-time traffic updates to keep you on the fastest route to your destination. This is typically seen on higher trim levels.
Used Toyota Infotainment Systems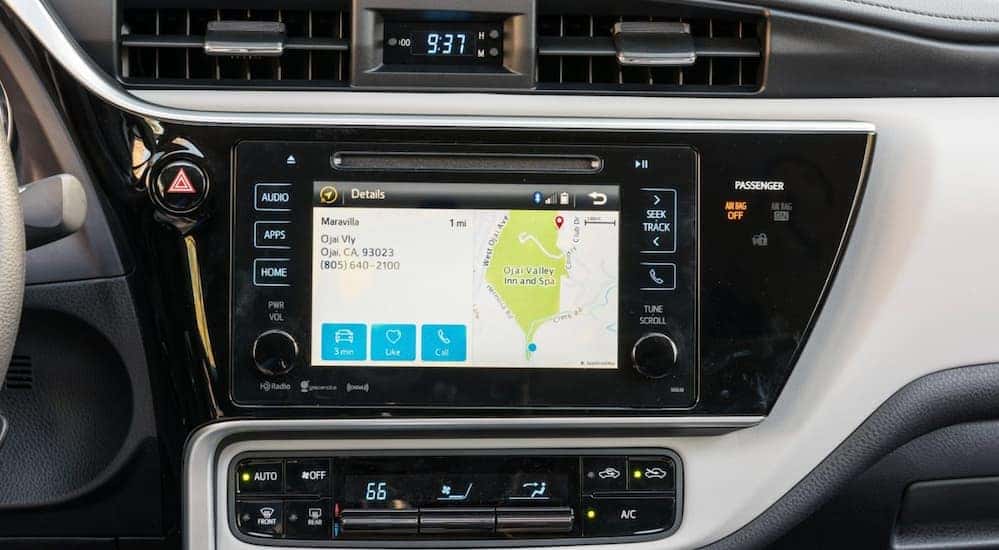 Pre-owned Toyota models are commonly equipped with the Entune infotainment interface. Upgraded to Entune 3.0 in 2017, older models are a bit different than the newer ones, which now operate on a Linux operating system.
Compatible with Apple CarPlay and Android Auto, Entune comes standard with AM/FM radio, a CD player, and Bluetooth connectivity for hands-free calling. Also available are functions such as Siri Eyes Free, satellite radio, HD radio, integrated navigation, and traffic/weather updates. Vehicle health reports and maintenance alerts are included as well.
Many connected services can also be found on pre-owned Toyota vehicles. Some of these include automatic collision notification, roadside assistance, stolen vehicle locator, and an emergency assistance button. Some models may also have to ability to provide 4G LTE Wifi for up to 5 devices. For vehicles with navigation, you may be able to access information like local gas prices, nearby traffic incidents, weather, stocks, and even sports scores. All of these preferences can be programmed by the driver.
Used Honda Infotainment Systems
Honda's infotainment interface that you'll find in many pre-owned models on the market today is very similar to the ones we've already mentioned. Names and titles tend to change, but overall, the functions remain the same. This is mainly due to the fact that most drivers want the same tech features. Almost everyone wants to stream their own playlists, make hands-free calls, and get directions by simply asking.
One of the downsides to older models with navigation was that you could not input a destination while you were driving. The vehicle had to be in Park before you could painstakingly type out the entire address you were looking for. With the newer pre-owned models, many of the navigation systems have voice-recognition technology. Also compatible with Apple CarPlay and Android Auto, you can easily use apps like Waze and Spotify during your travels.
If you happen to have HondaLink, you can turn your vehicle on remotely and get it warmed up before you even step a foot outside. That means that during the winter months, you can preset your temperature settings to get the car all toasty before you slip behind the wheel. HondaLink also allows you to send directions from your smartphone to the vehicle, and you can wipe previously stored data from the vehicle's system remotely as well.
Used Chevrolet Infotainment Systems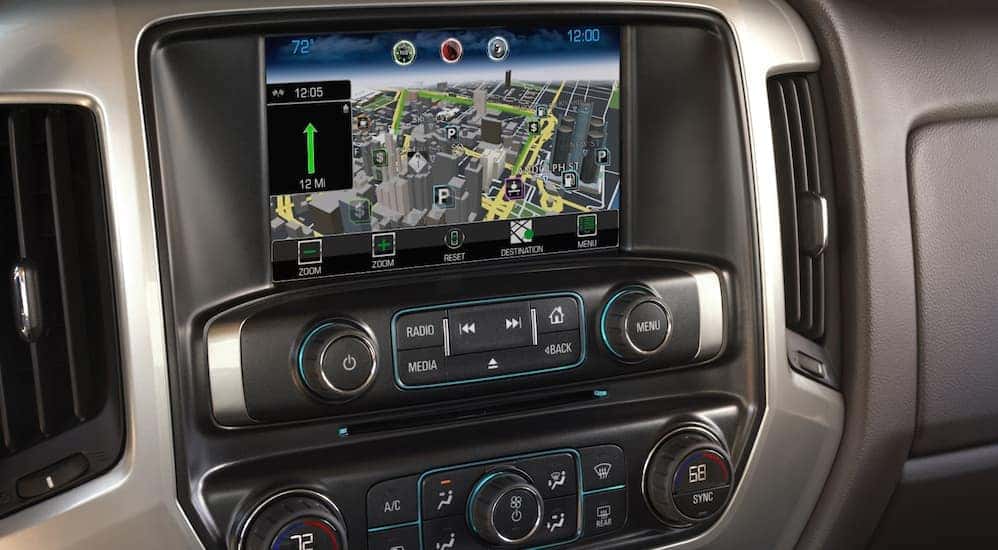 If you've had your eye on a used Chevy model, you're in store for an exceptional infotainment interface. Known simply as the Chevrolet Infotainment 3 system, it has several connected services, including Chevy MyLink.
MyLink has been around for all GM models since 2012, so you can get away with buying an older model and still getting some great features. Using voice-recognition software created by Nuance and a QNX real-time operating system, MyLink enables the driver to control certain features via apps. For example, you can change your station on Pandora by just asking the system to do so. Bluetooth connectivity is, of course, included for hands-free calling and audio streaming. OnStar services are also available on some models vehicle diagnostics, roadside assistance, turn-by-turn navigation, and Advanced Automatic Collision Notification.
Smartphone integration works with iOS, Android, or Windows devices, and USB ports are available for charging.
Higher trim levels may have navigation systems and better stereos with extra speakers. Newer pre-owned models, as we've mentioned before, may also be equipped with a 4G LTE Wifi hotspot and compatibility with Apple CarPlay and Android Auto.
Finding the Perfect Used Car
If you are on a budget and searching for a used car that still has great infotainment features, head over to Colonial Motor Mart, we've got a great selection of Certified Pre-Owned and used vehicles. Whether you have daily commutes that get boring or you enjoy heading off on weekend adventures, we understand that entertainment and functionality is key to making your driving experience the best it can be. That's why our experts are here to help you find the perfect set of wheels to suit your lifestyle.
Our finance team will help you secure the best payment plan for your budget, and you can drive off the lot with a smile on your face. Once you buy a car from us, we don't stop there. You can always come back for routine maintenance or repairs. If you get in an accident, let our highly-trained technicians handle the damage. Our collision center will fix your vehicle upright and get you back on the road as soon as possible. Call us or stop by for a test drive at our lot in Indiana, PA, today!