Denali Represents the Best of GMC Trucks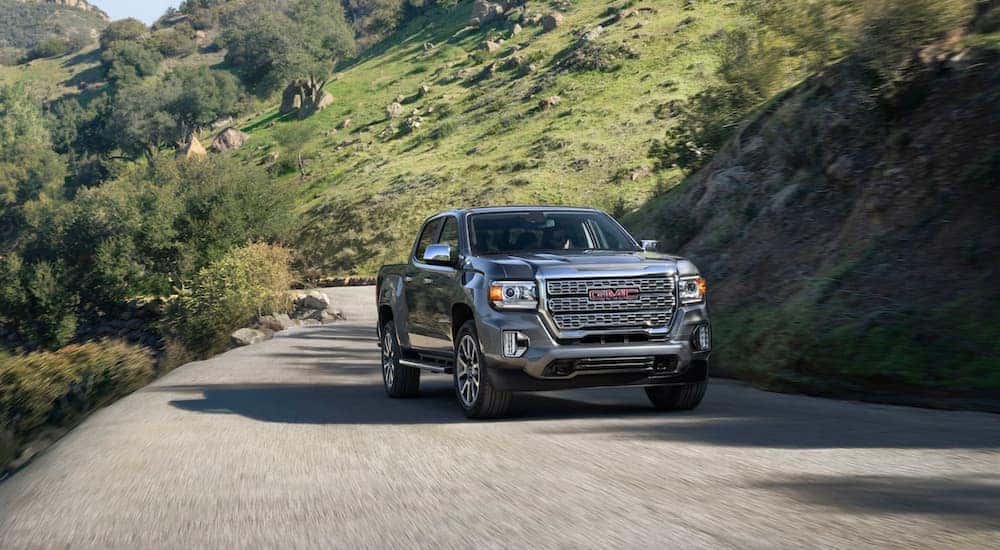 If you are serious about trucks, then you probably already know that GMC makes some of the finest trucks on the road today. From their rugged looks and great strength to their dependable, high performing engines, GMC trucks truly have it all. However, there is one question you have to ask before you type in "GMC truck dealer near me" and race off to buy the first GMC truck you see. That question is, what is the best GMC truck? In one word, it is a Denali.
GMC tags all of its vehicles with Denali for its top trim level. This even goes for the four great trucks built by GMC, the Sierra 1500, the Canyon, the Sierra 2500HD, and the Sierra 3500HD. If you are looking for the best GMC truck, then you must buy yourself a Denali. No other truck, GMC or otherwise, offers the amazing combination of performance, style, and luxury like a GMC Denali truck. However, which Denali truck you end up choosing depends on your personal needs and preferences.
At Colonial Motor Mart, our incredible sales staff will help you find the GMC Denali truck for you, whether you are looking to buy new, used, or certified pre-owned. With over 70 years in the business, we have the knowledge and wisdom about trucking to point you in the right direction. You can find us conveniently located at 349 N 4th St in Indiana, ready to help get you behind the wheel of the best GMC trucks on the market.
The 2021 GMC Denali trucks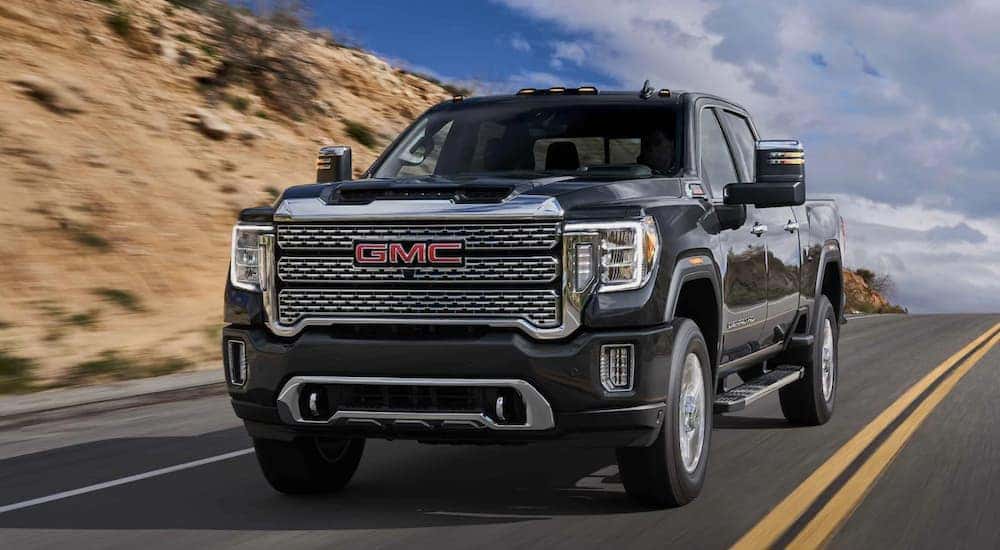 GMC earns its place in the market with a great lineup of trucks featuring the Denali trim level. Each truck comes in a crew cab configuration featuring four full-size doors and two full rows of seats. This means that you can comfortably seat up to five passengers in your truck without anyone in the back complaining that there is not enough legroom.
The Denali trim is available for all four of the GMC truck lines. If you want something that is versatile, check out a 2021 GMC Sierra 1500 Denali. This great truck comes with a 5.3-liter EcoTec3 V-8 gas engine with durable fuel management that produces 355 horsepower and generates 383 lb-ft of torque. If you want more power, you can equip your GMC Sierra 1500 Denali with an available 3.0-liter Duramax Turbo-Diesel I-6 engine with a 10-speed automatic transmission. This diesel engine provides 277 horsepower and an astounding 460 lb-ft of torque. You can also choose to have rear-wheel or four-wheel drive on your Sierra 1500 Denali, so you can take advantage of the added traction provided by a four-wheel drivetrain or the enhanced fuel economy of rear-wheel drive.
The old saying "good things come in small packages" is an understatement when you are talking about the 2021 GMC Canyon Denali. This truck shows that great things come in small packages, as this little truck truly has everything you could want in a midsize pickup. It starts with 20-inch diamond-cut machined aluminum wheels.
It then continues with a standard 3.6-liter V-6 engine with variable valve timing and direct fuel injection that produces 308 horsepower and 275 lb-ft of torque. With this engine, you have the choice between rear-wheel drive and four-wheel drive. You can also opt for the available 2.8-liter Duramax Turbo-Diesel I-4 that provides 181 horsepower and 369 lb-ft of torque with four-wheel drive only. Like I said, this is one mighty little truck, able to tow up to 7,600 pounds and carry up to 1,522 pounds of cargo in its payload.
If your needs are more heavy-duty, then you can choose either a 2021 GMC Sierra 2500HD or 3500HD Denali and do it all in style. Both of these great trucks come with a choice of a 6.6-liter V-8 gas engine or a 6.6-liter Turbo-Diesel V-8. The gas engine comes with a 6-speed automatic transmission and produces 401 horsepower and 464 lb-ft of torque. The diesel is paired with an Allison 10-speed automatic transmission and produces 445 horsepower and 910 lb-ft of torque.
The key difference between the 2500HD and 3500HD Denali is the size, which results in different towing capacities. The 2021 GMC Sierra 2500HD Denali has a gross combination weight rating of 27,500, while the gross combination weight rating of the 2021 GMC Sierra 3500HD Denali is 40,000 pounds. As a result, the maximum towing capacity of the 2500HD Denali is 18,500 pounds, with the 3500HD Denali being able to tow up to 30,990 pounds. Whichever one you end up choosing, you are getting a powerful heavy-duty truck that also has all the great luxury features associated with the GMC Denali line.
Special Denali Truck Features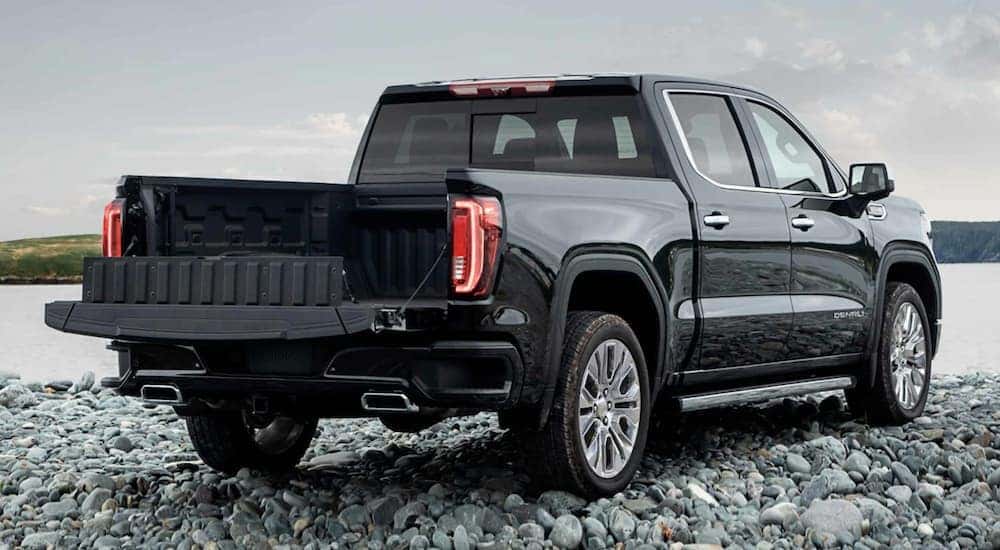 The GMC Denali trucks give you plenty of performance, safety, and luxury features that leverage the technological advantages developed by GMC over the years. One of the most useful is the 6-function MultiPro tailgate that comes standard on all GMC Denali trucks. This provides easy access for loading and unloading the truck's carbon fiber composite payload bed on your truck, including a fold-down feature that creates a convenient step to the bed.
When it comes to safety features, the GMC Denali is fully loaded, especially if you are towing a heavy load behind your truck. That is because you can get your GMC Denali truck with up to 15 different camera angles, including a transparent trailer view. This allows you to see what's behind you as if your trailer wasn't there.
The GMC Denali trucks also feature a head-up display with a rear camera mirror. This will make it easier to check your system indicators for key information while driving, and use your HD rear camera without having to take your eyes off the road. As a result, the safety of you and your passengers, as well as the other cars on the road, will be improved. Other standard safety features on the GMC Denali trim for trucks include parking assist, LED daytime running lights, lane change alert with side blind zone alert, and rear cross traffic alert.
GMC has made the name Denali synonymous with luxury, and they certainly don't skimp when it comes to their trucks. Each of these great pickups features an interior that will have you and your passengers thinking you just got into a luxury sedan. The seating surfaces feature forge perforated leather with front heated and ventilated bucket seats. It carries over to the gorgeous open-pore ash wood and brushed aluminum trim throughout the interior that is as sturdy as it is attractive.
The GMC Denali trucks also come equipped with a GMC Infotainment system with navigation on an 8-inch color touchscreen. You and your passengers can stay connected with Bluetooth connectivity, utilize Apple CarPlay and Android Auto compatibility, enjoy all the stations on SiriusXM satellite radio, and find out where you are going with voice-activated technology, including an easy-to-use navigation system. The Denali also features a 7-speaker Bose premium audio system that will make your truck the envy of all audiophiles. Finally, there is also a wireless charger that will make it easy for you and your passengers to keep your mobile devices charged, especially on long trips.
Get the Best GMC Trucks From Colonial Motor Mart
There is nothing quite like a GMC truck, and the best one to get is a Denali trim. Whether you want a midsize truck like the GMC Canyon, a full-size truck like the GMC Sierra 1500, or a heavy-duty truck like the GMC Sierra 2500HD or 3500HD, with a Denali, you are going to get a truck that combines capability with luxury like no other truck on the market today. Stop by our dealership today to test drive a GMC truck and see why there is nothing better than a GMC Denali truck.