All About the 2020 GMC Sierra 2500 AT4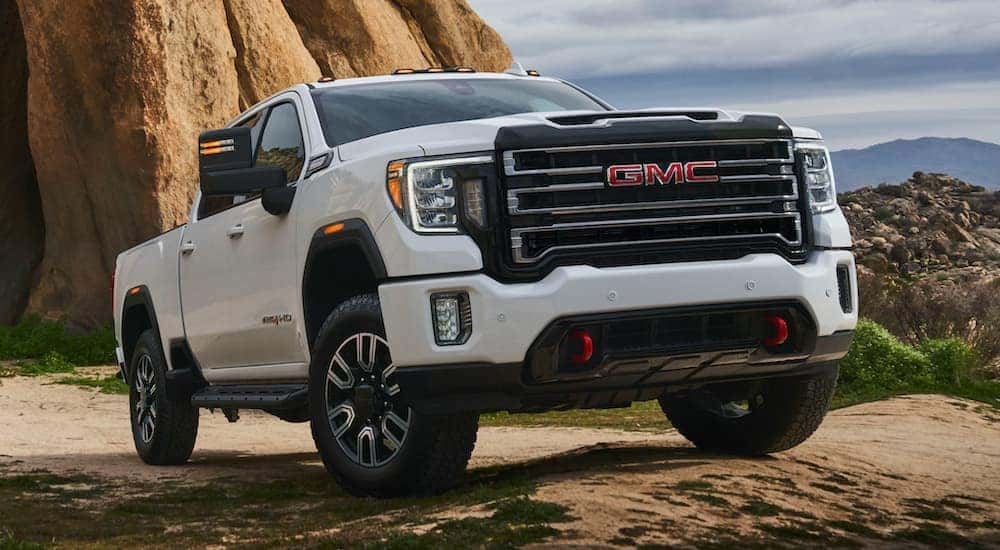 For most of us, there's something undoubtedly attractive about GMC vehicles. There is just something that calls your name, even when you aren't necessarily looking for a new truck. And suddenly, you find yourself searching "GMC dealer near me," because you decide you are ready to take the leap. We understand; the 2020 GMC Sierras have that type of effect on people. With a brand new design for the 2020 model year, this generation of Sierra is bigger and stronger than ever before.
The 2020 GMC Sierra 2500 AT4 is an extraordinary model, and there are many reasons it's probably catching your eye. It has the sort of rugged-yet-sleek look that you just can't wait to take through a giant patch of mud. It gives off the vibe of a truck that can handle a tough gravel climb by day, but clean up just in time for dinner in the city. It's massive, yet sophisticated. Powerful, yet comfortable. There is so much to know about this beautiful beast, and we at Colonial Motor Mart want to make sure you know it all. So without further ado, let's look in-depth at the 2020 GMC Sierra 2500 AT4.
The New Kid in Town
The 2020 model year marks the first year the Sierra has been offered in heavy-duty off-road configuration, and GMC spared no detail on this release. The 2500 AT4 is a four-wheel drive truck, featuring a crew cab and your choice of 6-foot-9 standard box or 8-foot long box. The standard box has a cargo volume of 69.6 cu.ft., while the long box offers a massive 83.5 cu.ft., which is more space than some SUVs provide with all of the passenger seats folded.
Some drivers feel it would be impossible to have a heavy-duty truck without a turbodiesel option, so the GMC Sierra 2500 is offered with two engine options. The first is a 6.6L V8 gasoline model, which offers 401 hp and 464 lb-ft of torque. That power translates into a fifth wheel or gooseneck towing capacity of 16,620 pounds for standard box models, and 16,520 pounds for long box models. The gasoline engine is paired with a six-speed automatic transmission that is engineered with the functionality to assist with taking the load off the engine when trailering.
The turbodiesel option is also a 6.6L V8 and cranks out an impressive 445 hp and surreal 910 lb-ft of torque. As a result, it can easily pull 18,500 pounds across the board- long or standard box, conventional, fifth wheel, or gooseneck hitch. It also handles over 3,500 pounds of cargo with no problem. This engine is paired to a 10-speed automatic Allison transmission, which adds a towing mode that helps keep the engine cool when pulling a heavy load, and automatic grade braking, which slows the truck when traveling downhill. There is no denying the functionality and strength of this truck.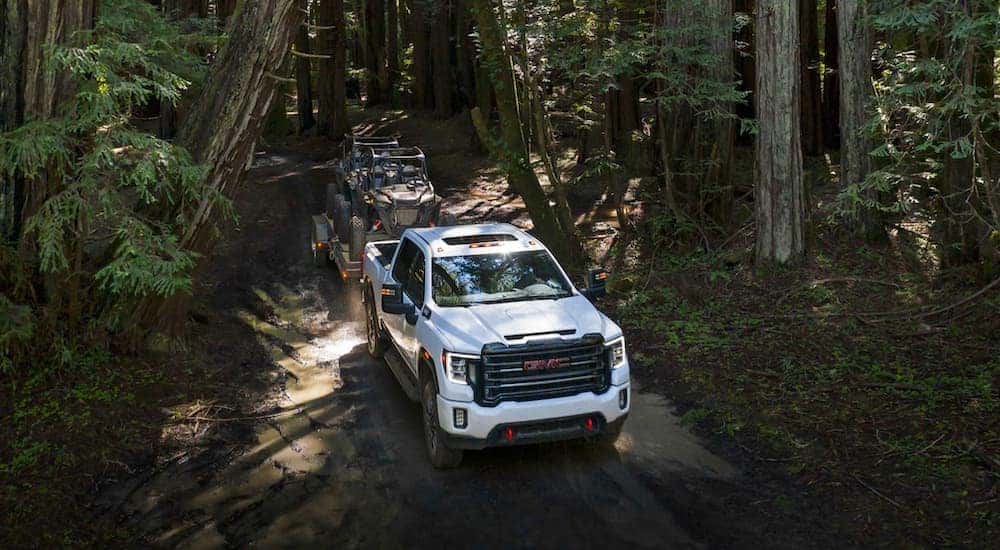 Why Choose the AT4?
The AT4 is GMC's answer to the call of nature. This vehicle has been endowed with features that extend its purpose beyond the paved roads of the city, over the dirt trails of job sites, and into the wild, starting with the mere height of the vehicle. The 2020 GMC Sierra 2500 AT4 has a ground clearance of 10.1 inches, and an approach angle of 27 degrees. This gives it an advantage over rocky terrain and uneven trails. But there is so much more to this sturdy off-roader.
It's also mechanically intended for off-road use. That includes the addition of twin-tube Rancho shocks, a skid plate to protect the important stuff, all-terrain tires mounted on 18-inch (or optional 20-inch) wheels, and a locking rear differential from Eaton. Digital Variable Assist steering is a feature that helps correct over uneven roads, reducing the overall amount of effort needed to steer. At the same time, off-road traction mode can be selected to restore balance at all times. And a two-speed AutoTrac transfer case allows for easy shifting between 2WD and 4WD functionality, meaning you can keep up with road conditions with the touch of a button.
For those who haul into the wild, the AT4 is equipped with a variety of off-road friendly trailering equipment. This includes a park grade hold assist, which eliminates jolting when shifting to drive after being parked. It applies the brakes to all wheels while you switch to the accelerator, making take-off nice and easy, no matter what's underfoot. An automatic electric parking brake will come on once you've aligned using Hitch View, preventing any minute rolling that will throw the whole hitch off. Overall, the AT4 is ready for everything and anything.
What's Inside?
Given the rugged exterior, it's easy to assume that the 2020 GMC Sierra 2500 AT4 has a workman-like disposition. However, the interior is designed to land on the sweet spot between durable and comfortable, with many premium features that make driving anywhere a privilege.
The seats are jet black with Kalahari accents, giving a sporty yet luxurious appearance. Additionally, the front seats are leather with ventilation as well as heating. That's not to say the rear passengers are left out- the rear outboard seats are heated for their comfort, as well. Even the leather-wrapped steering wheel is heated. Dual climate zones with rear seat outlets provide control over the ambient temperature without conflict. When the going gets muddy, the inside stays clean, thanks to all-weather floor liners that collect debris.
The GMC Sierra 2500 AT4 also comes equipped with lots of technology, including multiple USB ports, 12V auxiliary ports, and a three-pronged 120V household-style outlet. It has 4G LTE Wi-Fi hotspot capability, and the 8-inch infotainment system is compatible with Apple CarPlay, Android Auto, and can stream via Bluetooth. The six-speaker system can be upgraded to premium Bose audio, with HD radio capability, AM, FM, and SiriusXM Radio. You and your passengers will never get bored in this tech-filled truck.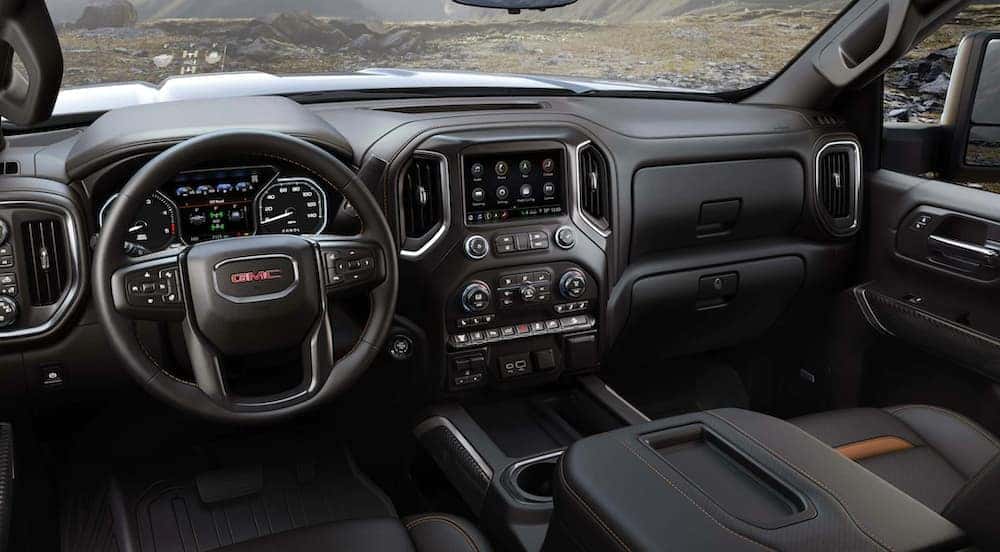 If You Need a Little More…
As with many modern vehicles, the 2020 Sierra 2500 AT4 can be customized with a selection of available packages. For those who need to be prepared for special duties, the Snowplow Package or Gooseneck Prep Package can be added to the vehicle. And for those who want to take their AT4 up a notch or two, there is the AT4 Preferred Package or the AT4 Premium Package.
The Preferred adds wireless device charging and a universal home remote, the Bose premium audio system, a navigation system, LED roof lamps, and power slide-open technology for the rear window. The Premium package adds all of these features, along with the contents of the Driver Alert I package, which includes front and rear parking assist technology, lane change alert with side blind-zone alert to make drivers aware of any vehicles in the next lane, rear cross-traffic alert, 6-inch assist steps and high gloss black wheels. The options are endless with the Sierra 2500 AT4; it can be whatever you need it to be.
Try Out a Sierra 2500 AT4
So if GMC has caught your eye, you may want to consider the 2020 GMC Sierra 2500 AT4. Not only is it highly capable, with plenty of power and tow-and-stow capacity, but it can take you to places you've never been, with its off-road engineering. Inside, you'll find all the trimmings of luxury in a cabin that checks all the boxes for necessity, versatility, and comfort. So what are you waiting for? Come take one of these fantastic vehicles for a spin at Colonial Motor Mart in Indiana, PA today.