4 Toyota Models to Buy Used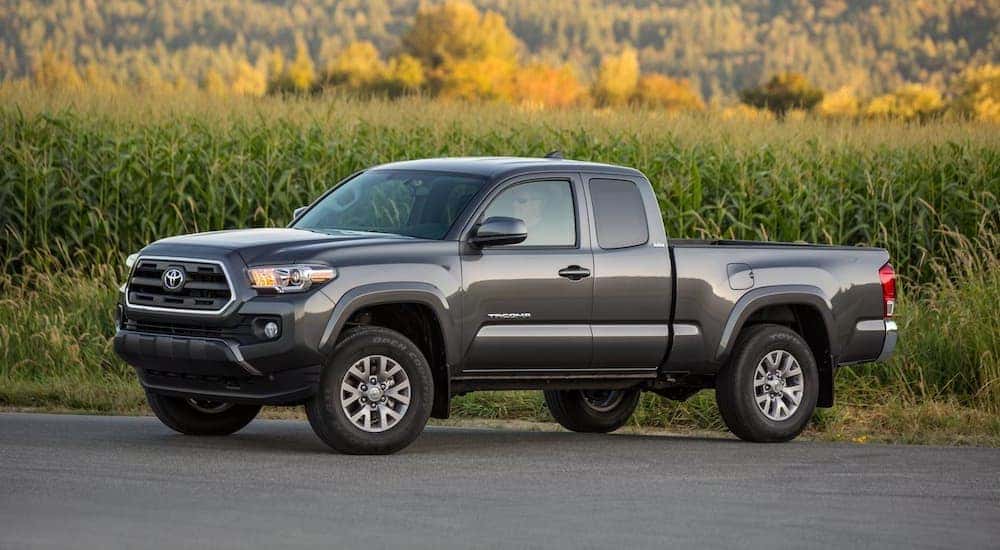 Because Toyotas hold value so well over time, they make a great investment. Buying a used Toyota will save you money, and you know you can count on your vehicle to have a long life with good maintenance. We decided to offer a list of options from sedans to trucks so that when you finally type "used car dealership near me," into a search engine, you'll be ready with the information you need to make a good decision about the Toyota that's right for you.
The 2015 Toyota Camry
In 2015, the Camry was completely redesigned and was then redesigned again in 2018. As a result, the Camry gained a more stylish appearance on the outside and more classy interior materials. It may surprise those who have never owned a Camry that it could come with either an inline four- cylinder engine or a V6 depending on the trim and model year. Starting in 2018, you could also choose a hybrid as an option. Also, in 2018, a new rear suspension was added to increase ride comfort and use less space on the back end: this increased trunk and rear-seat room.
Going back to 2015, the Camry came standard with technology like Entune infotainment and Bluetooth, but in 2018 even the base Camry came standard with traffic-adapting cruise control to mitigate forward collisions. The 2018 Camry also comes standard with lane departure warning and mitigation, auto-dimming LED headlights, and a rearview camera. Other features you will find going back to 2015 are heated mirrors, keyless entry, and an auxiliary audio jack for smartphones.
The Camry is front-wheel drive with a six-speed automatic transmission and gained a more responsive driving experience from steering and suspension tuning in 2015. Being a relatively modest fuel-sipping sedan, the Camry gets around 25-30 MPG in combined fuel efficiency and varies slightly from year to year. In general, the Camry is a comfortable car for passengers and received high marks for safety from the NHTSA, with an overall five out of five stars in crash testing. Trunk space is fairly good for a sedan at 15.4 cubic feet for 2015 models; older models tend to hover around 15 cubic feet for cargo space, as well.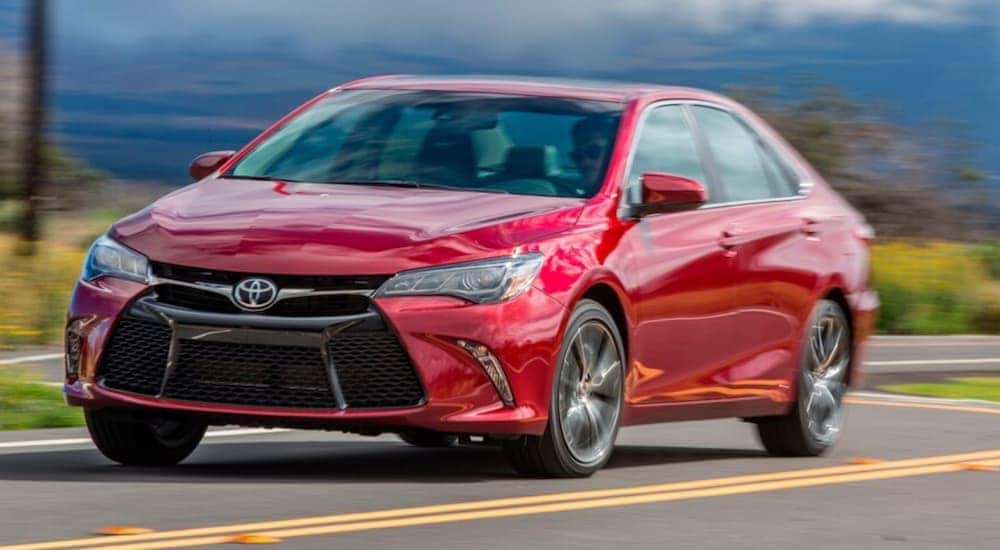 The 2016 Toyota Prius
When searching for used options of the Prius, going back to 2016, you will find a newly-redesigned model that gained an extra two miles per gallon to the already impressive 50 MPG of the previous year. No other hybrid on the market beats the Prius for fuel efficiency––the original hybrid to beat all others to the market—a feat which Toyota continues to dominate year after year. Noteworthy changes to the exterior design gave this year's Prius a sportier vibe, and tuning to the rear suspension made the ride much smoother than before. Less road noise is heard in the cabin, and the interior has plenty of room for both passengers in the back seat and cargo in the hatchback trunk area.
Toyota released a new all-wheel drive model in 2019, which may appeal to those who live in snowy climates or on dirt roads. Features that can be found going back to 2016 are automatic LED headlights, a 6.1-inch infotainment screen, rearview camera, Bluetooth connectivity, Siri Eyes-Free, heated exterior mirrors, keyless entry and ignition, and an auxiliary jack for smartphones. Later models add adaptive cruise control, and front and back charging ports.
The Prius comes with a 1.8-liter four-cylinder engine with a continuously variable transmission. Safety features like stability and traction control are standard in 2016, but by 2018 forward collision warning and mitigation and lane departure warning and intervention were added. In overall crash testing, the Prius does well with five out of five stars awarded from the NHTSA. If you're looking to save on gas, this is the best hybrid on the market, and it has an ever-widening number of trim levels available to increase the features and options.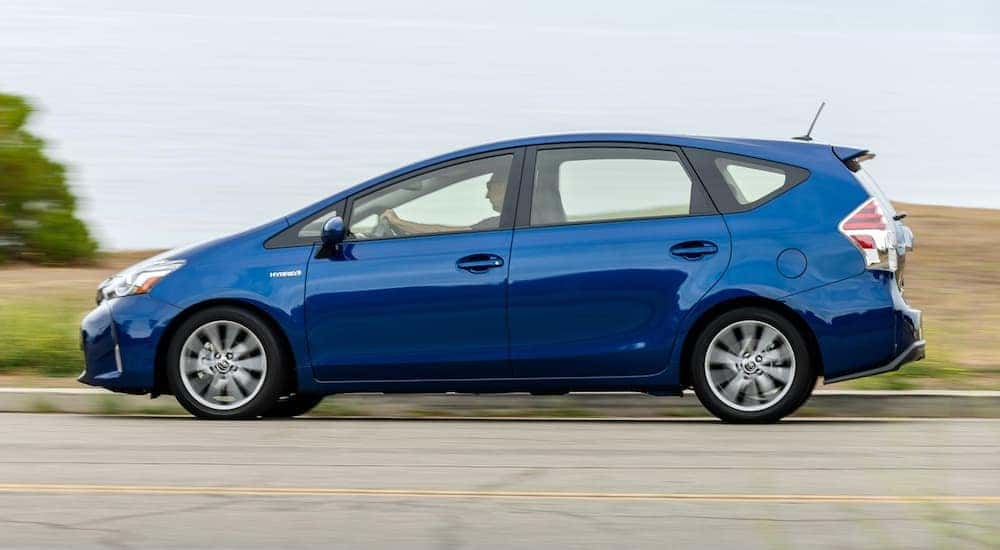 The 2013 Toyota RAV4
For the RAV4, you have to go back to 2013 for the redesign, which precedes the most recent one in 2019. It was in 2013 that Toyota removed the third-row seats and the side-swinging back gate to access the trunk, as well as placing the spare tire under the cargo instead of on the back of the vehicle. In general, the styling and dimensions remained much the same as before, since buyers were generally pleased with the fuel economy and responsiveness of the vehicle while driving. It can be found with either front or all-wheel drive.
Even going back to 2013, the RAV4 comes standard with powered folding side mirrors, a rearview camera, Bluetooth, rear privacy glass, and an auxiliary audio jack for smartphones. In 2016, Toyota added an integrated blind-spot mirror, a 6.1-inch touchscreen for infotainment, and roof rails. When you come to the newly redesigned 2019, it adds Apple CarPlay and Android Auto and increases the screen size to seven inches.
The RAV4 comes standard with a 2.5-liter four-cylinder engine, which has a six-speed transmission. It gets a combined fuel efficiency of 26 MPG, but in 2019 this increases to 30 MPG combined. Earlier models only received four out of five stars overall for crash testing, but later models improved to five out of five. Standard safety features in 2019 are adaptive cruise control, lane-keeping assist, and forward collision mitigation with automatic braking, while earlier models come standard with stability and traction control. For 2016 models, a hefty 38.4 cubic feet of cargo space is available in the expansive trunk area, and it expands to 73.4 cubic feet when seats are folded down.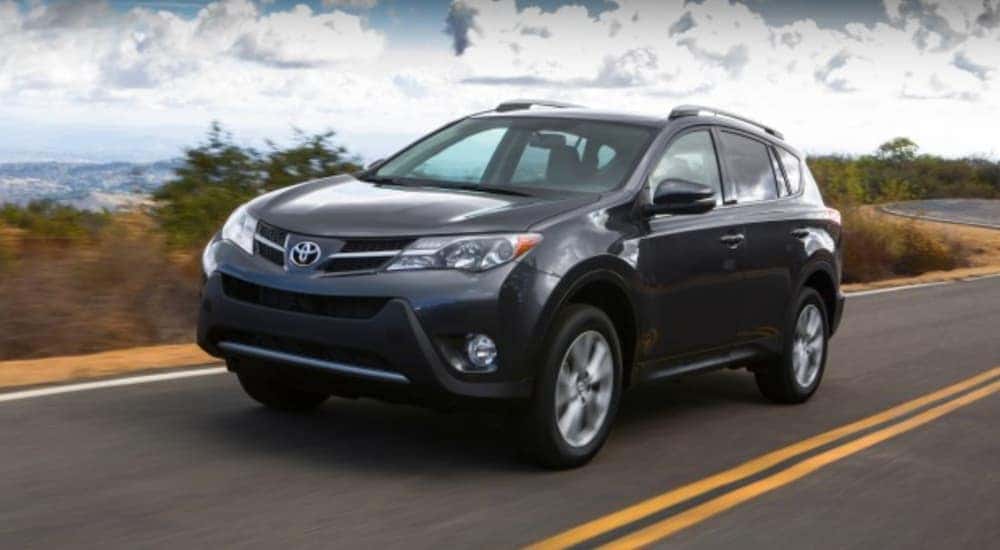 The 2016 Toyota Tacoma
The most recent redesign year for the Tacoma is 2016, and in this new design, it received a smoother ride with suspension tuning, along with a quieter cabin. This truck can handle fairly rough terrain, while still maintaining a relatively comfortable interior. In this redesign, Toyota chose to remove the option for regular cabs; thus, you will only find cabs with rear seats in two options.
Base models for 2016 came standard with full-powered accessories, a rearview camera, Bluetooth, voice controls, Siri Eyes-Free, a 6.1-inch touchscreen, a GoPro windshield mount, and an auxiliary jack for smartphones. Other features like a cargo bed rail system with both fixed and moveable tie-downs, a sliding rear window, and a bed liner are also standard on all trims. In 2019, more features were added, such as heated side mirrors, a composite bed, and a back-up camera integrated into the tailgate.
The 2016 Tacoma comes standard with a 2.7-liter four-cylinder engine, but a more fuel-efficient 3.5L V6 was available for this year, both of which come with a six-speed transmission. Tacoma came standard with rear-wheel drive, but it could have four-wheel drive added as an option. With the 2.7-liter engine, this model has a combined fuel efficiency of 21 MPG with rear-wheel drive or 20 MPG for the four-wheel drive variant. Additionally, the four-cylinder engines can tow up to 3,500 pounds, while the V6 can tow up to 6,400 pounds.
Safety features on models in 2016 included stability and traction control, while newer models gained features like forward collision warning, lane departure alert, and adaptive cruise control. Overall safety ratings from the NHTSA were four out of five for 2016, though it has not been rated for 2019.
Find Your Next Toyota at Colonial Motor Mart
In the Toyota offerings, these are just a few samples of available choices that make excellent used car purchases, but each of these vehicles offers value and dependability as a Toyota always does. Whether you need a truck or a hybrid, you will find Toyota's engineering and dedication to fuel efficiency are often top of the class, so you can't go wrong no matter what vehicle you choose. When you are ready to find the perfect Toyota for you, visit us at Colonial Motor Mart in Indiana, PA!