2022 GMC Hummer – Coming Soon!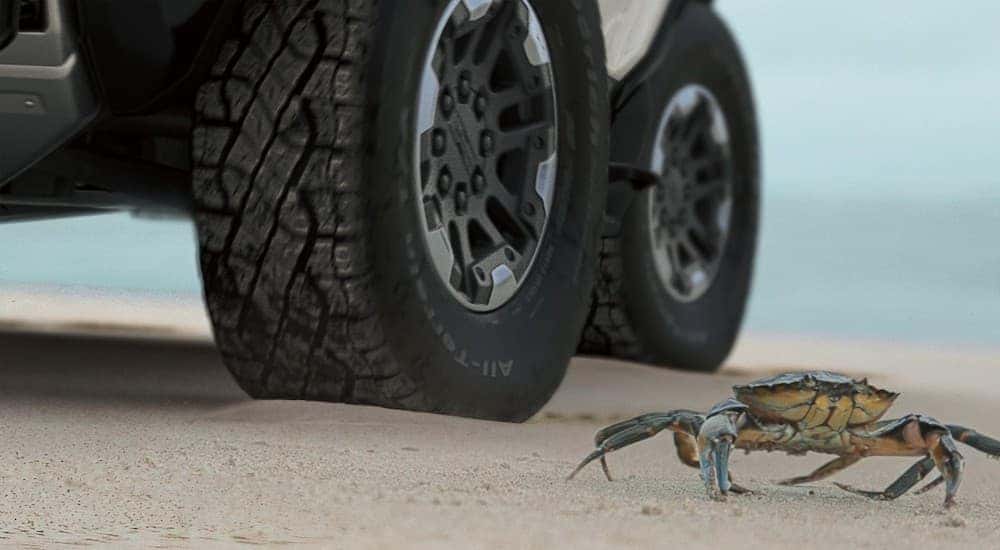 Remember the Hummer? It's back, with a twist on October 20, 2020! This is not the Hummer you remember – not by a long shot. While Hummer once existed as the standalone brand that quickly made a name for itself, it's making its return at your local GMC dealer under the GMC brand. The 2022 Hummer is reemerging in Fall 2020, with availability beginning in Fall 2021, with a complete overhaul that's fully charged, fully electric, and ready for its grand reentrance. Didn't see that one coming? It's packed with a lot more surprises.
The 2022 GMC Hummer comes fully loaded and with lots of trims and features. Perhaps the most exciting of all is that it's the world's first with zero limits but never compromises its power. You'll find the 2022 Hummer available as an EV SUT, EV, and as an EV SUV. Some bells and whistles also include modern LED headlights and removable roof panels for an Infinity Roof.
GMC Hummer teased additional features, including Adrenaline Mode, Crab Mode, Ultium Battery, Superfast charging, Modular sky panels, and Ultra-Vision cameras. The Hummer remains the zero limits superhero you remember and is ready to premiere this fall! Are you as excited as we are? Let's unpack all that the 2022 Hummer offers before the new Hummer models roll into our Indiana, Pennsylvania dealership!
What's New With This Classic?
You remember the Hummer. Even after a decade, it remains a legend. It gained quite a reputation among celebrities as the box-shaped vehicle that stood in a class of its own. The prior Hummer brand was discontinued in 2010 but has been revamping itself in the meantime and is back with an overhaul! GMC Hummer is unveiling new models best described as powerful but quiet. A quiet revolution.
All of the power, sophistication, and energy-saving capacity will be wrapped up into a drive that you can hardly hear. Regardless of the model you select in this new Hummer line, this is not the vehicle you were imagining, but a new standard for electric vehicles ready to challenge their potential rivals. What's changed? The Hummer EV, EV SUT, and EV SUV will be a family of entirely new truck and SUV models in the impressive GMC line. All three of these Hummer models are expected to enter production in late 2021 after being revealed this year.
What's more, the advertising campaign features Lebron James as a symbol of GMC's commitment to greatness and persistence. How cool is that? While the details are still mostly under wraps and more information is available through GMC's email updates, the anticipation is building as we expect these models to cross all of the wildest dreams! Though more features will be unveiled as the Hummer EV, EV SUT, and EV SUV approach production, there are a few details that we can reveal!

Under the Hood
As anyone with experience on the road knows, an attractive package is nothing if the inside is a disappointment. We completely understand and can already allay reservations you might have about all of these models. Their most significant assets lay just out of sight as we peer under each model's hood, and neither of them will disappoint. Some features you can expect from the GMC Hummer EV, EV SUT, EV SUV are 1000 horsepower and an impressive zero to 60 mph in a mere 3.0 seconds.
Both models are expected to come with options of one, two, or three electric motors. You heard us correctly! Up to three motors in these powerhouses. The one-motor unit will likely be a rear-wheel drive model while the two- and three-motor units suggest that they will have two different all-wheel-drive versions with killer acceleration.
Each extra motor amps up its payload and towing power. GMC claims a cool 11,500 lb-ft of torque is available in the EV, EV SUT, and EV SUV models. This gives you the security of knowing that not only are you riding in style, but you have all of the power you would expect from a GMC model!
Charge, Range, and Fuel
A growing concern in the automotive industry and the general public alike is the environment and the impact of large vehicles' potential footprint. Once again, GMC has you covered and can put your mind at ease. We heard you when you asked for the best of both worlds! A large emphasis within the campaign is its environmental friendliness without a compromise of power or style.
The GMC Hummer EV, EV SUT, and EV SUV models will boast an 800-volt battery with 350-kWh charging capacity, suggesting 400 miles of driving capacity per charge. While its fuel economy is yet to be seen, it goes without saying that all three models pack a punch in power and range on the road! As we move towards environmental friendliness as the increasing standard in the automotive world, GMC Hummer proves a worthy competitor for established electric vehicles with its commitment to power and efficiency. This ensures that you will never have to compromise between the two but can enjoy all of the perks of both!
Inside the EV SUT
What's a great body without a great interior? Though the interior of the Hummer EV, EV SUT, and EV SUV models are still under wraps, there are some teased aspects of the Hummer revealed. Such elements include easily removed roof panels (Are you as excited as we are for that Infinity Roof?) and a front T-Bar to enjoy nature from the inside's comfort.
Standard features in other GMC models include Android Auto, Wi-Fi hotspot capability, and Apple CarPlay. Like a kid waiting for Christmas, the anticipation mounts for the full reveal, and we can assure you that it will not disappoint. You can expect the best from GMC in terms of spacious comfort, storage, infotainment, and connectivity! Though details will be revealed slowly, there won't be any shortage of perks and amenities.
Safety and Driver-Assistance Perks
You've got precious cargo with you wherever you go. GMC understands that the most important assets within any Hummer model are the people inside. GM's Super Cruise system is an expected feature. The Hummer models will likely feature blind-spot monitoring and lane-keeping assistance. Additional features will be unveiled as the big reveal date comes ever closer, and it's nearly here. You can count on GMC to understand the need for a secure drive, and all of our GMC models represent our commitment to a safe and comfortable drive.
Warranty and Maintenance
What about coverage? We're glad you asked! GMC is serious about ensuring that you're covered for all that life has to throw at you. While the company does its best to make sure that you have the best of the best, everyone knows that accidents happen. That is why GMC offers warranty and maintenance coverage as standard features. On its gasoline vehicles, General Motors generally offers a 5 year / 60,000 mile powertrain warranty and 3 year / 36,000 mile bumper-to-bumper warranty. However, we do not yet know how this will translate to electric vehicles.
Are You Ready?
Here at Colonial Motor Mart, we know that you are just as excited as we are as the GMC Hummer unveils reservations for the new models! Contact us today for additional information and to check out our full-lineup! We look forward to telling you much more about the GMC Hummer after all the details have been released!