2021 Preview: Three Mazdas to Keep Your Eye On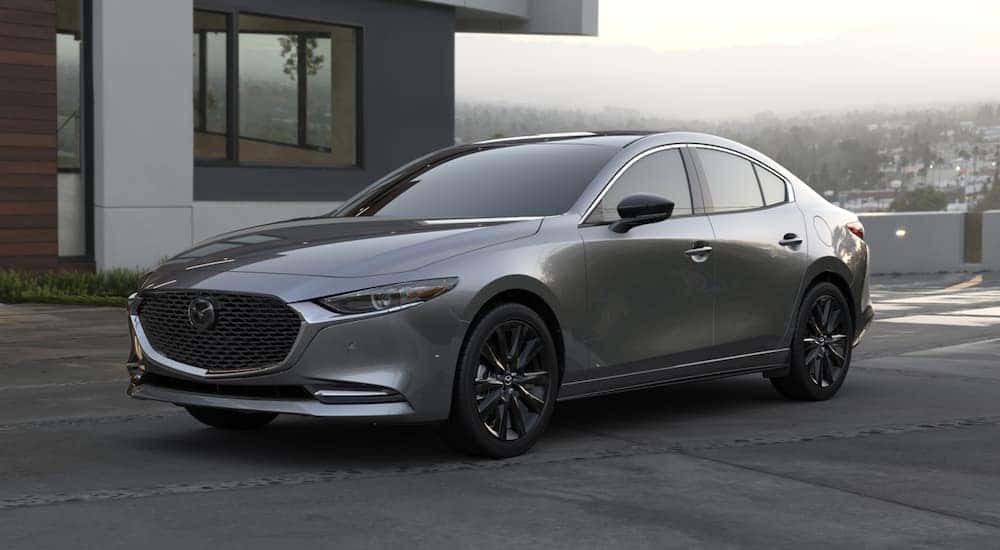 For decades, Mazda has proven itself as one of the finest car manufacturers in the industry, and every year it has a wide range of new and exciting vehicles to offer. As the 2021 models start hitting the road in the not-too-distant future, we thought it would be worthwhile to take a moment and have a quick look at some of the fantastic new vehicles you'll soon find at the Mazda dealer near you. Whether you are looking for a quick and sporty car or a thrilling crossover SUV, this Mazda lineup will definitely have you covered.
Some of the details and specs on these vehicles are yet to be finalized or announced, so keep that in mind as you look at what's coming soon. We're also not going to dive too deep into the numbers on any of these models. Instead, we just want to give you a little taste of what's to come, so you know what is on the horizon. If you want to know more about any of these models, or other great Mazda vehicles, we would be happy to answer all of your questions and provide you with any additional information you'd like. Now then, here's a small preview of what's coming soon to your local Mazda dealer.
2021 Mazda MX-30
Let's jump right in with what's going to be the most exciting new model for a lot of people: the 2021 Mazda MX-30. The fact that this is a subcompact crossover SUV from Mazda is great, but that is not the major reason that so many people are looking forward to this one. What all of us here at Colonial Motor Mart, as well as so many of our customers, are really excited about is the fact that this will be the very first all-electric model from Mazda.
So, if you're interested in a small crossover SUV that is a 100% Electric Vehicle (EV), then the all-new MX-30 is a model you should definitely have on your radar. In terms of size, it's going to be pretty close to the current CX-3. So if that's about the right size for what you need, but you're interested in an EV, then you're in luck. From what we've heard, this impressive little crossover will only be available as an electric model, so there won't be any options for a conventional engine in it.
Four different trim levels are expected for the 2021 MX-30, which will give you plenty of options for the level of luxury and sophistication you're looking for. We don't have details yet on far the MX-30 will be capable of traveling on a full charge, though we know it will work with standard charging as well as fast-charging systems. Since Mazda so often focuses on excellent safety features, we expect that to continue and be an important aspect of the MX-30.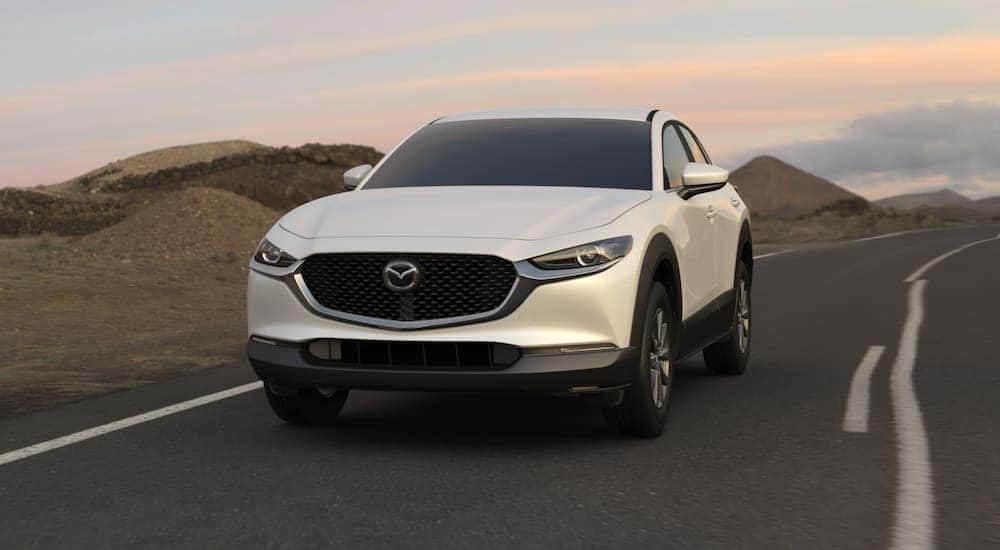 2021 Mazda CX-5
While the 2021 Mazda CX-5 might not be the most innovative vehicle hitting the Mazda dealer near you (we'd say that's the MX-30), there are still some big improvements coming. We're not expecting an all-new generation this year, but a number of updates have been announced so far. Best of all, the price increase for these improved features is quite small – the updated 2021 model only has an MSRP about $80 higher than that of the 2020 model.
One update that's getting a lot of attention already is the 10.25-inch infotainment display that will now be standard on all trims of this impressive crossover SUV. That is quite a bit larger than the standard 7-inch display on current models, and more than justifies the higher starting price. In addition to that, automatic LED headlights, rain-sensing windshield wipers, and adaptive cruise control are also all standard features. That means that even if you stick with the starting trim on the CX-5, you're going to get some great technology.
Jumping up to the Touring trim, you'll get heated front seats and leatherette upholstery for added comfort and a luxurious feel. Additionally, smart keyless entry and dual-zone climate control are also standard for the Touring. If you go up to the highest trim for the CX-5, the Signature, then you'll get rear automatic emergency braking and a driver attention alert as new active safety features included in Mazda's i-Activesense safety suite.
It's also worth noting that the CX-5 is one of three Mazda models that will be available with the all-new Carbon Edition appearance package. This new package includes a unique Polymetal gray exterior paint job with black details and a red leather interior for a gorgeous, eye-catching ride. It might not make as much of a difference to your driving experience as the larger infotainment display or new safety features, but it's a bold look that you won't find on older models.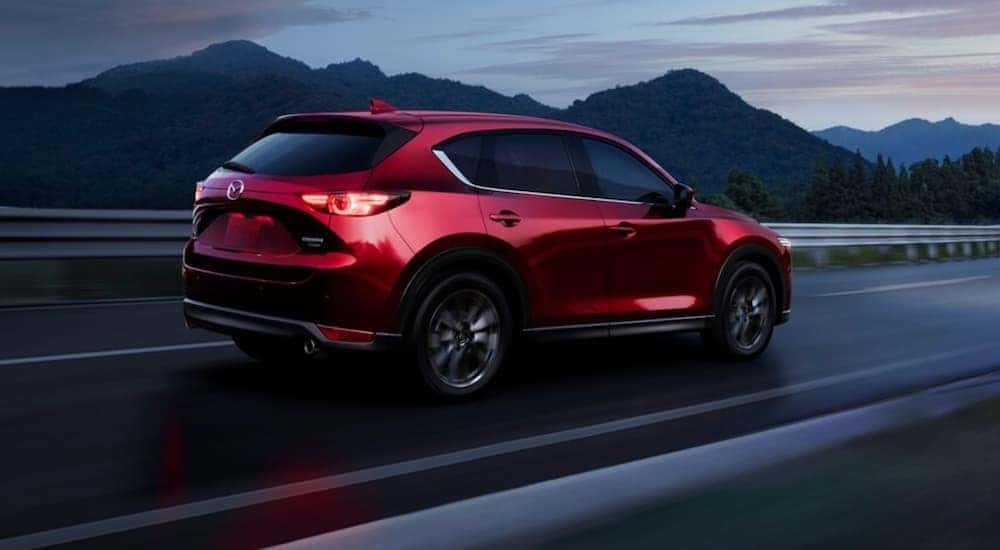 2021 Mazda3 2.5 Turbo
If you've been reading this and thinking, "what about those of us that don't want a crossover?" then we've got some good news. One of the upcoming models that a lot of us are excited for is the all-new 2021 Mazda 3 with a 2.5 Turbo engine that can deliver up to 250 hp and up to 320 lb-ft of torque. This, paired with Mazda's i-Activ AWD system, will make for an exceptional driving experience that is incredibly fun, responsive, and reliable.
Even better, the 2021 Mazda 3 will be available in two different configurations with the powerful 2.5 Turbo engine. The first is a four-door sedan that is a great choice if you want a powerful car without sacrificing the interior space and passenger-friendly design of a sedan. This model will have black alloy wheels, black side mirrors, and a black tailpipe to make an immediate impression on anyone that sees it, along with an available Premium Plus package that includes a black rear spoiler.
If you like the idea of the Mazda 3 2.5 Turbo, but you want something a bit more functional for loading up with groceries, school supplies, or anything else you need to take with you, then there will also be a hatchback model available. This model has a similar overall design to the standard sedan, but the hatchback makes the rear cargo area far more accessible than the trunk of a sedan, giving you functionality closer to an SUV, but with a sleeker, more dynamic design. If you choose the hatchback model, it has the same bold styling as the sedan, and the Premium Plus package also includes a front air dam that you won't find on the sedan.
Ready to Learn More?
No matter what you're interested in when it comes to your next vehicle, Mazda has you covered. With fantastic crossover SUV options and more sporty and powerful cars than ever before, you're sure to find something that meets your needs in the 2021 lineup at the Mazda dealer near you. Whether you know exactly what you're looking for, or you still have a lot of questions and feel a bit lost, Colonial Motor Mart is here to help. Call or come visit our Indiana, Pennsylvania dealership today to find out more about these amazing models and the rest of Mazda's upcoming lineup.