15 Exciting Things You Should Know About the 2020 GMC Sierra 2500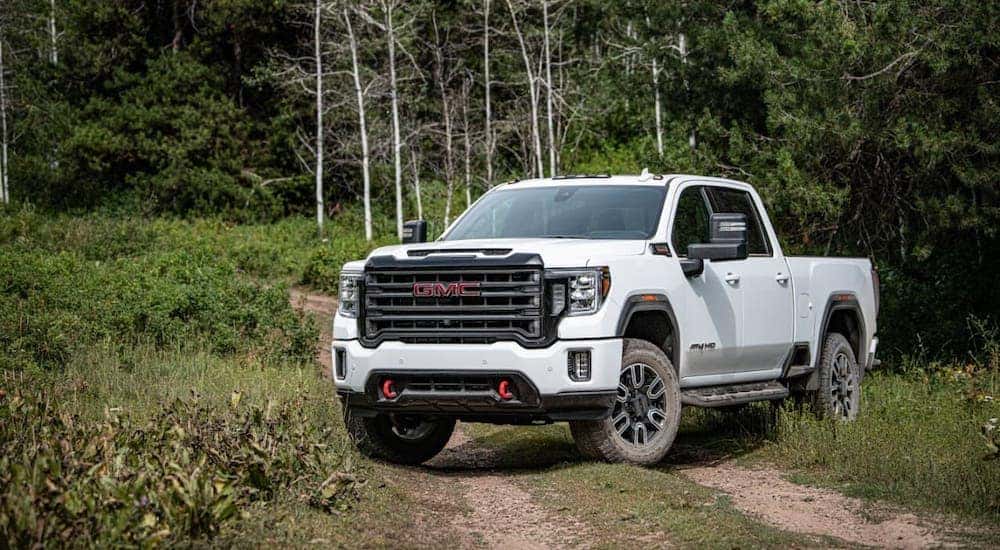 2020 GMC Sierra 2500 HD is one of the heavy-duty trucks from General Motors and is the epitome of a powerful pickup that will provide pure enjoyment for you and your lucky passengers. If you are searching online for a "GMC Dealer Near Me," then look no further than us at Colonial Motor Mart. We are conveniently located in Indiana, Pennsylvania, and serve the greater Keystone State as well as drivers from Western New York and eastern Ohio. We are unlike any other truck dealer you have ever dealt with. Come see why The Colonial Experience is the way to go with your next new or pre-owned GMC truck purchase. And before you head over, check out these 15 fun facts and features on the 2020 GMC Sierra 2500.
#1. An Affordable Price
You may have been scared to look, but the 2020 GMC Sierra 2500 is surprisingly affordable for a truck of this size with this many features. The starting MSRP for the 2020 GMC Sierra 2500 HD is only $40,000. That buys you a lot of truck for your purchasing buck.
#2. Two Powerful Engines to Choose From
The good folks at GMC have given you two engine options to choose from on your new 2020 GMC Sierra 2500. There is a 6.6-liter Direct Injection V-8 gas engine with variable valve timing. This engine efficiently utilizes all eight cylinders to provide up to 401 horsepower and 464 lb-ft of torque. Need more power? Then you can opt for the 6.6-liter Duramax Turbo Diesel V-8. This oil-drinking monster can provide up to 445 horsepower and an astounding 910 lb-ft of torque. Powerful doesn't even begin to define this engine.
#3. First HD with Available 10-Speed Transmission
The transmission paired with the 6.6-liter V8 on the 2020 GMC Sierra 2500 is a 6-speed, heavy-duty, electronically controlled automatic transmission. Unlike many standard automatic transmissions, this 6-speed automatic includes an overdrive gear for smooth, efficient operation, as well as tow/haul mode and auto grade braking to reduce the amount of conventional braking you will need when towing or traveling downhill. This will help reduce the wear and tear on your brakes. But wait, there is also an Allison 10-speed automatic transmission available when you opt for the 6.6-liter Duramax Turbo Diesel. This also includes the overdrive gear, auto grade braking, and tow/haul mode like the 6-speed, but adds additional gears to generate more torque and provide more efficient handling. The 2020 GMC Sierra 2500 is the first heavy-duty truck in its class to feature a 10-speed automatic transmission.
#4. 5 Trims to Choose From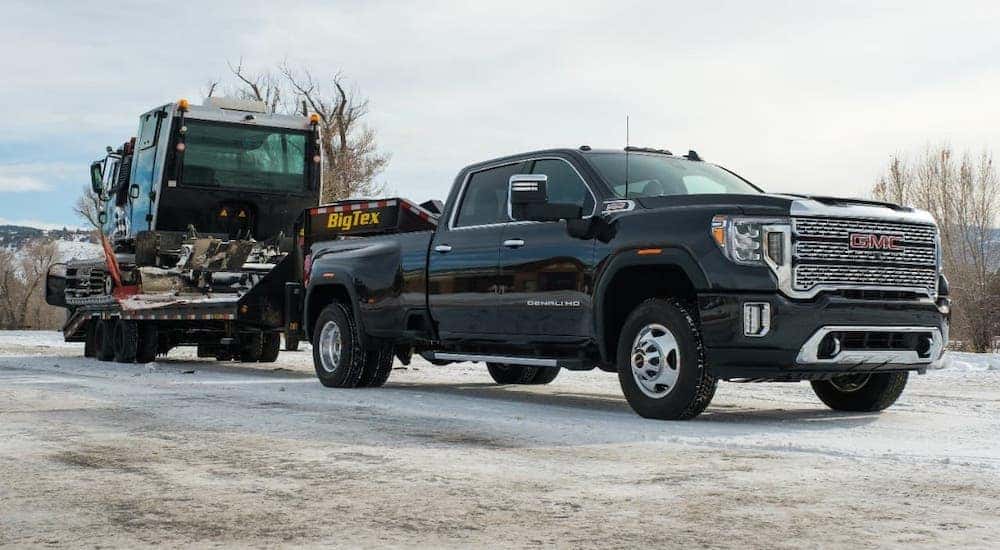 General Motors puts you in the driver's seat in deciding how you'd like to configure your 2020 GMC Sierra 2500 by providing five different trim levels. The entry-level is simply the Sierra HD, followed by the SLE and SLT. If you want a heavy-duty truck with all the bells and whistles, there is the top-of-the-line Sierra HD Denali. If off-roading is your thing, then there is the sturdy and agile Sierra HD AT4. With so many different styles, there is sure to be a Sierra 2500 for every truck driver.
#5. Heavy Duty Off-Roading
Speaking of the Sierra 2500 HD AT4, this is the ultimate in an off-roading monster truck. From its exclusive black chrome exterior accents and durable interior design, the Sierra HD AT4 truly looks the part of the off-road truck. However, sometimes looks can be deceiving. Fortunately, this is not the case with the AT4, as it features special off-road suspension with Rancho shocks, multiple skid plates, and all-terrain tires. You can complete the full package with an available multicolor 15-inch Head-Up display with inclinometer, helping you to better keep your head in the game during your latest off-road adventure.
#6. Able to Tow Big Trailers in a Single Bound
When you think of heavy-duty trucks, you think of towing trailers. Such is the case with the 2020 GMC Sierra 2500. This truck may look beautiful, but don't let its looks fool you. This truck is built to work as well as to drive. The 2020 GMC Sierra 2500 has been rated to tow up to 18,510 pounds with conventional trailering. Clearly, it is built to handle your toughest tows.
#7. Best-in-Class Cargo Bed Volume
In addition to trailering, heavy-duty trucks are meant to haul stuff. That payload bed in the back of your 2020 GMC Sierra 2500 isn't just there for its looks. It is designed to handle large loads, with a best-in-class cargo bed volume of 69.6 cubic feet of space. That translates to 3,979 pounds of whatever you need to haul.
#8. World's First Six-Function MultiPro Tailgate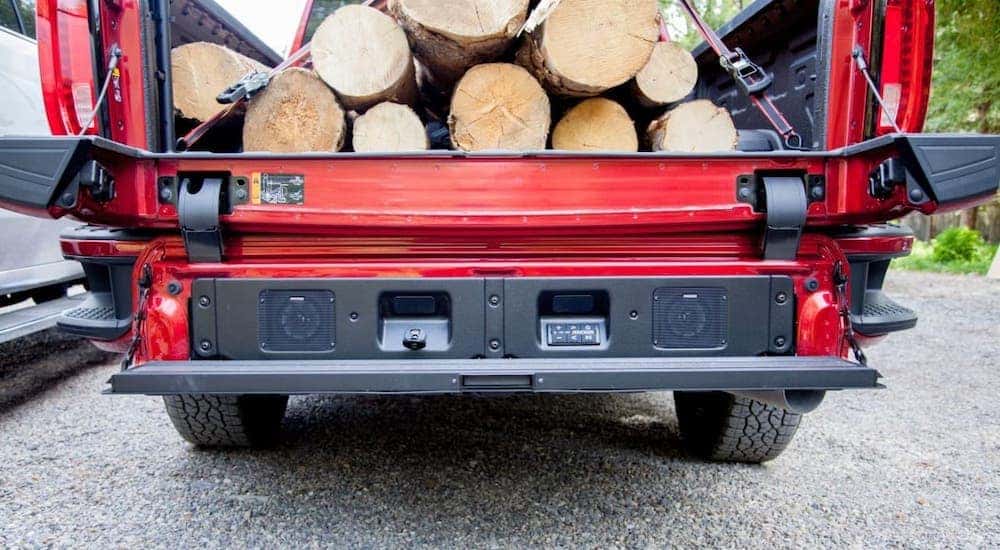 Plenty of heavy-duty trucks provide a good amount of space in the bed for cargo. However, getting your stuff in and out of that bed may be easier said than done. The 2020 GMC Sierra 2500 helps solve this problem by providing a tailgate that can open in many different ways. Not every cargo load is created equal (or distributed equally), so this MultiPro Tailgate will help you load and unload with greater ease.
#9. Plenty of Infotainment for You and Your Passengers
We know that you are going to have a blast driving your 2020 GMC Sierra 2500. But what about on those long-hauls, when your passengers start asking, "Are we there yet?" Well, you'll have nothing to worry about with your GMC Infotainment System, a wonderful blend of entertainment and information features all on a user-friendly, 8-inch color touchscreen.
#10. Up to 15 Camera Views
One of the great things about having a GMC Infotainment System is that it also coordinates with your truck's cameras. Most vehicles feature just a rearview, backup camera, and maybe a camera on the passenger side to assist with lane changes. The 2020 GMC Sierra 2500 surpasses that, with up to 15 different camera views on your infotainment screen to provide better guidance and improved safety.
#11. My Trailer is Invisible!
The 2020 GMC Sierra 2500 is the first truck to provide a transparent trailer view. This means that you will no longer have to worry that your rearview is obstructed when towing large trailers. With transparent trailer view, your truck's camera will provide you with the same look from your rearview mirror as if the trailer wasn't there at all. Don't believe us? Come in and see (or don't see) for yourself.
#12. First Heavy Duty Truck with Head-Up Display and Rear Camera Mirror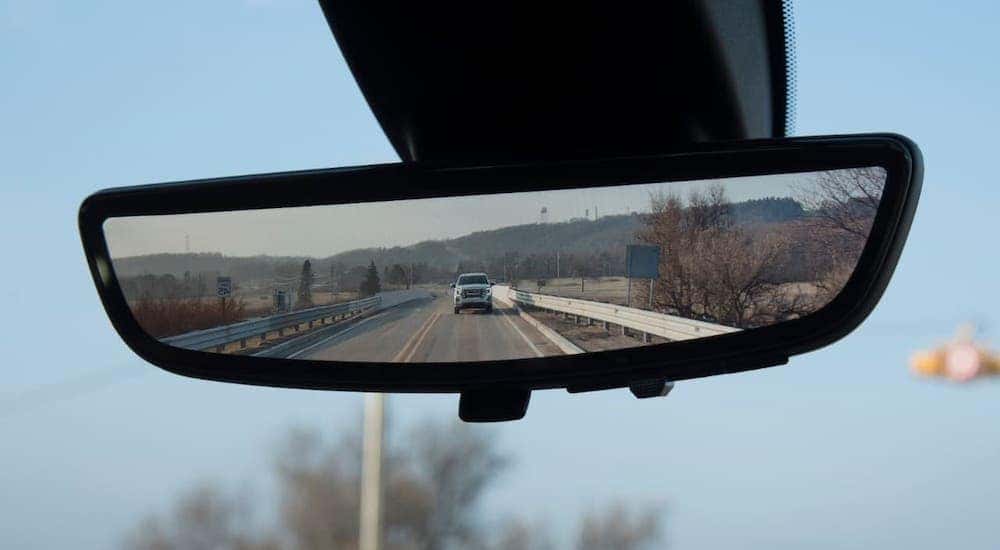 One complaint many drivers have about camera views and infotainment systems is that they have to take their eyes off the road in order to look at the system. The available Head-Up Display and Rear Camera Mirror on the 2020 GMC Sierra 2500 allow you to see this information without risking a collision by diverting your attention.
#13. An App for Your Trailer
Did you ever want to get real-time information on your trailer while you are towing? The available in-vehicle trailer app from GMC allows you to get this information in your 2020 GMC Sierra 2500. Utilizing your touchscreen, the app provides you with such features as a trailer light sequence test, tire pressure monitoring on the trailer's wheel, and a temperature monitoring system, so you can have peace of mind while you tow.
#14. A Roomy Crew Cab for You and Your Crew
The 2020 GMC Sierra 2500 features a best-in-class crew cab, with the most head and legroom in the front row. You and your front row passengers will enjoy 43 inches of headroom and 44.5 inches of legroom, making this one of the most comfortable cabs available for heavy-duty trucks.
#15. Colors to Make a Peacock Envious
There are ten different colors to choose from for your 2020 GMC Sierra 2500 truck, including Red Quartz Tintcoat, Carbon Black Metallic, Dark Sky Metallic, Onyx Black, Pacific Blue Metallic, Quicksilver Metallic, Summit White, Oxford Metallic, Cardinal Red, and White Frost Tricoat. Deciding on a color may be the most difficult decision you will have to make when buying this truck.